Madigan made… her first bloggy linky party thing!
I'm new to the crafty/decor blogging world.
I am very green and very much a newbie. Can't you tell?
I am starting to realize how big and awesome this process is.
Love it, but there is a learning curve! I'm learning so much just reading other blogs.
And I am learning A TON about myself as I put these posts and projects together.
I enjoy finding great personal advice about starting a blog and how to get yourself out there. Recently, I read Thrify Decor Chick's
post about comments
and loved that perspective. I have to start commenting more and adjust some of my own comment settings.
Aside from boosting my comments, today I am tentatively sticking my 'toe in the water' to try a blog craft link party.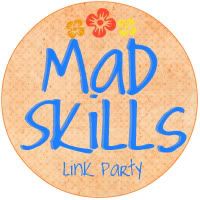 I'm lucky submission #50!
Go check it out
and look at all the other great project ideas on that page!
Thanks for reading Madigan Made!
Content Copyright:2010-14. Madigan Made.