Madigan made… a Valentine's wish.
Hope you have a wonderful day with your Valentine!
Did you miss any of the fun Valentine's projects here at Madigan Made?
I thought I'd recap all those 'sweet' posts today.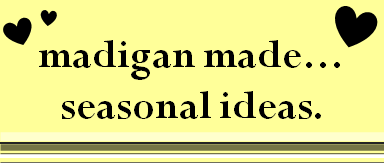 Click on each picture to jump to that project:
Doily Heart Wreath
A "Cupcake" Display
Valentine's/Winter Printables
Heart Chandelier "Necklace"
And don't forget that last week was "Famous Chocolate Couples Week" here at Madigan Made!
Did you miss any of these rich treats? Go back and take a look.
There is still time to whip up something sweet for tonight.
~
~
~
I think I've told you this before: But hubby and I don't do much to celebrate this holiday. We typically just exchange cards and go out to dinner around the date. And we avoid going out to dinner "on" Valentine's Day.
(there is always an overpriced menu that night)
But sometimes it is just nice to stay in.
So we are just planning to cook a quiet, special meal at home tonight.
(with hopefully some chocolate for dessert!)
Happy Valentine's Day!
Thanks for reading Madigan Made!
Content Copyright:2010-14. Madigan Made.