MAKE:        an easy, dreamy, light fruit dip.
Orange creamsicle. It is one of my favorite flavors.
It just screams 'warm weather', right?
I make this dip whenever I bring a fruit tray somewhere. As long as I can remember, my mom made this fruit dip. Whatever time of year she served it, the taste always reminded me of summer. The dip is easy, light and pretty. And it tastes like an orange creamsicle! Yum!
Need an idea for a Mother's Day dessert or appetizer?
Serve this fluffy dip! 
Earlier this month I visited my parents and helped my mom make this dip for a bridal shower.  My mom and my aunts hosted the shower for family members who are getting married soon. They served light fare, including finger sandwiches and my aunt's salmon dip (both yummy!).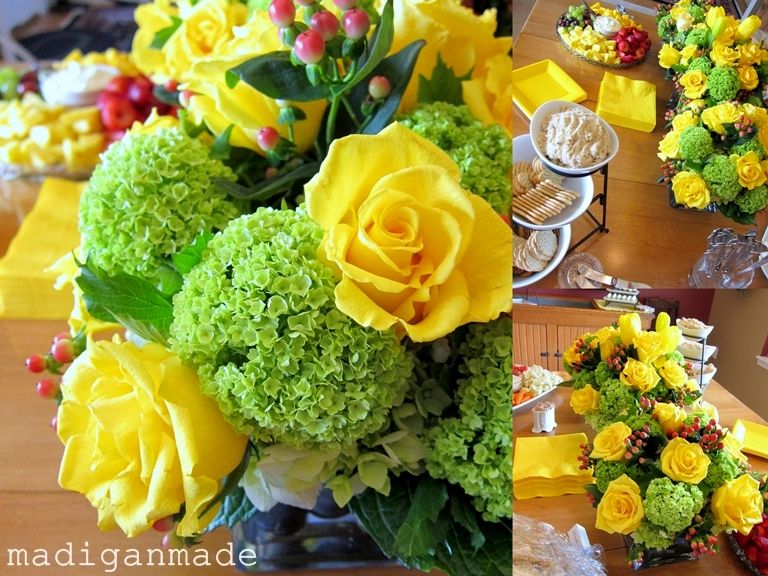 By the way – check out the gorgeous flowers on the table! I was digging the fresh yellow and green decorations. I forgot to take a picture of it, but the drink station was decorated in these colors, too. My aunt used a tiered dessert tray piled with lemons and limes next to pitchers of iced tea and lemonade. It was simple and elegant.
But, enough about flowers, back to the dip! You will love how simple it is…
Orange Creamsicle Summer Fruit Dip
Ingredients
1 8 oz container whipped topping
1 small package instant vanilla pudding mix
1 6 oz container of frozen (concentrated) orange juice
Fruit for dipping (strawberries, mango, grapes, pineapple, etc)
Instructions
Mix the first three ingredients together. Add a little water to thin out to desired consistency, if needed.
Wash, cut and prep the fruit.
Refrigerate until ready to serve. Then enjoy the orange dreamsicle goodness!
Notes
Recipe Source: My Mom Variation: Instead of frozen OJ, just use about 6 oz of orange juice. (You may not need to thin the mixture down with water.)
7.8.1.2
3
https://rosyscription.com/2011/04/orange-creamsicle-summer-fruit-dip.html
The recipe is similar to the
pumpkin fluff
I made this past fall. In fact, when I made the pumpkin fluff, it reminded me of this fruit dip. I guess that lots of things taste good when mixed with whipped topping, right!?
This fruit dip is always at the top of my summer treat list.
What flavors remind you of summer?