Madigan made… floral pennants & tile 'plates' for spring.
Happy April!
It's time for a new monthly chalkboard quote!
If you are new to this blog, I like to share a new quote on my chalkboard every month. Sometimes the quote is simple, but other times (like now), I will decorate around the chalkboard for the season.
I think y'all know by now that my tastes lean towards simple holiday decor. (click here and here for examples from prior seasons)
And I have to confess: This vignette is bordering on 'too busy' for me.
But once I started to work on one element, I kept thinking: "It would be so cute to make ___ to go with it." And this corner of my kitchen evolved into what you see here!
To keep things semi-simple, I knew I wanted a centerpiece of several white pitchers. I filled one of them with flowers.
Don't you just love tulips in the spring? Tulips are by far one of my favorite flowers! (Total side note, but if we got married in the spring, I was going to carry tulips. But, alas, our wedding was in the fall and I ended up carrying roses.)
This time of year I have a hard time resisting a bouquet of tulips from the grocery store. I love them in this white pitcher! I stole the other pitchers from my creamware collection. (The small one is from Ikea, the medium sized one from Home Goods and the large one I found at a thrift store.)
It was a lot of fun making the decor around the chalkboard.
I searched high and low for some simple and graphic floral plates for spring. But I could not find anything I liked.
Then I thought: I should just paint my own. But I could not find 4 simple white plates either. I had some plain square plates in my hands at a home store, but did not feel like spending $3 per plate when I planned to paint them!
So I figured – why not decorate cheap square tiles instead?
And while I'm at it, why not make some pennants to go with them?
Yes, I jumped in and joined the pennant trend! Why are pennants just so darn cute?
I've wanted to string pennants across this chalkboard for awhile. Spring seemed like an appropriate season for one. (And if you want some truly awesome pennant ideas, you must visit Jen at
Tatertots and Jello
! I consider her the pennant queen.)
To make my pennants, I used my crafty cutting machine and combined a graphic floral image with pennants.
I cut out the images in pink and green paper, then cut out white triangles that would fit behind them.
I glued the two cut pieces together and attached them to some pink ribbon with more glue.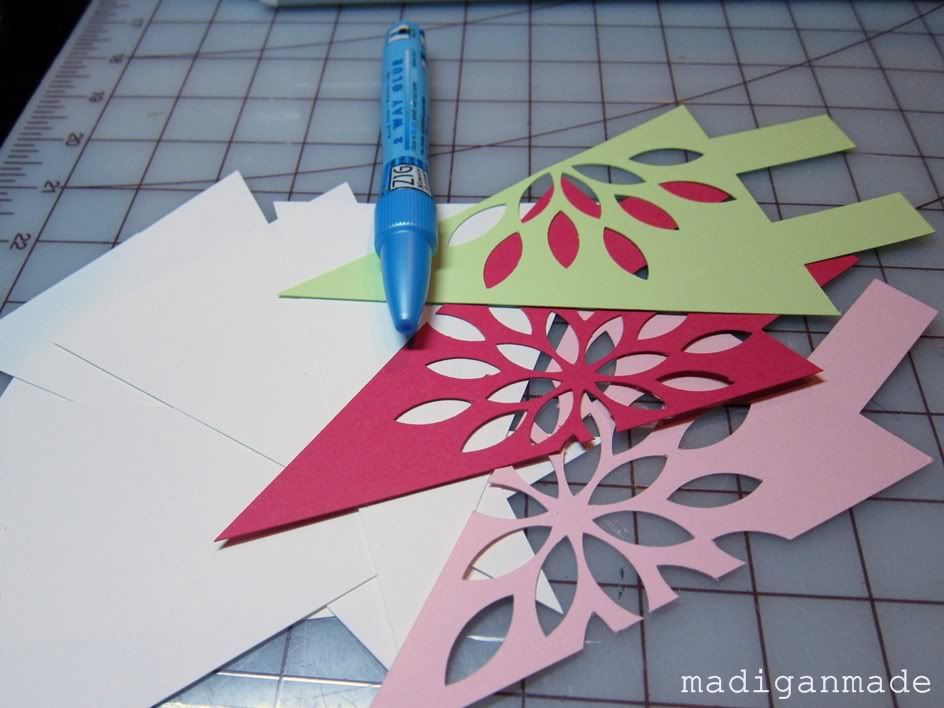 The tile "plates" were a bit more complicated, but the materials were simple: enamel craft paint, four 6″x6″ tiles and vinyl.
I used my crafty cutter to cut out different sizes of the floral image in vinyl.
I arranged the vinyl on the tiles and used them like a stencil with the enamel paints.
I carefully painted each flower, using a foam brush. I mixed the bright green and white paint together to get a shade of apple green that matched my paper pennants.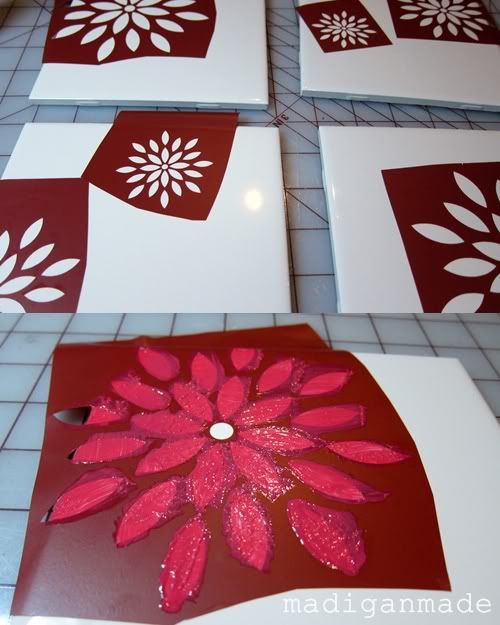 Tip: Always remove the vinyl right away after you paint. That way, you will not risk the paint peeling up when you remove the vinyl.
For some reason, the large flowers were harder to paint evenly. And the paint bled more under the larger images. So, I just gently scraped away at any paint that got under the vinyl.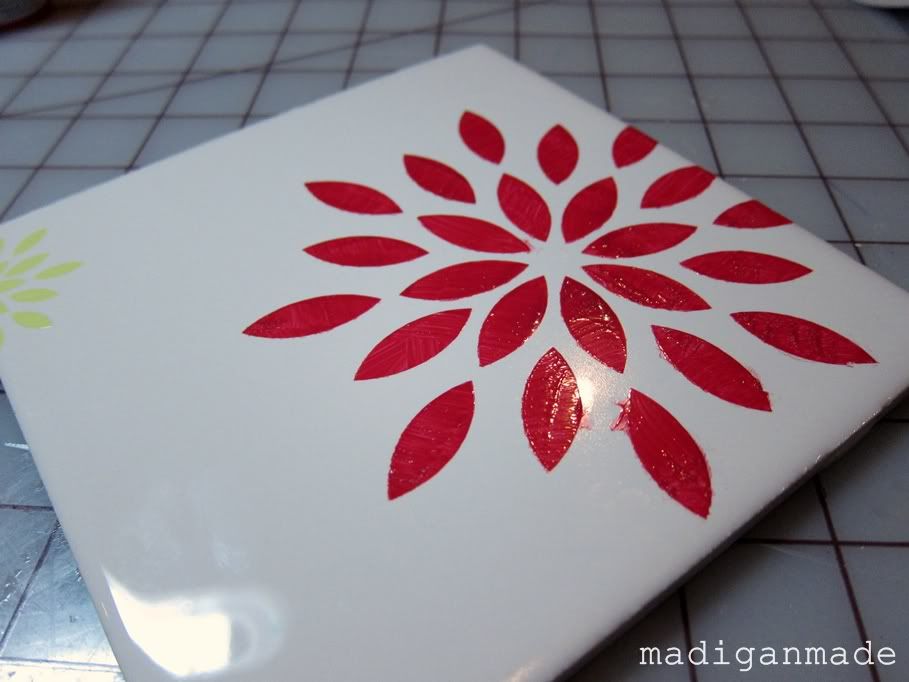 After cleaning up the edges, I baked the tiles in my oven according to the enamel paint manufacturers directions.
I wanted to use the picture hanging strips that I typical use to hang plates on my wall.
To make sure I had a clean and smooth surface for the strips, I took some scrap balsa wood and super glued them to the back of the tiles. That gave me a flat surface to use the picture hanging strips.
It was easy to just pop of the current plates and replace them with these tiles.
I think the display is bright and cheerful.
And the white accents (the plates, the pitchers) help temper all the color and pattern.
I love the preppy pink and green together.
(I'm
embracing pink
this season, remember?)
And I love how the quote is fitting for both spring and Easter.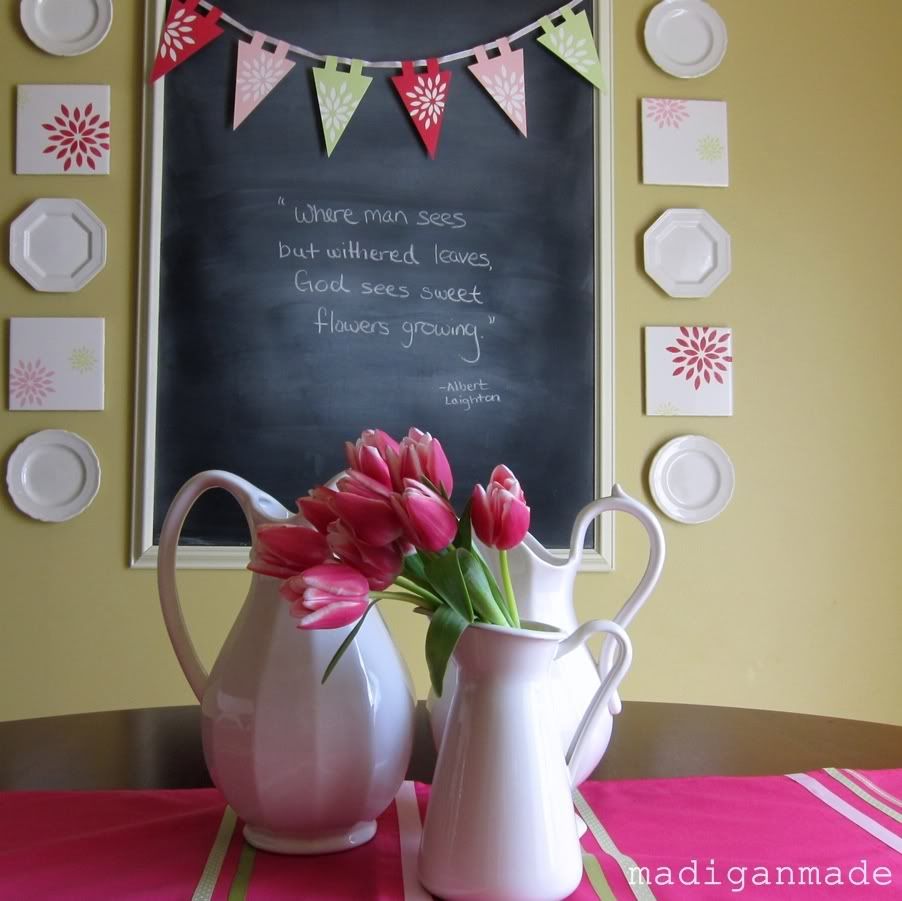 P.S. Do you like the striped table runner?
I'll tell you more about it later this week. It was pretty simple (and cheap) to make!
Please join me at the following link parties!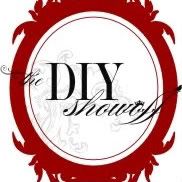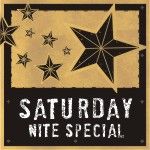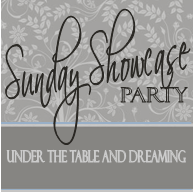 Thanks for reading Madigan Made!
Content Copyright:2010-14. Madigan Made.