Madigan made… an easy and simple flip flip refashion.
The glass gem stashbusting continues!
If you remember, I've used these flat gems as vase filler, marble magnet gifts, fake Halloween 'eyeballs' and beachy glass wall art and for a fun bib necklace.
I wanted to stick them on something else… and I've had a desire to dress up some plain Jane flip flops for awhile now. This was a simple and clean embellishment that was 'just enough' for me.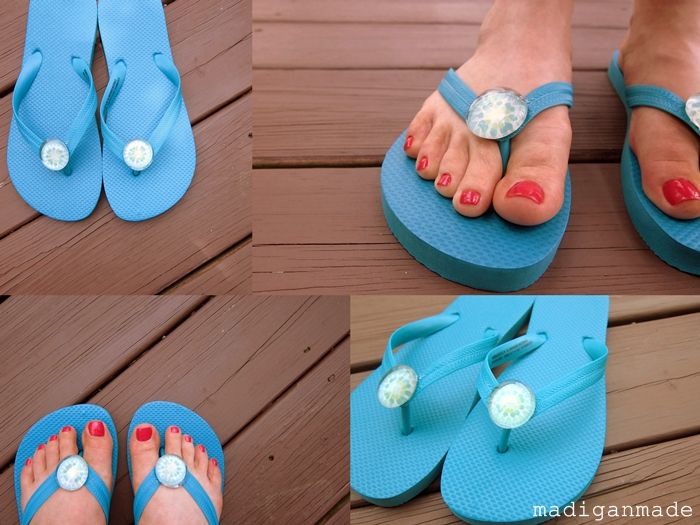 If you want to make a pair of your own, follow the steps below.
What you will need:
– Flip flops
– 2 large flat glass gems
– Decorative paper
– Jewelry glue (like GemTac)
– Strong adhesive glue (preferably one that will dry crystal clear and/or made for glass)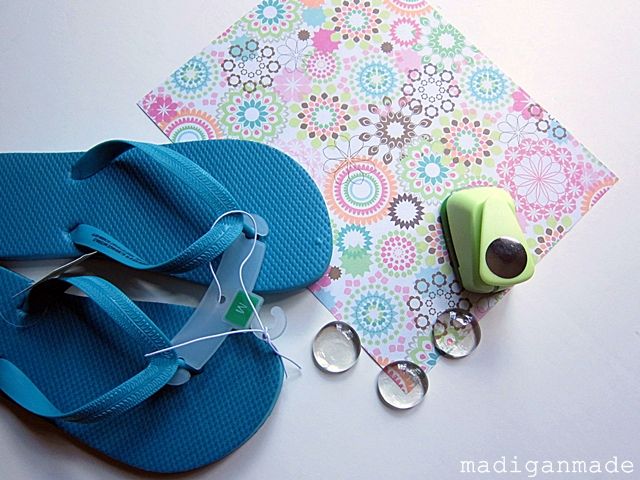 The steps to make these gems are very similar to the glass gem eyeballs I made for Halloween and the glass gem bib necklace. If you wanted more pictures of steps 1 & 2 below, I suggest reading those posts.
Directions:
1. Cut out 2 decorative circles of paper. (You can use a 1 inch paper punch or crafty cutter, if desired)
2. Place a dollop of jewelry glue onto each paper circle. Smush a glass gem onto each circle, flat side down. Flip the glass marble upside down and allow to dry completely. The glue should dry completely clear.
3. Once dry, use a very strong adhesive to attach each gem to the center of each flip flop strap. Allow that glue to dry completely.
4. Wear your cute sandals out and show off your pedicure!
I got my flip flops for $2.50 at Target. With materials on hand, I now have some cute (and cheap) turquoise kicks to wear this summer!
Note: I do not advise using super glue for this project. It left a hazy film on the edge of the glass… and a little white powder residue got on my feet. I'm going to make another pair and try another glue. Hot glue could work, but I'm afraid that the gems will pop off too easily. I'm thinking a strong jewelry or silicone glue will dry clearer and cleaner (without a residue). If you have suggestions, I'm all ears! I'll come back and update this post when I find out what may work better.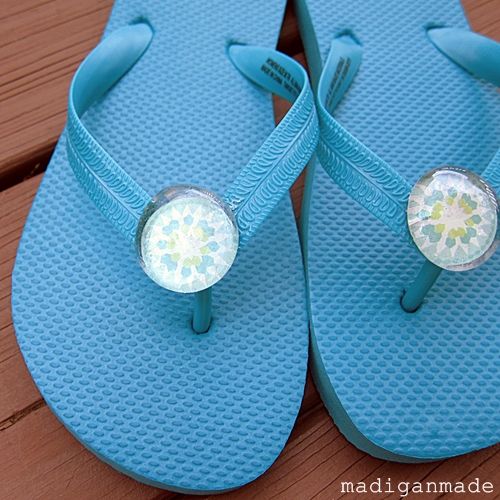 And please ignore the odd streaks on the inside of my toes. They are not dirty. Some of my sunless tanner settled there and darkened the area! Oops… gotta exfoliate a little more carefully. 😀
I'm sharing this post here: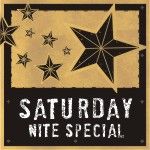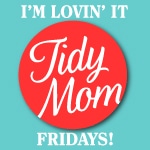 Thanks for reading Madigan Made!
Content Copyright:2010-14. Madigan Made.