Madigan made… a free summer beach printable.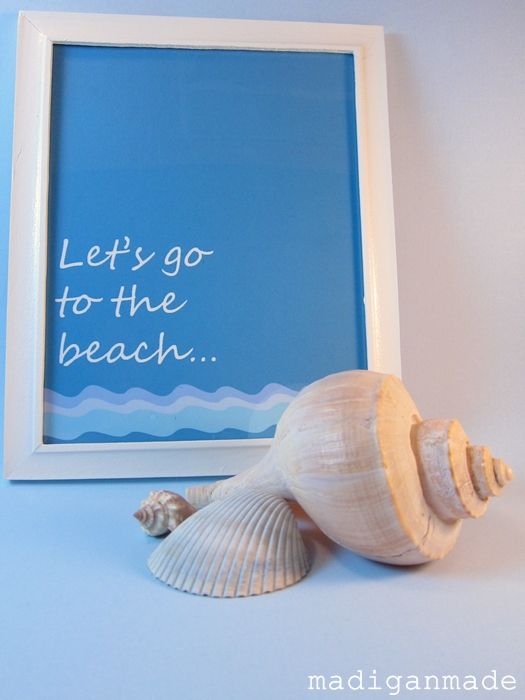 Gosh, May is halfway over!
Memorial Day (and summer) is just around the corner. I wanted to get in the mood. (Meanwhile, I am still trying to get through my spring to do list: landscaping, getting the deck ready, spring cleaning, etc.! But let's not talk about that today!)
Years before chalkboards were so popular, my sister-in-law displayed a small one in her family room. And "Let's go to the beach" was often the saying written on the board. I loved it and shamelessly stole that quote from her for this print. 😉
I plan to hang this print on my double-frame-in-a-frame to replace the Amazing Grace printable that was hanging there. It's been so cloudy the past few days that I did not have enough great light in the kitchen for a photograph. So, I stuck the frame in my light box to show it to you.
Feel free to use this print for your summer decor or a beachy bath!
As with all my prior printables, this print is for personal use only. Just click on the image, then right click on the image and 'save as' a picture. Print the picture off your computer or take it to a photo shop.
The image was designed for an 8″x10″ frame and will print best at that size.
I love the teal shade. The few wavy lines below it seems just right.
The casual font sort of reflects a lazy day in the sun.
In many ways, I'm excited for summer. But I'm also sad to see spring fly by. And I do dread the heat!
My favorite seasons are still spring and fall. I guess I'm kinda like Goldilocks – I like those seasons because they are not too hot & not too cold!
I'll be sharing this post here:
Thanks for reading Madigan Made!
Content Copyright:2010-14. Madigan Made.