Madigan made… a new blog look and settled on a tag line.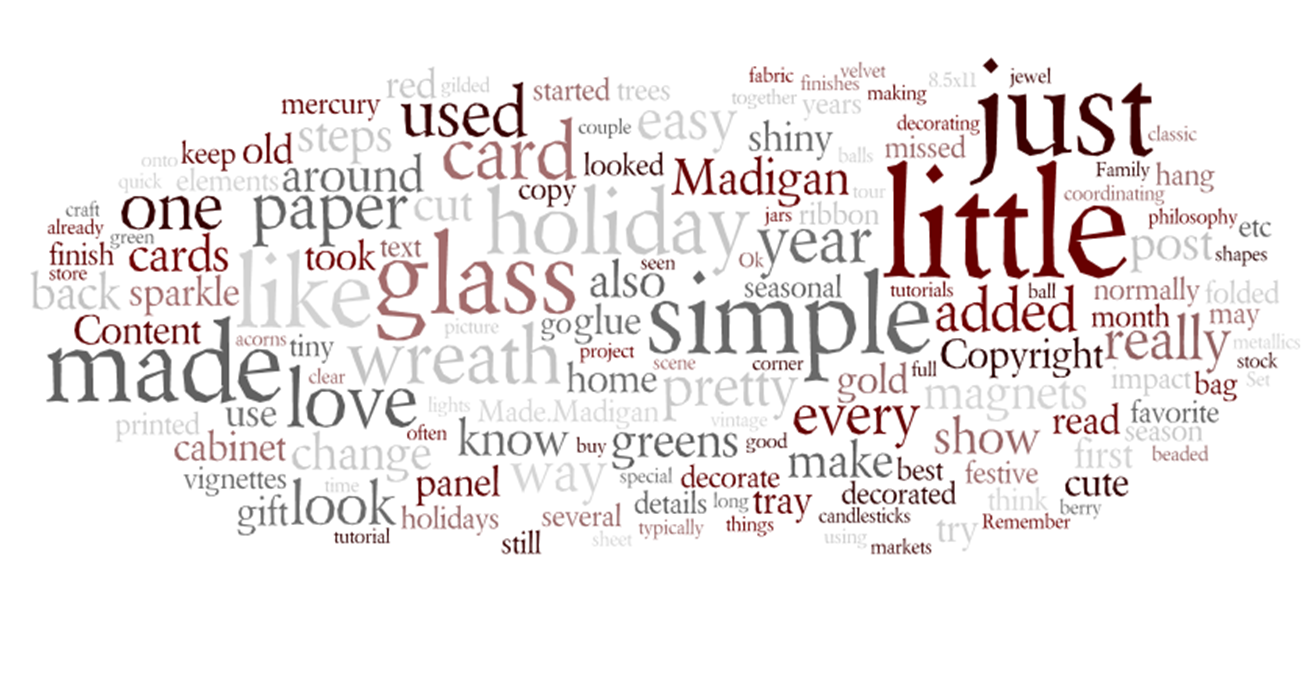 I wanted to share a little bit with you about the design, focus and mission of this blog today.
I love when I open up a blog's home page and can quickly get a sense about the blog's content and style. By-lines or tag lines can help. I hope you can see what I'm about when you open my blog. I created a byline from the inception of this blog but it has evolved over the past year.
In the beginning, I knew this blog would focus on stuff I already loved to create: food, crafts and decor.
But I did not know how to summarize that in a single line that reflected me.
At first, I just referred to these topics as adventures (or misadventures).
I doubt many of you even saw the early header…
"my many misadventures in cooking, crafting and creating."

Blue, can you believe it? Obviously that changed to my 'signature' yellow and gray in due time.
And as I read more and more blogs, I found so many bloggers that used the term "adventures" to describe their focus. I wanted my by-line to stand out.
So, then I tried to be cute and clever. But it was a little too abstract for me.

"not handmade. not homemade. madigan made."
Really, what did that mean?
I still do not know!
So, I took a big step back and reviewed my content and how it was presented.
I even ran a Wordle for my blog back in December.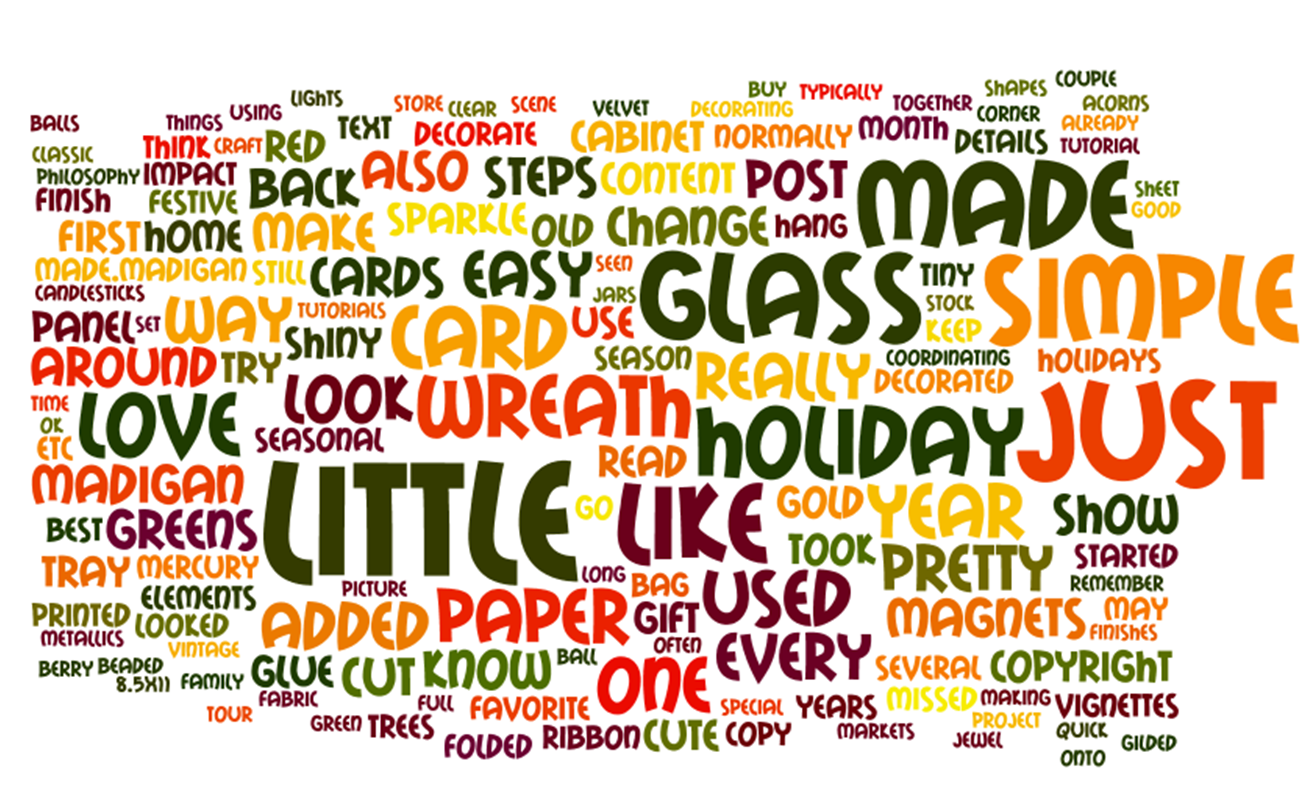 I highly recommend running a Wordle on your blog! It was kinda fun to see what words I used on this site.
One word kept popping up. Big time:
In so many ways, this word expresses me:
My cooking. The way I dress. How I decorate. Even how I write.
So, the resulting phrase ended up being, well, simple:
"Simple ideas for crafts, recipes and decor."
Some may call the phrase boring. No adjective beyond 'simple'. No adverbs. No verbs.
But I love it because it is: Short. Sweet. To the point. Me.
My blog's mission is: to bring my readers simple ideas for crafts, recipes and decor.
And that has been the tag line the past few months on my most recent header:

This concept is what I hope to bring you each week. You may get the occasional personal post or I may go off topic (a little) and maybe talk about gardening. But even those ideas should be fairly simple, too. And considering my gardening skills, you should want me to stay on topic!
But once in awhile you will hear about a not-so-simple project.
I will clearly identify these projects, don't worry. I will be using a new label on those posts: "not simple".
(I stole this concept from Morgan at the Brick House… Where she posts about "thrifty" and "not thrifty" finds.)
Oh, and I really want to thank y'all for the feedback last week in my anniversary survey. A couple of you commented about the blog colors (the yellow being a bit too much) and the header (to make it a little more modern).
Well, we must think alike because I've been working on a new blog header and buttons recently!
I think the new design might address both of the concerns mentioned in the survey. It still incorporates yellow and gray… (because I love the combo and it has become a part of this blog's brand). But I added in more white for some visual relief. I changed the style and fonts around a little to hopefully modernize the look a little.
What do you think of the new look?
(If you are reading from your Google reader, c'mon and click over! The navigation bar got an upgrade, too. It changes when you hover your mouse over each section. You might want to check that out!)
I also updated my blog button, in case you wanted a new one to put on your blog: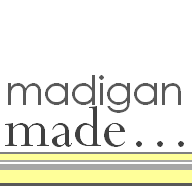 Hopefully you think the overall design is …. um… simple??!! Hahaha!
I would take that as a complement!
P.S.
–
HTML is hard, yo!
Thank goodness for google and other bloggers! I want to thank Beth at The Stories of A to Z. I read
her tutorial here
for how to get the images to change in the navigation bar when you roll over them.
This tip
at Sneaky Momma helped me link the little "mail" button to email. And I used
this tutorial
to remove the Blogger bar at the top.
Phew!
I hope I do not need to go digging through html code any time soon! I'm d.o.n.e. with it for now!
P.P.S.
–
Did you notice the little red "P" button I added to the nav bar?
I
also
need to thank Beth (
I think
) for introducing me to
Pinterest
. Do you keep a folder or bookmarks of ideas and pictures you've seen online or in magazines? This site allows you to pin them into different boards. Read Beth's
intro post to Pinterest here
(and I think she has an invite there, too). But be forewarned:
Pinning is addictive
!!
You can follow my pin boards by clicking
here
.
Thanks for reading Madigan Made!
Content Copyright:2010-14. Madigan Made.