Madigan made… a frame, vinyl and paint chips into a dry erase board.
I just realized that
I never showed you this project from the craft fair
this past winter.
Like many of my projects, it was cute but unfortunately did not sell!
This frame is such a simple idea, I thought I'd share it with you today.
I had some pink paint chips in slightly different shades and I thought I'd make something out of them instead of throwing them away. I settled on a dry erase board.
Making dry erase boards out of frames is nothing new in the craft world. You could frame cute fabric or paper and use a dry erase marker on the glass for a memo board.
But I like the texture and stripes you get with the layers of paint chips. And there is something chic about black and pink together.
If you remember, I was in a mad dash last fall to make stuff for the craft fair… so I do not have any before/after pictures. Sorry.
But, if you are interested,
here's how I made this board:
1. I first painted a frame black with spray paint.
2. Then, I adhered vinyl to the inside of the frame glass. I used a strip of black vinyl on the bottom and a row of quatrefoil shapes at the top.
3. I trimmed the paint chips into strips (so you no longer saw the names/writing). I layered them and glued them together using scrapbooking tape into a rectangle that would fit in the frame.
4. Then I simply popped the paint chips into the frames and wrote a cute phrase on the glass with a dry erase marker.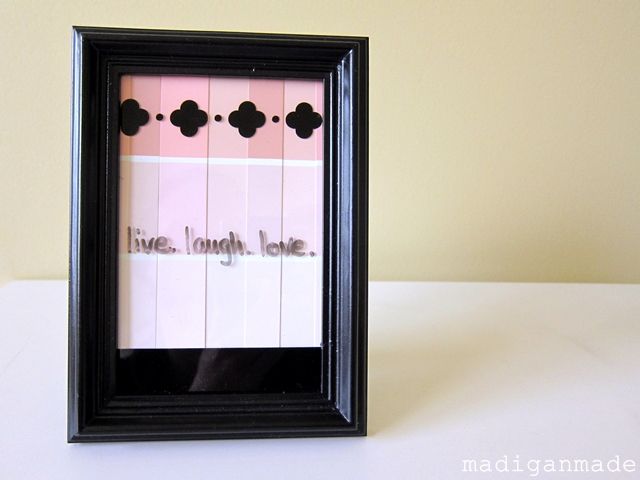 (I know, 'live, laugh, love' is kind of pedestrian quote… but I was trying to appeal to a wide group of patrons.)
Cute, right?
Well, it's sitting a box right now waiting for my next craft fair…. (maybe next fall!)
I'm sharing this at the following link parties:
Thanks for reading Madigan Made!
Content Copyright:2010-14. Madigan Made.