Madigan made… a quick vase from a water bottle, paper and ribbon.
I recently needed a quick and pretty way to hold flowers and came up with these paper vases.
Maybe you can steal this as a last minute idea for Mother's Day?
Easter Sunday we needed to bring flowers to two different people: the dinner host (hub's cousin) and my mother-in-law.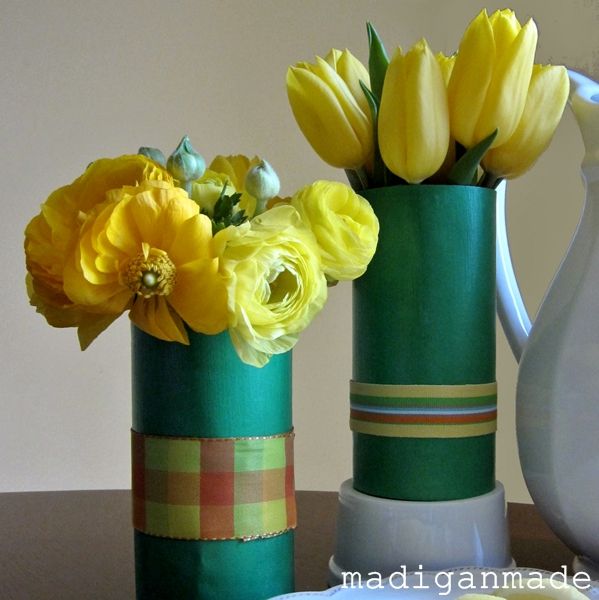 I was going buy an Easter lily or potted tulip, but then I saw these sunny yellow flowers at our supermarket. Remember the bright yellow and green decor that I saw last month at a recent bridal shower? Because of those ideas, I knew I wanted to make yellow and green bouquets.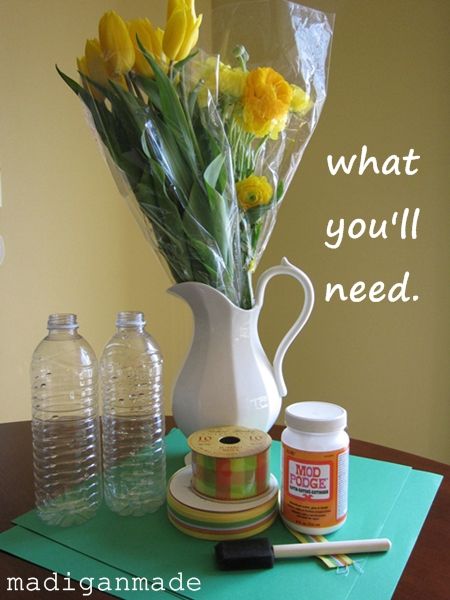 I did not have any small glass vases at home. (I always forget to grab a couple at the dollar store. Darn it all!)
So I decided to decorate water bottles to serve as vases.
Some days you have to improvise! Fortunately, I had all the materials on hand.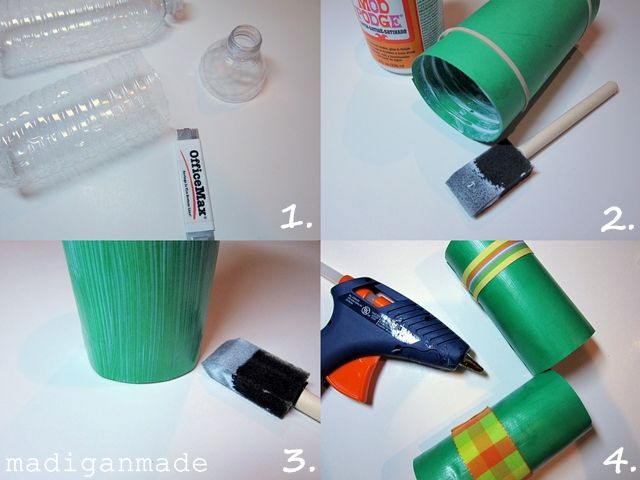 Follow these steps to make your own paper vase:
1. Carefully cut the curved tops off the water bottles using a knife or box cutter. Cut a piece of card stock into a rectangle that will wrap around the entire bottle and cover the length of it.
2. Apply a layer of glue or Mod Podge to the outside of the bottle. Wrap the paper around the bottle tightly. Apply more Mod Podge to the overlapping areas. Hold the paper in place using rubber bands until the glue is dry.
3. Use more Mod Podge to coat and seal the outside surface of the paper. This will help protect the paper and keep it from tearing easily.
4. Once dry, use glue (i.e. hot glue gun) to wrap a decorative ribbon around the paper vase.
5. Fill the bottle with water and add blooms!
I should point out one thing: these vases are NOT the sturdiest water vessels!
The paper did adhere to the bottle and you could grab the vase by the sides. But I did not trust that the paper would be very secure, so I carried the bottles on the bottom (where the plastic bottle was).
Also, the Mod Podge protected the paper somewhat from moisture. But the paper still can get wet and/or bent. Be careful when adding water to the vase not to douse the sides or you will have a soggy vase! (hint = not cute!)
But I'm also pretty smitten with these ranunculus, too.
I think the fluffy layers of petals are a lovely cross between roses and peonies.
Both flowers are so bright and fun in this buttercup yellow.
It was hard to give these little vases away!
I'll be sharing this post with these gracious hostesses: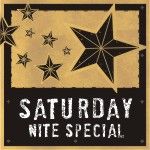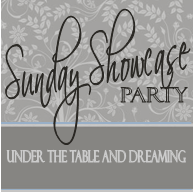 Thanks for reading Madigan Made!
Content Copyright:2010-14. Madigan Made.