Madigan (well, her cousins) made… tiny and cute desserts.
Why are bite-size desserts so stinking cute?
'Cause they just are, right?
And unfortunately, that also makes them sooo easy to eat.
Well, I couldn't resist taking a few pictures of the dessert table to show y'all.
Only, I kinda forgot to get a decent shot of the whole table. My mind was obviously focused on the tiny treats.
I should point out that all of these desserts were made by four of my high school age cousins (and a friend).
Didn't they do such a good job?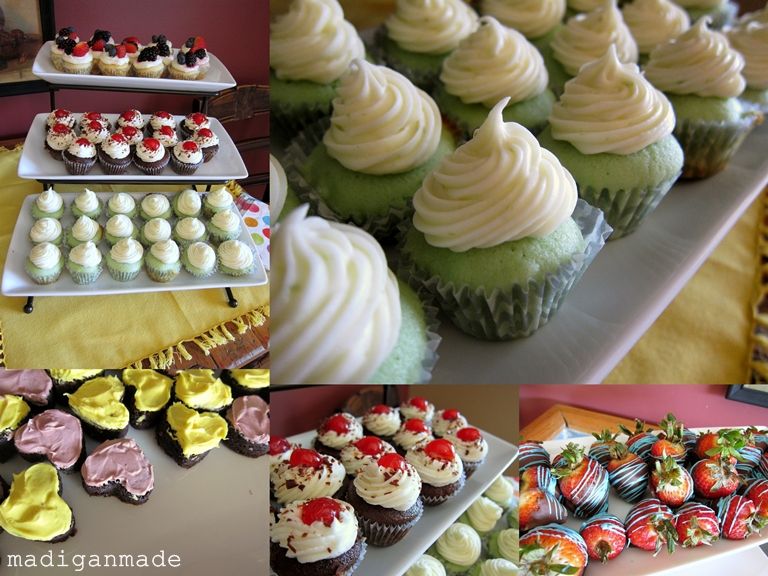 Clockwise from the left*:
The mini cupcake display (flavors: lemon and berry, black forest and key lime)
Close up of the key lime cupcakes
Chocolate covered strawberries
Close up of the black forest cupcakes
Bite-sized heart-shaped brownies (They used a little cookie cutter! Genius!)
*Not pictured: chocolate chip cookies (Sorry, E! I must of missed those!)
This dessert table was darling! Everything looked so lovely and professional. The cupcakes were stunning… and made completely from scratch!
And, yes, everything here tasted delicious!
I had to try them all… Don't judge!
😀
Thanks for reading Madigan Made!
Content Copyright:2010-14. Madigan Made.