MAKE…  a light and fresh summer appetizer.
The past two days I shared with you some ideas to decorate your patio table or summer BBQ serving area. (DIY no-sew placemats and a painted cutlery caddy)
Today I wanted to share with you a summer idea for your belly!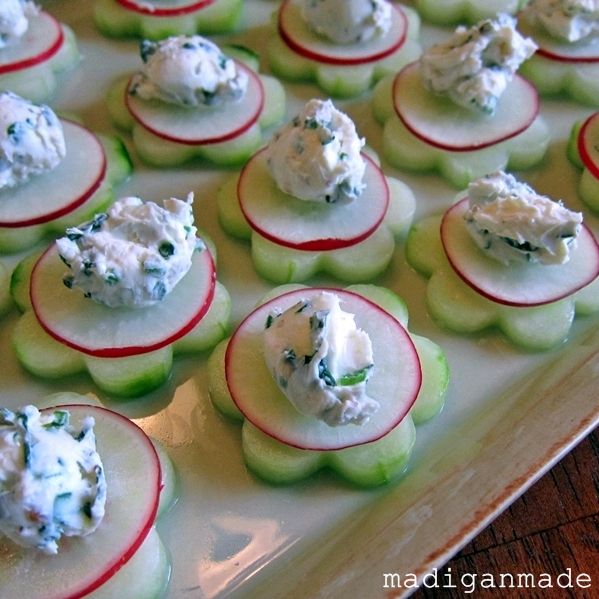 Need a new appetizer idea for a patriotic party this weekend?
I don't know about you, but when I'm looking for a recipe in the summertime, I like cool, light and fresh bites.
Nothing says 'fresh' to me more than lemon, cucumber or mint.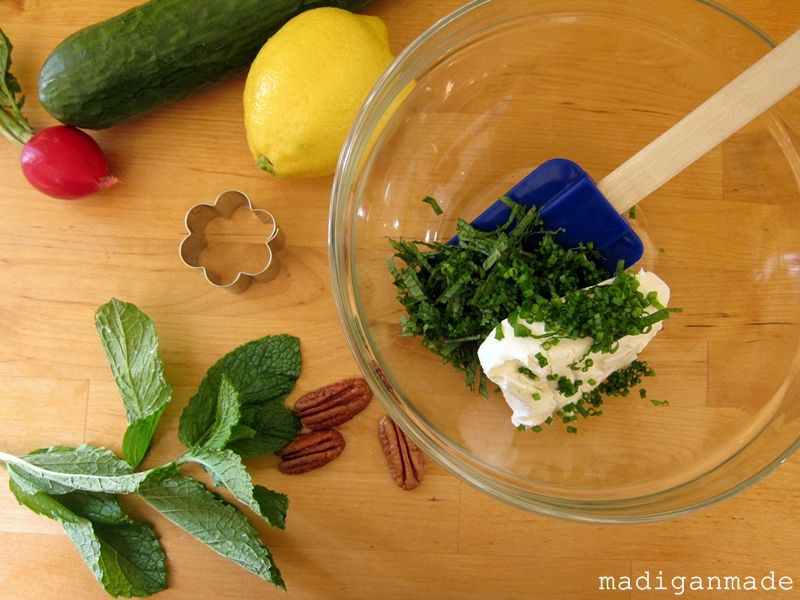 I actually made these little cucumber bites to bring for Easter Sunday dinner… but I think they'd be perfect this time of year to make for a party or BBQ.
For those of you that garden, consider using up some of the cucumbers or mint you are growing for this recipe. If you remember I kind of have a black thumb and minimal success growing veggies. I do have some mint in pots that are doing OK, so I might grab some of that to make this appy again.
I used my mandoline to thinly slice the radishes and a flower cookie cutter to make a fun shape with the cucumber. I think it adds a little whimsy!
You can find cookie cutters like I used online (note, this is an affiliate link) like this one: Flower Cookie Cutter Set
.
These taste best served right away, but I made them right before we went out that Sunday to dinner. After a 20 minute drive, they still tasted great!
Garden Fresh Herbed Cucumber "Flower" Bites
Ingredients
1 tsp lemon juice
1/2 tsp lemon zest
2 tbsp chopped pecans (optional)
2 tbsp mint, thinly sliced
2 tsp chopped chives
4 ounces, softened cream cheese
1/8 tsp salt
1 seedless cucumber, medium sliced into 32 rounds
3-4 medium radishes, sliced thinly into 32 rounds
kosher salt
Instructions
Combine the first seven ingredients together in a large bowl.
Use a decorative cookie cutter (i.e. a flower) to cut the cucumber into shapes.
Layer the cucumber, then the radish slice on top of each other. Then top with about 1/2 tsp of cheese mixture.
Serve  Serve right away and enjoy!
7.8.1.2
4
https://rosyscription.com/2011/06/garden-fresh-herbed-cucumber-flower.html
Inspired by
epicurious.com
P.S. If you like herbs and radishes…. I bet you'd love the radish and herbed butter crostinis that I shared last summer.