Madigan made … a warning not to follow the trends.
I have to confess.
I did it.
I did what I said I would never do. And I regret it.
I made a project because it might be neat to blog about it.
And it was not our taste.
It was supposed to be a cheap chip-n-dip tray turned beach ball door hanging.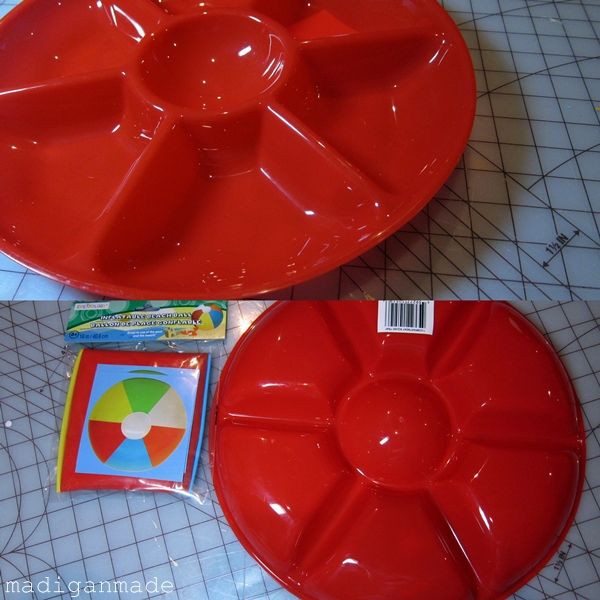 I saw a plastic chip tray upside down at the dollar store and it reminded me of a beach ball. If I painted the panels I thought it could be a cute door hanging.
I said to myself: "Cool! This is perfect for summer door decor and dollar store projects are so popular right now. People will love to hear about that."
Then I got it home and started to paint it.
After the first coat of paint my initial reaction was, "What the heck was I thinking? This is not me at all."
Not only that, but the paint was starting to peel. (I should have primed it with a spray paint for plastic… )
So, I did not finish the project and you will not see the final vision.
You can imagine the result, right? And if you love the idea, please feel free to make one.
But this project taught me a lesson.
I cannot and should not create or cook something just because everyone else is doing it or it will attract a lot of interest.
I need to stay true to my tastes and preferences.
The project should be something I love first.
In general, I love watching trends. Trends are often repeated because they are great ideas. There is a reason you still see loads of bloggers writing about their new coffee filter wreath – it is an easy, cheap idea that looks gorgeous.
And some trends are not really trends. They are just the latest recycling of a timeless idea. (gallery walls, white kitchens, painted furniture, thrifting, etc.)
Watching trends gives me loads of ideas and pushes my creative boundaries. I will follow a trend if it fits with what I like. But in general, I need to remind myself that it has to be "me" first. My hope is that if I stay true to myself, I will attract and keep readers that appreciate the same kind of stuff. That is probably the best way to grow my blog versus writing about the hottest "it" trend.
But I want to be up front with you about trends you will (and won't see) on this blog.
I compiled a few lists below.
Trends that I love and are likely to remain a Madigan Made staple*:
– Dollar store/cheap projects (these never go outta style, I just need to be very careful not to make something just because it is cheap.)
– Spray paint (um, hello, if you read this blog you know this is one of my fav tools)
– Clean, white objects (read my ode to white post to understand why)
– Printables
– DIY art
– Quotes/typography
– Chalkboard ideas
– Novice sewing or no-sew projects
– Simple crafts
– Easy recipes
– Thrifted finds
– Soups and desserts (cause I love 'em both)
– Clean and simple decor
– Anything I can make with my crafty cutter
– Botanical prints and silhouettes
– Wreaths
Trends you will rarely find here*:
NOTE: It's not that I don't love these trends, I do. In fact, if you follow me on Facebook or Twitter, you see me feature a bunch of these ideas frequently. There are a TON of blogs that I read weekly that rock these trends in their own way. These trends just don't frequently fit with our tastes… but I still find it fun to see and be inspired by other DIYers. You might find only a very light sprinkling of these trends (if at all) on this blog:
– Heavily distressed objects/furniture (I prefer clean and classic looks. I can handle only a little light distressing.)
– Zippers
– Shabby chic
– Uber-modern
– Rustic
– Burlap
– Lots of ruffles (those of you that know me in real life know that I am not a "ruffle" girl)
– Ornately decorated desserts or complex recipes (I like the occasional challenge, but gravitate towards simple cooking.)
– Knock off decor (I prefer to come up with my own ideas. I might be inspired by a catalog trend, but I generally prefer not to make an exact copy.)
– Kid's crafts/activities (I had several requests during my blog survey for kids ideas. I can't wait to make crafts if we are blessed with children someday, but right now I will not be creating kids tutorials.)
Trends I want to try and I hope you'd enjoy seeing here some day*:


– Clothing refashions
– Furniture makeovers
– Gallery walls (I actually have had one for several years on the wall going down to our basement. I've yet to show it to you… and I may want another!)
– Cake pops or other fun desserts
– Starburst mirror
– Decor with maps or globes
– Knitting? (big maybe)
– More DIY stuff using power tools! (My experience with power tools is very limited. And I'm a klutz, so it could be a disaster!)
*Disclaimer: The preferences above are subject to change based on what I like.
I'm allowed to change my mind. It changes a lot. (just ask my husband)
So in a year or two… I may hate chalkboards and be really into loads of ruffles. We will see! That's the fun about working on projects (and reading blogs).
If I did not change, I think I'd be writing a pretty boring blog, right?
So, fess up.
Have you made something just to blog about it and the project was not really "you"!?!? Tell me I'm not alone!
And If you don't have a blog, but you read a lot of them, tell me: What trends are you tired of seeing? And what do you want to see more of?
P.S. If you do try making a chip-n-dip tray into a beach ball door hanging, drop me a line. I'd love to see it! I still think it is a cute idea, just not 100% 'me'.


P.P.S. This post was partly inspired by Gina's post on trends (The Shabby Chic Cottage). As her blog's name implies, she blogs about shabby and cottage. I love her beachy cottage style. I might not bring every element she does into my home, but she's an example of a blogger whose style and DIY ambition I admire.


P.P.P.S. Yes, I'm aware that it is June first and I should have a new monthly chalkboard quote up! I wanted to wait another week for it to be closer to the 4th of July. I will try to finish it and show it to you soon.
Thanks for reading Madigan Made!
Content Copyright:2010-14. Madigan Made.