Madigan made… dollar store candy dishes into Fourth of July decor.
I made a few simple changes to the cart in my kitchen for the Fourth of July.
Compared to my Easter decor, this is quite change, right? The frame-on-top-of-a-frame looks different. I changed out the background tan paper in the larger frame for some red wrapping paper. And then I added my simple patriotic printable to the smaller frame.
Did you guess correctly? After seeing the colors of the star garland on my chalkboard yesterday, was there any doubt I was going to use the aqua print?
But my favorite part of this whole display is right below the frame.
I made the glass stars out of dollar store star-shaped candy dishes!!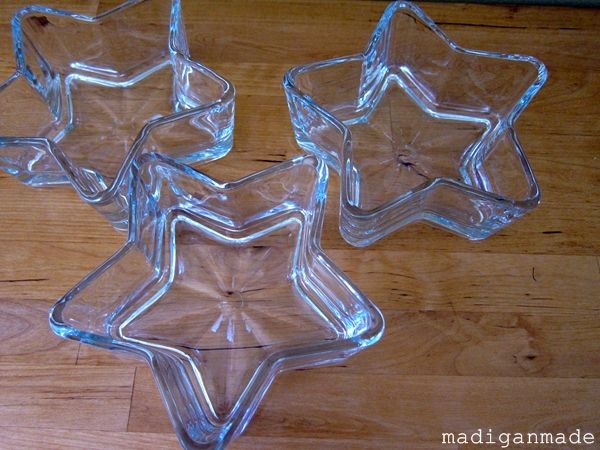 After cleaning the inside with isopropyl alcohol, I taped plastic around the outside of the dish. Then I painted the inside of stars with multiple thin, frequent coats of spray paint. Thin and multiple coats is the key! As it dried, I swirled the dishes around to coat every corner.
Once fully dried, I scraped away any extra paint around the edges that leaked under the tape.
When propped up vertically, the dishes leaned forward. To keep them level, I placed a dollop of hot glue on the two "front" edges of each star.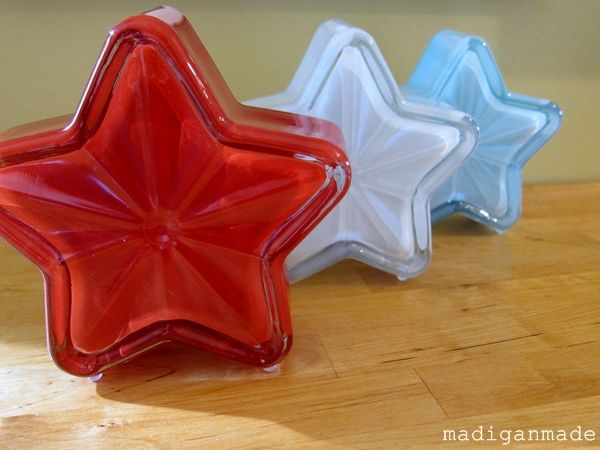 I love the way the stars turned out. Not bad for 3 bucks, plus some spray paint that I had on hand!
(I own quite the spray paint collection!)
They sort of look like milk glass, right? Well, at least the white one does!
Below the cart, I shifted some of my
white creamware
and shopped around the house for a few other pieces.
I added a red vase and blue glass insulators caps for a little more patriotic spirit.
I love this display… because it is so simple and graphic.
And I love the red and turquoise, but I think I already told you that! Hahaha.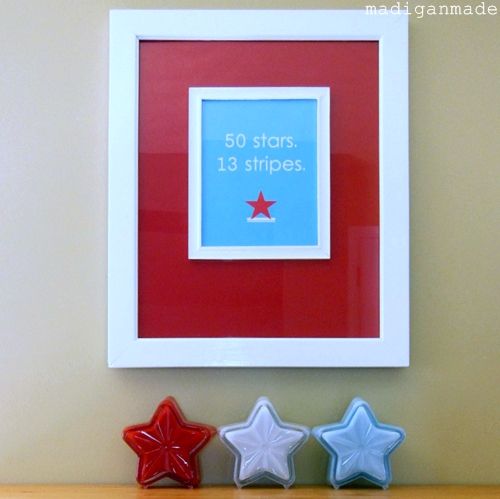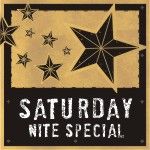 And the red, white and blue party here:
Thanks for reading Madigan Made!
Content Copyright:2010-14. Madigan Made.