Madigan made… inspiring quotes and methods to overcome writer's block.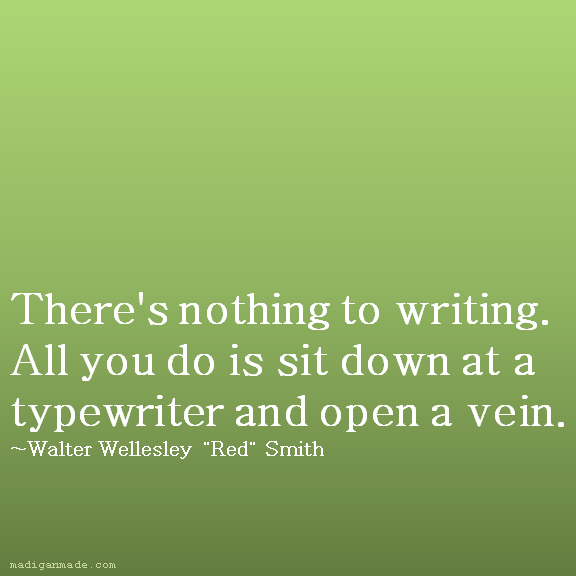 I told you about my creative funk. Since then, over the past 2 weeks I have been reading about other bloggers who seem to have similar writing or project frustrations.
I wanted to share some inspiring quotes and ideas that helped me get back into the groove.
You should know that I am never short on ideas for projects or posts. In fact, I have a huge list of projects in the works that are complete or almost complete. But words to describe them? They are harder to find for some reason.
Writing never used to be a problem for me. Until recently, I could bang out a post in no time. But I was feeling a bit weary of writing the past couple of months. And I started to question and doubt my choices on some of my projects.
I did several things to get out of this creative funk and wanted to share them with you. And slowly, it is easier to write again. Believe it or not, just writing a post like this helps!
How to get back your creative mojo:
1. Unplug, in your own way.
It's OK to unplug if you are feeling burnt out. We all need it some days.
But you may want to think hard before you completely disappear off the face of the Internet. I am personally not a big fan of a blogger saying they are going on vacation and not posting anything that week. Others may have a different opinion. But to each his/her own, I suppose. If you need to stop posting for a month, go ahead. Yes, the blog world will still be here with open arms when you get back.
But there are ways give your readers something to enjoy while you recharge. Schedule a few light posts or repost a couple of 'oldies but goodies'. Maybe invite a guest poster.
That week that I wrote my 'blog funk' post I wanted a reprieve, but I did not want to completely stop posting. So I did a repost of an oldie, a little article about my dog and a quick update about the chalkboard. The posts were fun and easy to write. At the same time they gave me a short break from writing my usual tutorials.
OK, so maybe I only unplugged for about a week, but it felt great! During that time, I did not comment on many blogs. I rarely posted to Twitter/Facebook. And since I did not post any 'new' projects that week, I barely participated in any link parties. I normally link up to several a week, so that alone was a relief. And that mini-break made me think that I need to scale back my link party participation even more!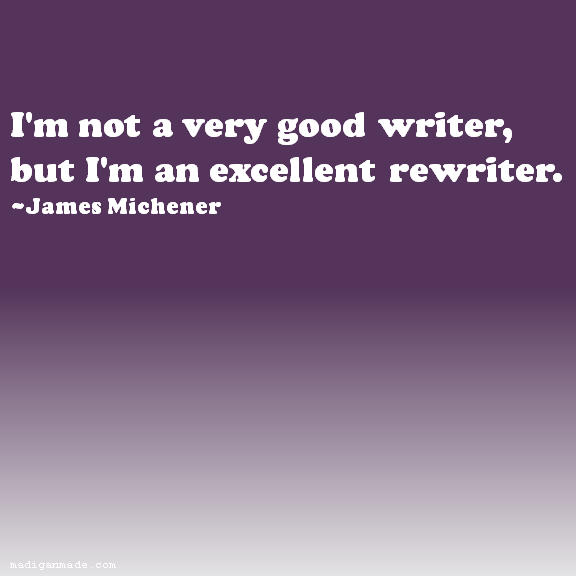 2. Mix things up.
There are several ways you can do this:
– Invite a guest blogger. I have plans to do this soon!
– Group common ideas together for new posts. If you have several old posts or projects in draft that have a common denominator, put them together for a themed week. That's what made me come up with Summer Lovin' with NO Oven Week. Grouping the topics gave me a fresh perspective on each of those recipes. For some reason, it seemed easier to write and assemble each post.
– Write about something different. Writing about my dog was easy and fun to write. It was a nice break from writing a tutorial or recipe.
3. Read some of your prior favorite posts for inspiration.
Read your "Why I Blog" post (again). If you do not have a 'why I blog' post… think about writing one. I used to go back to mine frequently and I needed to go back again for a refresher. I also went back and read some of my early projects/posts again. It was encouraging to hear that 'new blogger' voice who was so excited about shopping bag storage, my white kitchen and indoor s'mores. I realized that I need to inject that enthusiasm back into my writing.
4. Connect with other bloggers.
Share with other bloggers. Connect through Twitter, Facebook, blog comments or in real life. Your friends and family may read your blog, but I'm doubtful many fully understand what it's like to blog. It is important to talk with others who can empathize. It is also a great way to 'get excited' about blogging and find new ideas.
I was feeling a bit frustrated with my blog before I even went to the I Love Thrifting Event. But I'm so glad I went! I loved meeting other local bloggers and it was fun to swap blogging (and thrifting) ideas.
The Crafterminds Twitter group (#crafterminds) met for an impromptu chat one Monday and they had tons of ideas for blog motivation and how to take a blog break. Thanks, ladies!
Yesterday, I attended the Philly Social Media Moms Blog Design Workshop with a few of the Philly thrifting bloggers: Diane (In My Own Style), Holly (West Pear Avenue) and Janis (The Magic that is… Thrift). I'm not a mom yet, but Diane encouraged me to still go and it was a fabulous workshop. I came away with so many fresh ideas. I loved that it was local, too!
5. Use your brain in a new way.
Read a new book. Take a walk in a new park. Just do something new! The change can be good for you.
I tried a new craft. I've been playing with Dimensional Mod Podge this past week and loving it! I can't wait to show you some of those projects soon!
I also went out and purchased the Wii game Just Dance 2. I played it at Christmastime with my cousins and had a blast. I thought the game might be a fun alternative for me to exercise at home. It will be fun to have for parties, too. But right now, I've been 'just dancing' in our family room like a fool. My dancing skills are terrible, but it is fun! (Think: Elaine from Seinfeld)
6. OR use your brain in a familiar way.
Instead of trying something new, maybe there is something you always love doing that can relax or inspire you. Bake up some of your favorite goodies. Go shopping in your fav store. Clean. (ok, you don't have to do that if you don't want to!) Work with your favorite medium.
When in doubt, just work with something that you love to use. Aside from trying a new craft, I also broke out my "tried and true" spray paint. It's amazing how a quick spray paint job can satisfy your creative hunger!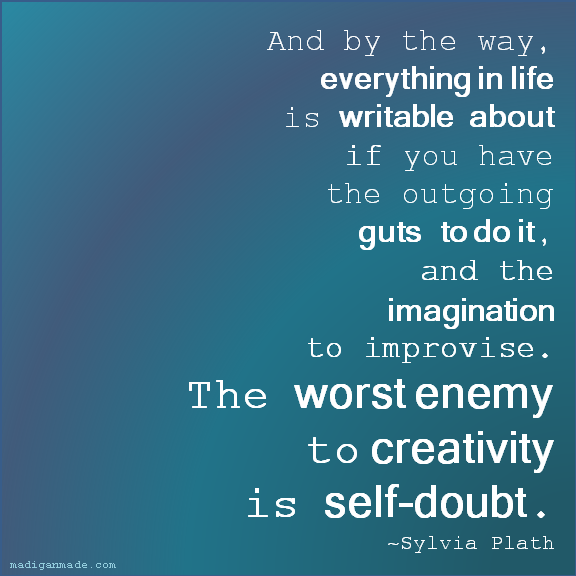 7. Release the doubt. Follow your gut.
I love reading quotes for inspiration. The quote above is just what I needed to hear. Part of the reason that I feel like a deer in headlights is because I am having doubts about some of my projects lately.
Remember my post about not blogging on the bandwagon just to follow trends?
I am trying to avoid that path, but I am pushing myself to take more decorating risks. My updated foyer is a big change for me. I love it, but it is not as 'simple' as the prior foyer and it is taking some time to get used to it. And in turn, I'm dragging my feet to write the post. But I need to trust my gut. I think the foyer looks great and I'm sure you will love it, too.
My creative block is slowly lifting and I have a bunch of things on my to do list to show you!
As I mentioned… I am rarely ever short on ideas for posts and projects. Just short on words. But no more!
What's on my to do list?
– Remember that beachy master bathroom I started? Well, it's basically done. I just need to photograph it.
– That foyer before/after I've been promising? Yeah, it's photographed and the copy is coming… soon.
– And how about those pillows for the chairs out on my updated deck? I have the fabric washed and cut. I just need to sew them up. Hoping to get them done today!
– Curious about what I did with the sunburst mirror dilemma? I followed my gut and got out some paint to fix it. I'm happy with the result and hope to share in the coming weeks.
What's on your to do list?
How do you movitate yourself or recharge?

Thanks for reading Madigan Made!
Content Copyright:2010-14. Madigan Made.