Madigan made… a patriotic wish and 2 easy party ideas!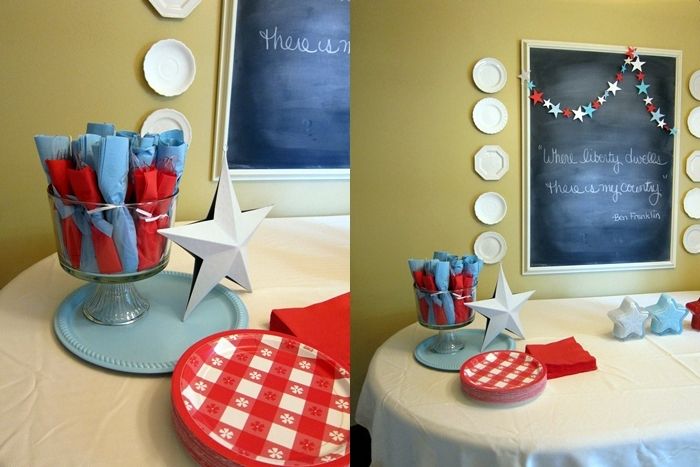 Need a couple of last minute Fourth of July entertaining tips?
We had a little party this past weekend and I wanted to share two ideas with you. They are simple things you can do before your BBQ today.

First, roll up your plastic ware in patriotic napkin colors.
Tie with a coordinating ribbon and use a trifle dish to store them on your buffet table.
Cute, simple and fun!
I snapped a quick picture of the table before people (and the hoagie trays) arrived. We just extended and turned our kitchen table against the chalkboard wall for a buffet space. Having the chalkboard there (with the star garland) was an easy way to make the table look festive. Just another reason I love that chalkboard!
Second, make your own tablecloth weights. Outside, we set up a card table for more seating.
I did not have tablecloth weights… but I improvised. I actually copied this idea from my one sister-in-law.
Last year for a party she used tiny gauzy gift bags filled with glass gem marbles as table weights. It was such a cute and clever idea. She used drapery hooks to attach hers to the tablecloths. I did not have any of those, but wooden clothespins worked for me. I just clipped each one under the tablecloth corners to secure each 'weight'.
Simple, easy and pretty!
Whatever your plans are for today, I hope y
ou
have
a wonderful and safe Fourth of July!
Thanks for reading Madigan Made!
Content Copyright:2010-14. Madigan Made.