Madigan made… an easy tutorial for a quick envelope pillow.
Care to learn how to make a pillow in 20 minutes?
I can hear the voice in your head:
Really? I'm a novice sewer. Only 20 minutes?
I know, I sound kind of like those cooking shows that promise a fast and easy meal. (I hate them, too.)
For example, I have a love/hate relationship with Rachel Ray's show 30 Minute Meals. I love the premise of the show and the promise that I can make a meal in only 30 minutes. It is a tease for me, though. Her 30 minute meals typically taken me 60+ minutes.
What's the difference between Rachel and me? Practice. Equipment. Experience. Confidence.
And I think the same rule holds true with sewing. Everyone starts out a little slow with a new skill. The more you practice a certain type of project, the faster you become. It is easier when you have good equipment. And the more you sew, the more confident you feel working on new projects.
I've made my share of basic envelope pillows for several years. And once you figure out the construction, whipping up a pillow is easy.
And to clarify: I detest the phrase "I just whipped this up this little x". You see folks saying it all the time and I always question if the project was that easy. But I have to admit that an envelope pillow is pretty easy.
It was hot this past weekend and I hid in our cool basement family room with a little HGTV and my sewing machine. I wanted to finish four pillows for the Adirondack chairs on our deck.
I had not made a pillow in awhile, so I was a little rusty with the first pillow. That one took close to 30-40 minutes. But once I got into a groove, I punched the other 3 out in no time.
So, can you make a pillow in 20 minutes?
I say "yes", but it takes some practice.
Want to make one? This is the perfect project for a novice sewer. It is just 4 straight lines and one piece of fabric!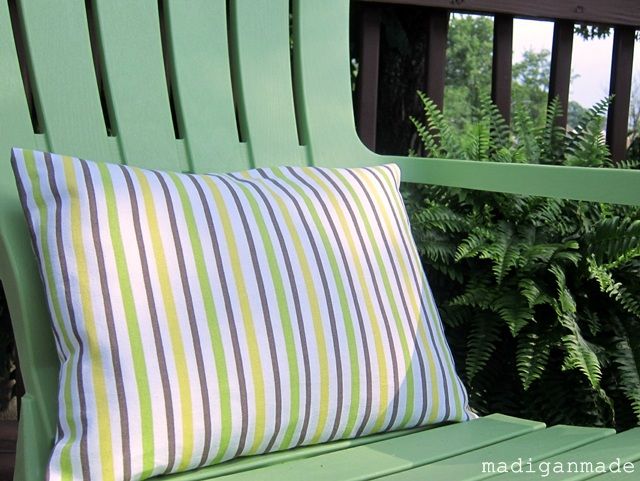 I gave you general guidelines below for measurements and seam allowances. Feel free to tailor those guides to how you sew. It may waste a little fabric, but I tend to cut my fabric a little bigger than I need "just in case" I make a mistake.
Also, for some reason, I am afraid of narrow seam allowances. They scare me.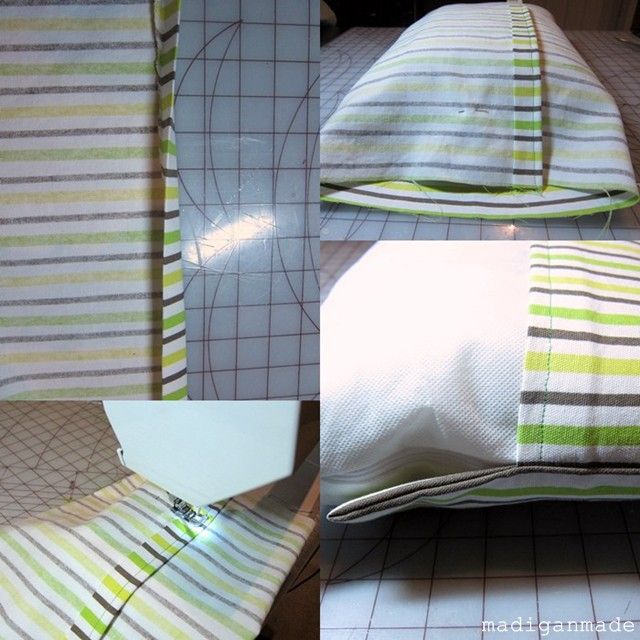 My pictures turned out a bit dim, so I made these diagrams that I hope are easy to follow:
(Note: the dotted orange line in the picture represents a tape measure.
Sorry for pointing out the obvious if you already guessed that!)
I did not use outdoor fabric for these pillows. It is regular ol' home dec fabric from Joanns. I plan to bring the pillows in when they are not in use.
I think the fabric looks great on the deck with my apple green chairs. The thin yellow stripe adds another color out there to break up all the green. And the brown stripe on the pillow picks up the color of the deck stain.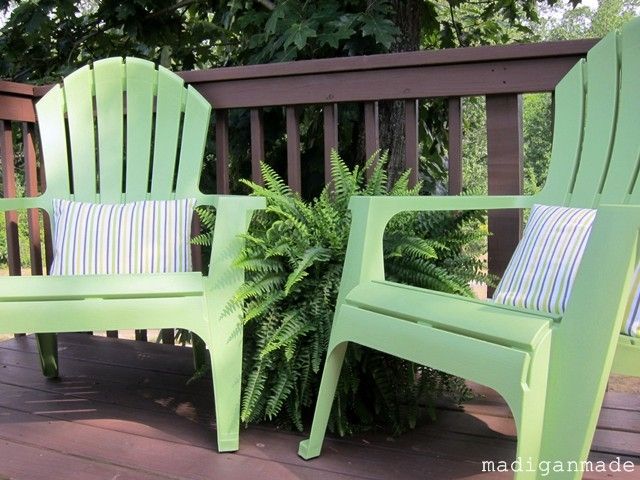 So… if you are new to sewing and unsure about pillows, I encourage you try this project.
Your first couple of attempts may take 40+ minutes. But I promise the more you practice, the faster you will get at pillows!
And after practice you will be able to say you can just 'whip up' a pillow.
And I'd believe you.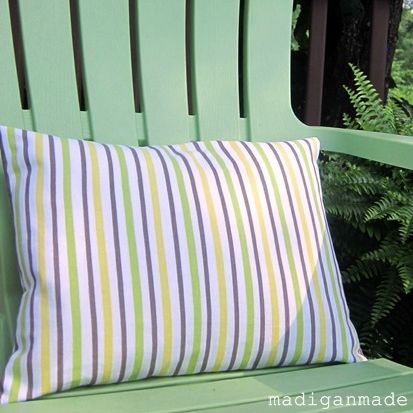 Thanks for reading Madigan Made!
Content Copyright:2010-14. Madigan Made.