Madigan made… lessons from a cute pup.
Thanks, again, for your feedback and support from my post about my project/writing rut.
I'm still thinking about some post ideas and working on a few small projects.
To keep you entertained and to mix things up a bit….
I thought I'd share with you what keeps Mr. Madigan and me entertained in our house:
Meet

our little madigan.
(Madigan means little dog in Gaelic)
She is a 4-year old-wheaten terrier and she is the happiest animal I know.
No kidding. Strangers ask all the time: "Is she always this happy?" Ummm… yes!
When I come home from a long day and this joyful monster greets me, it is so hard not to grin from ear to ear.
During my funk earlier this week… all my happy pup wanted to do was play. I realized that there is a lot to learn from her attitude.
What can I learn from this little bouncing beast?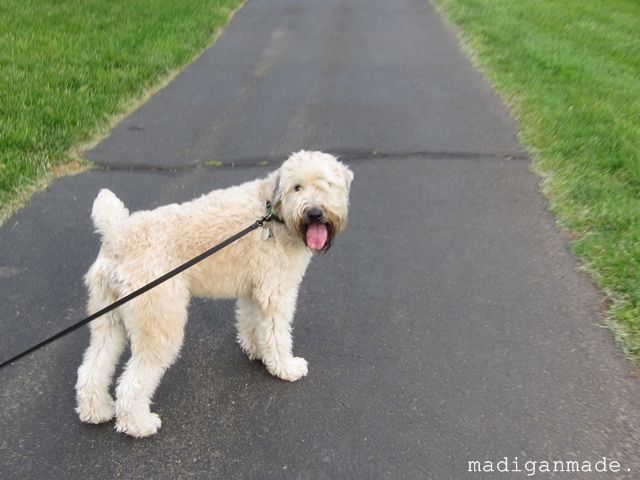 1. Rarely say 'no' to fun.
This puppy is always up for a walk or play… Love that about her.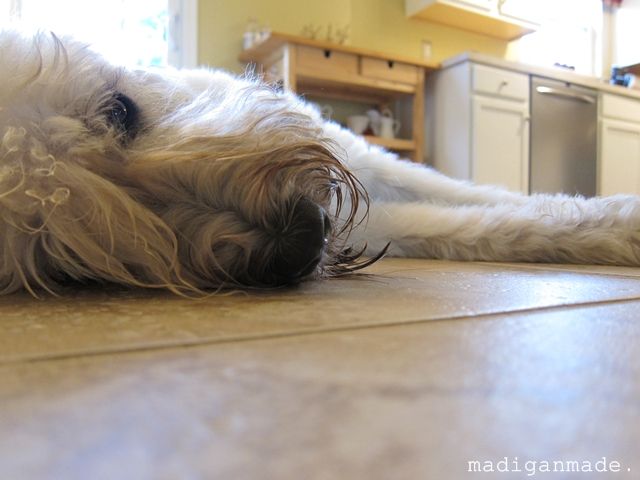 2. Work hard. Play hard. Sleep harder.
For as much as she love to play, our pup can 'chill' with the best of them. In really hot weather, she loves to relax on the cool kitchen tile. Curled up on the couch watching TV? She will be happy to join you!
3. Don't be afraid to share how you feel.
This dog jumps. And jumps. And jumps. And jumps. Especially if she has not seen you… in 5 minutes. We should've called her Tigger. (Or maybe tried a little harder with our training. We were warned by many wheaten owners that it is very hard to train them not to jump. It is how they greet each other.) But in many ways, hubby and I secretly love this joyous jumping. (Though we still try to train her to stop.) She is sooo darn excited to see you and not afraid to show it.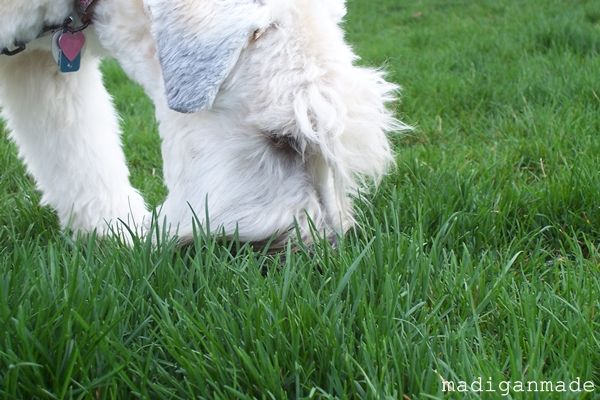 4. Live in the moment.
Training a dog, you learn a few things about how their brain works. I learned that if you want to provide reinforcement back, it has to be immediate. Dogs rarely understand that you are yelling at them for something that happened an hour or even 5 minutes ago. And they don't know that tomorrow is a big day for you… The present is their focus. They want to make the most of what is happening now.
5. Love. Unconditionally.
Any animal owner knows what I mean here. The affection an animal can have for you is simply amazing.
I feel blessed to have this funny and furry creature in our home.
We still try to train her… and in her own way, she can teach us so much, too!
What have you learned from your pets?
Thanks for reading Madigan Made!
Content Copyright:2010-14. Madigan Made.