Madigan made… dog (and owner) ice cream.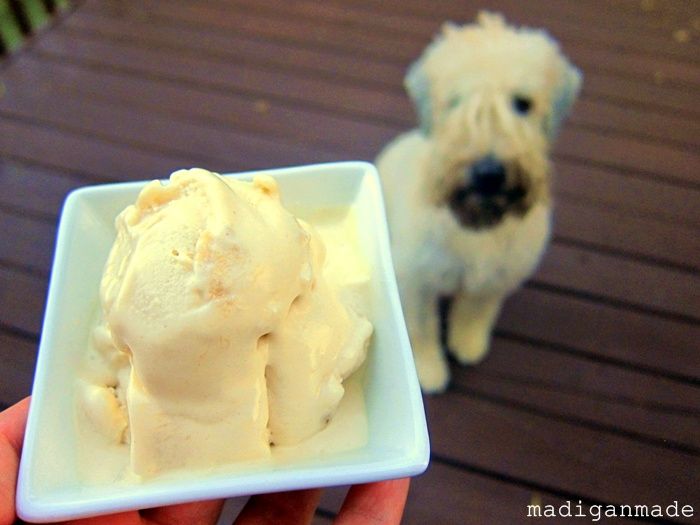 How are you beating the heat this summer?
After my week of Summer Lovin' with NO Oven… I have one more cool treat to share with you.
Last week we broke into the triple Fahrenheit digits around here. It is a little cooler now, but the air feels like thick, sticky mud. Aside from (very) short walks with the dog, I'm not venturing outside much.


Gosh, I'm ready for fall, aren't you?
This time of year is hard for our dog with her heavy, furry coat. We broke down and bought her some doggy ice cream from the grocery store a few weeks ago.
She loooved it, but that little cup cost 3+ bucks! I looked at the ingredients and knew I could find a recipe similar online.
I found a recipe (here at collar girl) that used 32 oz plain low fat yogurt, 1 mashed banana, 2 tbsp peanut butter and 1-2 tbsp honey. It was so easy. You just combine the ingredients and freeze!
(Note: I am not an expert, but the recipe on this site did say it was safe for dogs and several other recipes I found for dogs had similar contents. Check with your vet if you are unsure if your dog can eat these ingredients. And as with all treats for your dog, (and yourself!) they should be an occasional reward and not routine.)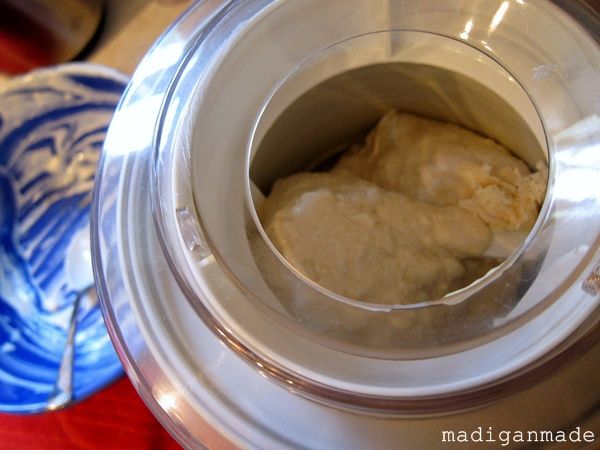 I wanted to try the frozen yogurt since I love all those ingredients, too. I could have frozen the mixture in a small container, but decided it would be fun to fire up the ice cream maker to produce a creamier consistency.
Are you wondering if I fed my dog ice cream from the white ceramic dish?
Um… no. That was my serving!!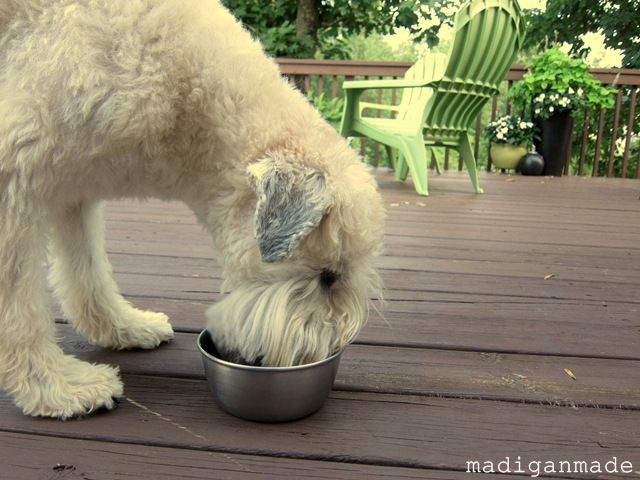 The dog enjoyed her little scoop in one of her stainless bowls out on our deck. She licked the bowl clean!
I rather enjoyed my scoop. It was not rich and creamy like ice cream. The texture was more icy than creamy. Because of the yogurt base with the banana, it was sweet and tart at the same time. In a way, it reminded me a bit like Pinkberry.
After all the work I put into making custard based chocolate ice cream last summer, I'm intrigued about using yogurt for more 'ice cream' recipes.
It's easy and a little more healthy for me, right? Hmm… I think you can count on me making more frozen yogurt!
And my puppy won't complain about that, either!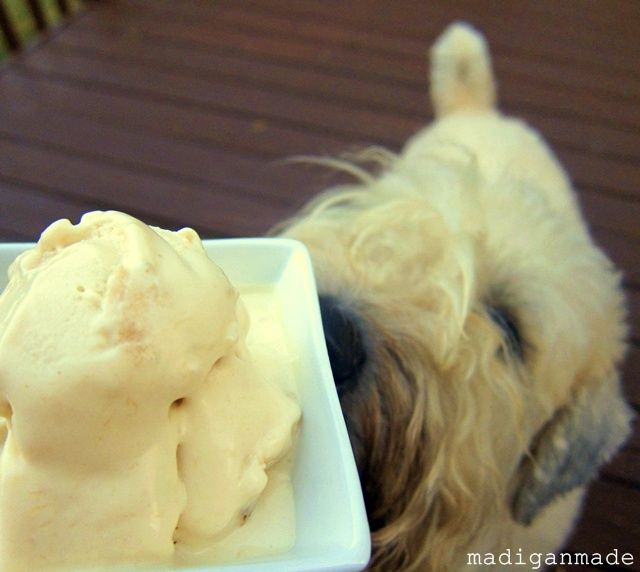 Sharing with:
Thanks for reading Madigan Made!
Content Copyright:2010-14. Madigan Made.