Madigan made… marinated sardines and avocado on cracker crisps.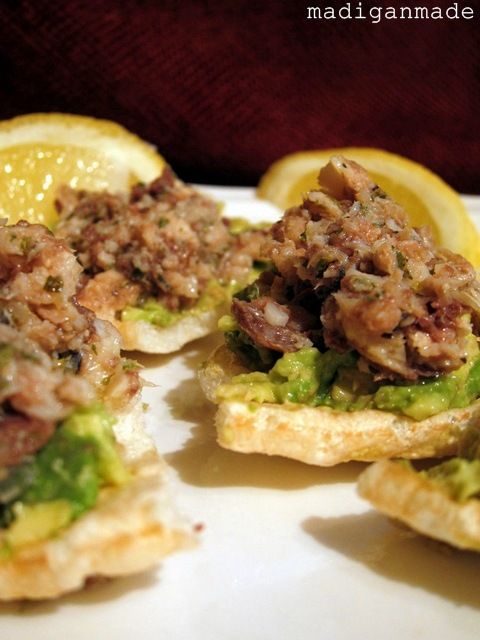 I know. I'm talking about sardines.
Really?? Yes.
Before you say 'yuk' and click away, bear with me. These little fishes are packed with healthy omega-3 fatty acids. And because they are small fish, they are considered to be low in mercury content.
Aaaand… they are pretty tasty. If you like canned tuna or a tuna salad sandwich, I think I can talk you into liking this dish.
This is the third installment of Summer Lovin' with NO Oven Week here at Madigan Made.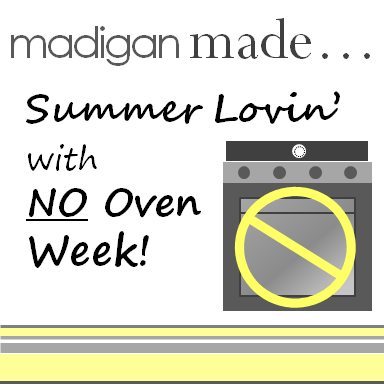 This week I'm bringing you several recipes for the summer. What do all the recipes this week have in common? You do not need to step foot near your stove!
They also are simple and easy (which is pretty typical of the food ideas I bring you).
This sardine dish is not very heavy. It might be a great choice for lunch or for a light dinner. To be honest, in this weather we typically keep our meal ideas simple: Sandwiches. Salads. Guacamole and nachos. Maybe throw something quickly on the grill. (Which is cooking over heat… but it is outside, so that doesn't count. hehehe)
This recipe is light and easy. I adapted it from something I saw on the Food Network and Good Eats.
I love Alton Brown. His approach on TV is so likable. I learn a lot about the mystery of cooking on his shows. He reminds me of an enthusiastic science teacher. You know, like Mr. Wizard, but with food. But I often find his recipes to be a bit daunting and complex. His recipe for sherried sardine toast is surprisingly simple (for his dishes, at least).
I do advise finding cans of skinless and boneless sardines which will reduce your initial 'ick' response. When you open the tin, you will see rows of little fish. Trust me, that is OK. Mashed up, the fish looks and tastes a lot like canned tuna.
Marinated in a vinaigrette and nestled next to creamy avocado on a crispy bed – these sardines are a wonderful treat. I like them on these large popped rice/wheat discs that our grocery store sells. Or, you could fire up the toaster oven and make toast, but this is a no-oven week, right?
I actually photographed this dish last summer… but hesitated for a long time to share it with you.
Do you know how hard it is to photograph and talk about canned fish… and make it appealing to readers? Um, yeah. It's intimidating. Hopefully I can get a couple of you to think about trying sardines.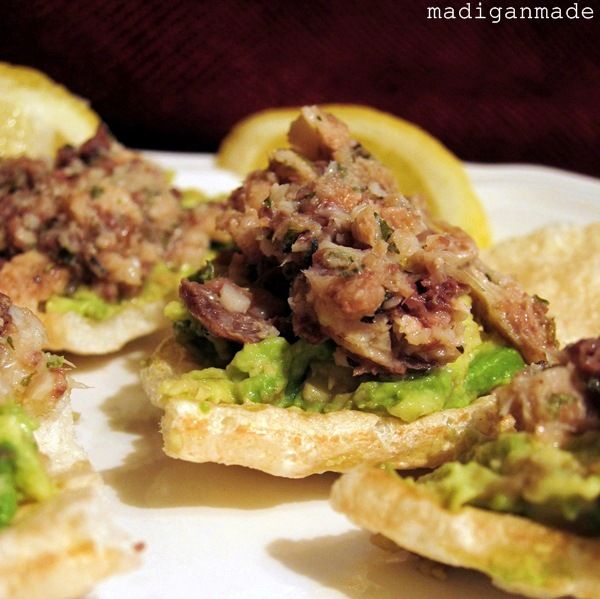 Sardine and Avocado Crisps
Adapted from Food Network's Sherried Sardine Toast
2 (3 or 4 oz) tins sardines in olive oil
2 tbsp parsley, finely chopped and divided
1 tbsp red wine vinegar
1/4 tsp lemon zest
1/2 tsp lemon juice
1 lemon, reserved and cut into wedges
Pepper
Crackers or rice cakes, etc.
1 ripe avocado, skin and pit removed
Sea salt or kosher salt
Open Drain the oil from both sardine tins and place the sardines in a medium bowl. Reserve the oil from one tin in a small bowl.
Mix Combine the vinegar, parsley, lemon zest, juice and pepper with the reserved oil. Toss the oil and vinegar mixture with the sardines. Refrigerate this combo for about an hour to marinate the sardines.
Serve To serve, mash the avocado and spread a layer on top of crackers or rice cakes. Top each cracker with some of the sardine mixture. Sprinkle with a little salt, reserved parsley and lemon juice (to taste).
Sharing with:
Thanks for reading Madigan Made!
Content Copyright:2010-14. Madigan Made.