Madigan made… thrifting treasures.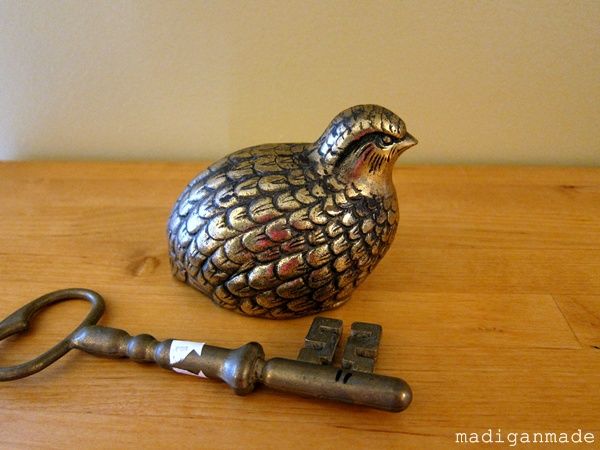 Aside from the great finds I shared with you from the Philadelphia I Love Thrifting day…
…I thought it would be fun to show you some of my recent finds from this summer so far.
Above are two brass pieces, a bird and a large key, that I found at a local thrift store. I love the quail, especially. It reminds me of the ceramic quails that I found and painted white last fall.
If you told me 5 years ago that I would be writing the following sentence, I would not believe you.
But I'm sorta liking gold and brass these days.
I know. Brass normally conjures up visions of bad 80's… anything. It is making a comeback in fashion and home decor.
And used in a thoughtful and sparing way, I think brass can be both warm and modern looking. Don't believe me? Check out the pin board I created on Pinterest.
After a little cleaning, I'm hoping to use these two brass pieces as accents in our den. (where I also plan to hang the gold sunburst mirror I am working on)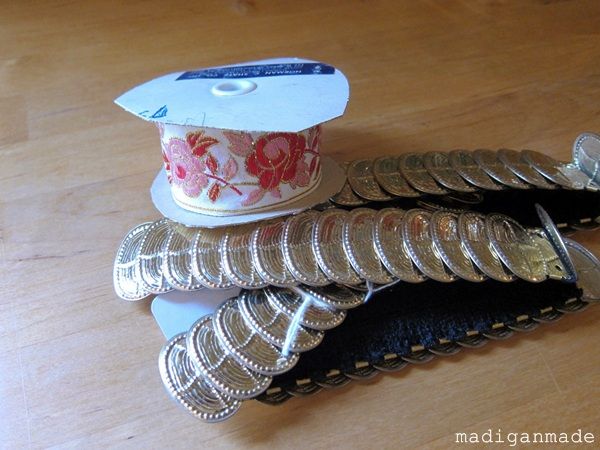 And here is more gold! I found this gold, stretchy belt and floral ribbon this past week at a flea market. Not sure if I will use the belt as a belt, or do something with it. Because it is stretchy, the belt fits around my hips and higher for an empire silhouette, so it might be nice to keep "as is".
I love the combination of the white + pink + red + gold in the ribbon. In fact, it reminds me of the colors going on in my china-cabinet-posing-as-a-bookshelf. Maybe I can make something with the ribbon for that room? Hmmm.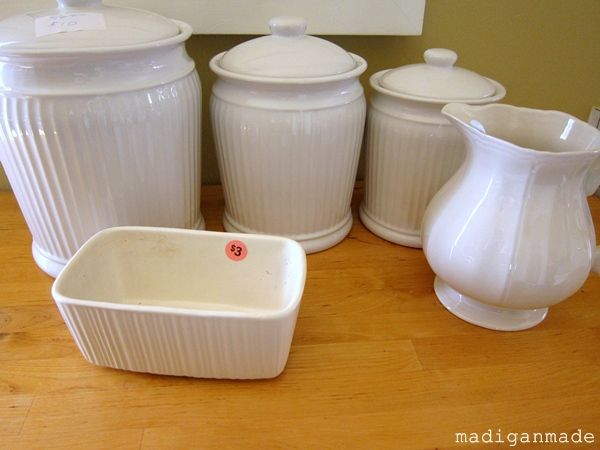 I scored all of these white creamware pieces in one day at a flea market!
The ironstone pitcher was 1 dollar!! I love matte white glazed pottery, so I couldn't pass up on the Hull & McCoy square planter.
AND – my FAVORITE find of the day was the white ceramic kitchen canisters.
The seller told me they were originally from Williams and Sonoma. They were not marked on the bottom and I was not 100% sure if they really were from WS, but I did not care.
They were a great size and a classic shape. For 10 bucks, they were all MINE!
Again – more whiteware! But this time in the form of milk glass!
I found the vase on the right in a consignment shop, the middle vase at a thrift store and the planter on the left at a garage sale. The total for all 3 was around $4.
When it comes to milkglass, or really any piece of creamware, I am quite picky. (Heck, I'll
make my own milkglass
, if I have to!) To me, milk glass can look a little fussy and uber-country at times. I look for clean and classic shapes. I
like how all 3 of these white pieces are simple in their details and profile.
I looove the leaf texture on the middle vase. The finish on in it is a matte white, so I'm not even sure if it is milkglass or just a white ceramic piece. For the purposes of the post – let's call it milkglass.
Can you tell I love white ceramics? I clearly might need an intervention soon!
How about you? Any great finds this summer?
Sharing with:
Thanks for reading Madigan Made!
Content Copyright:2010-14. Madigan Made.