Madigan made… a simple fabric cover for her crafty cutter.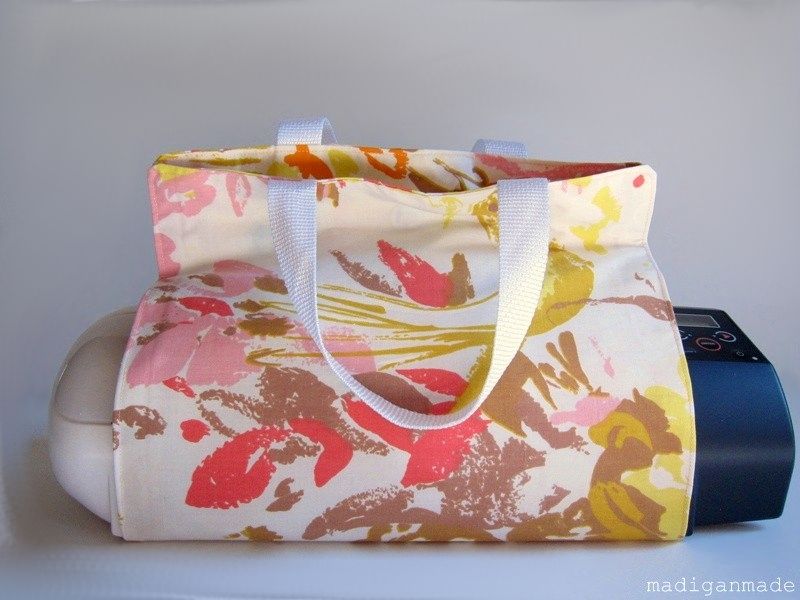 I love pretty storage solutions, don't you?
This is a quick sewing project that helps me cover one of my favorite crafting tools: my crafty cutting machine!
After I showed you the colorful craft area in our basement, I thought I'd go back and share some details about a few of the projects.
Did you spy my crafty cutter on the shelf next to my sewing machine? Don't they look so pretty with their new covers? (and they match the paint chip storage carts.)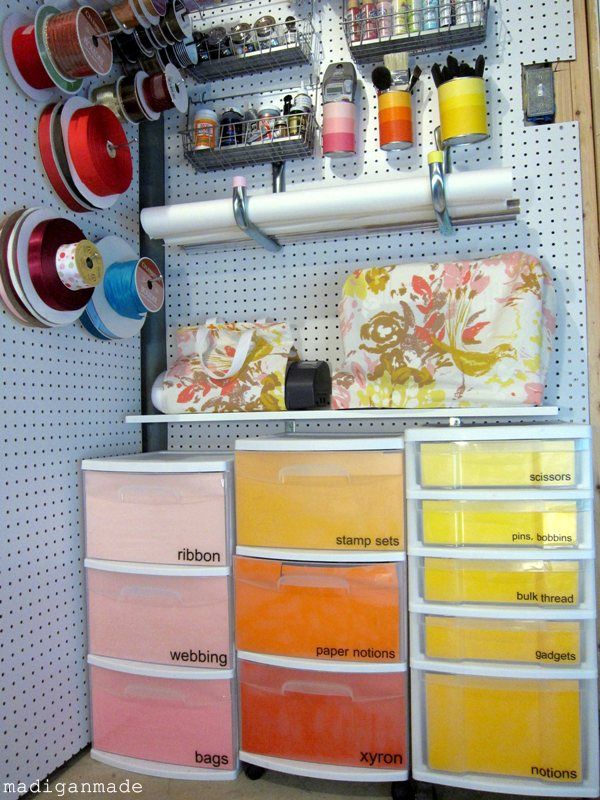 I loved this
soft watercolor floral fabric
that I found in July at the
I <3 Thrifting Day
. It was the perfect inspiration for my craft area. The colors are cheery and fun. It really brightens up what is a typical dark and boring basement.
(my helper liked it, too!)
The
sewing machine cover
is basically an upside-down and unlined tote bag shell. If you wanted details about how to sew a simple purse, you might want to check out my tutorials about
how to sew a basic purse, any size
. I just measured my sewing machine and followed those steps to create that slipcover.
But I figured that some of you might want to hear about the cover I made for my cutting machine.
I created the case using a simple rectangle of fabric, interfacing, snaps and handles. I made it big enough so I could store the electrical cord with the machine.
The snaps are staggered and placed in a curved fashion so that they 'hug' the cords tight against the machine.
I don't have to carry the machine far (just from one room into another) but the cover holds everything pretty securely.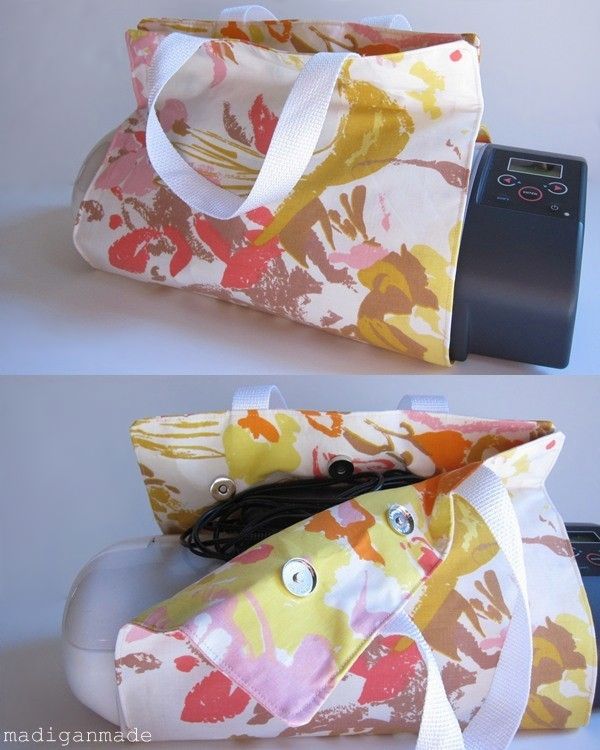 To make one for yourself, just follow these diagrams and instructions below:
(Note: these dimensions and instructions are for a Silhouette SD machine)
Note: I used 3 sets of magnetic snaps. You could use the traditional ones, too. I also cut out the interfacing to be the exact size I wanted for the cover.
Follow the steps in the diagrams below: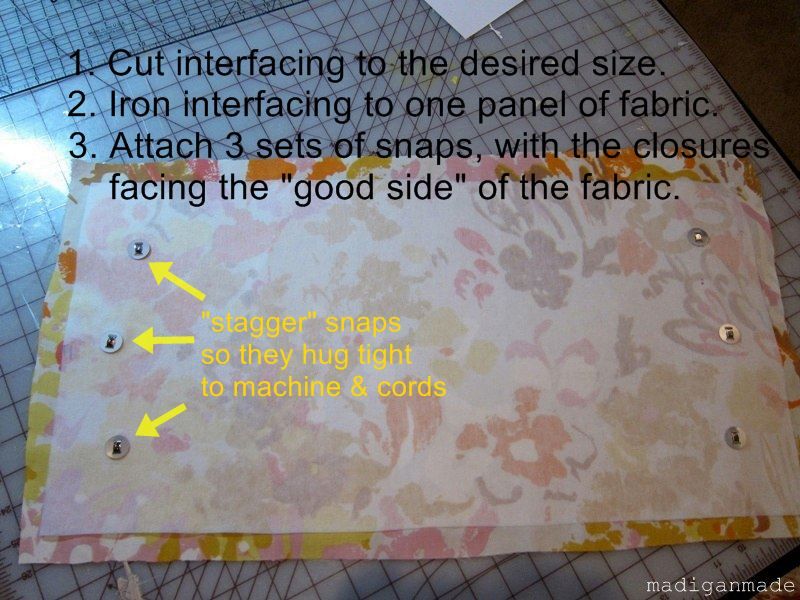 Note: In order to ensure the snaps keep the electrical cords secure, I do suggest gently staggering them. Follow the diagram above and this picture for suggested measurement and placement.
Tip: Sew right along the edge of the interfacing. Use that as a guide for your stitch lines.
Note: Be careful and don't do what I initially did! Pin the handles inside and between the two good sides of the fabric. Oops! It never fails that I need to get out my seam ripper for at least one step in a project!
Despite that minor hiccup, the cover turned out exactly as I hoped it would. The snaps are quite strong and do not pull apart when I carry it using the handles. This cover helps carry my crafty cutter and keeps it from getting dusty, too.
It's so simple and pretty! 🙂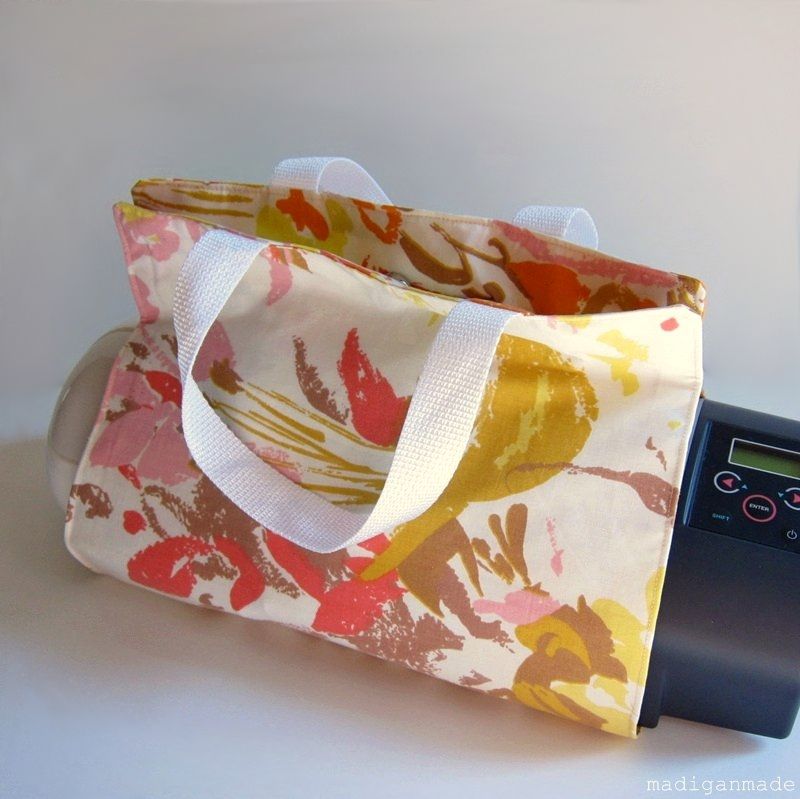 Sharing with:

Home Stories A to Z
Thanks for reading Madigan Made!
Content Copyright:2010-14. Madigan Made.