Madigan made… a distressed looking silver frame with quotes.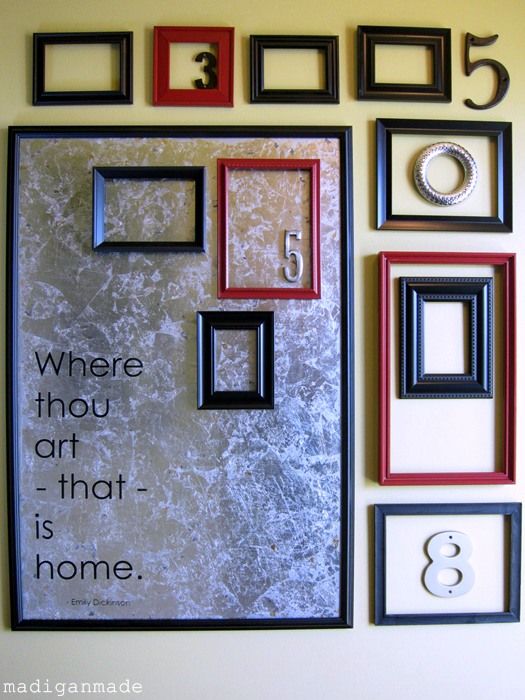 I'm not exactly sure what to call this silver frame.
In some ways, the distressed metal finish reminds me a little of mercury glass. In other ways, it reminds me of an aged acid washed mirror. It is not really a "mirror". You can't see your reflection.
In reality, this frame is its own thing and I love it.
If you remember when I showed you my foyer gallery space, I made this frame because I wanted a large statement piece to hang above our new bench. Eventually, I ended up adding more around it to create a gallery wall.
I often avoid run-of-the-mill wall art from a home store.
There are just too many ways you can create or buy unique and personal wall art. Aside from a great find or two at a flea market, I try to make my own wall decor. It is cheap, easy and more special.
I started with this large ugly poster frame that I picked up at a thrift store cheap. At the time, I was not sure what I wanted to do with it.
Then I thought about making it into a mirror. I made a small silver tray using silver leaf in the past (seen here in my Christmas foyer) and thought that finish could work.
But I wanted to add another detail to break up the frame. A quote seemed like a great idea. I added the quote using a method similar to how I made my faux vintage pretzel sign for our basement.
First, I removed the Plexiglas (yes, it was not glass!) and cleaned it thoroughly. I cut out words in black vinyl using the mirror image. I adhered the words to the back of the glass. A strip of masking tape helped me line everything up.
Then I grabbed some silver, black, gold and pewter craft paint. I randomly added dots and splotches with each color.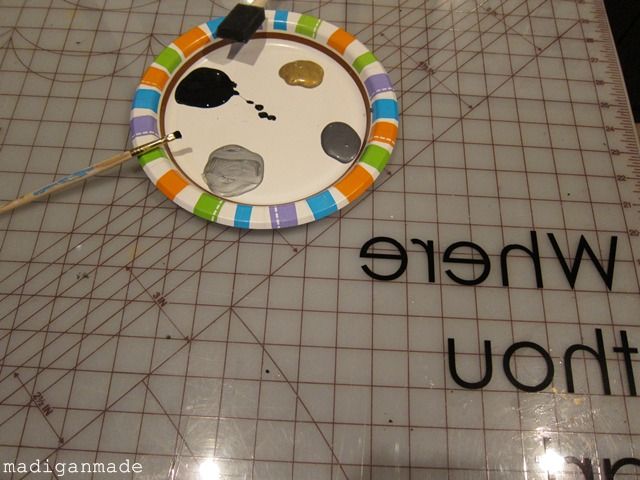 Next, I used a whole pack of silver leaf and silver leafed the back of the glass. I just followed the package directions and used the liquid adhesive that went with it. I purposely laid the leaf down crumped and random with lots of gaps. I went back and used a teeny tiny bit of gold leaf and put little pieces of that down in some of the open gaps.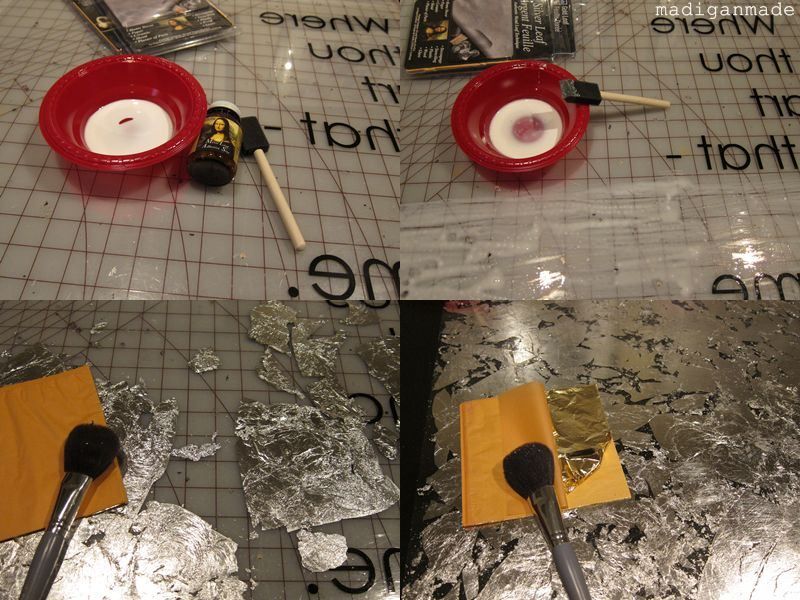 Finally, I used silver craft paint and painted over the entire surface so that all the "open" areas were covered.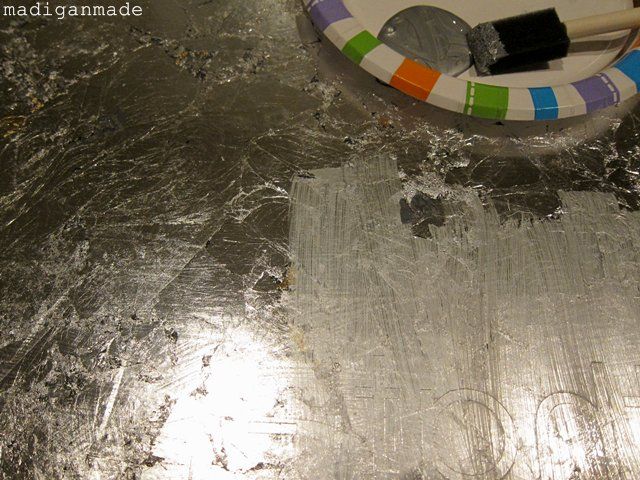 Here is a close up of what the finish looks like: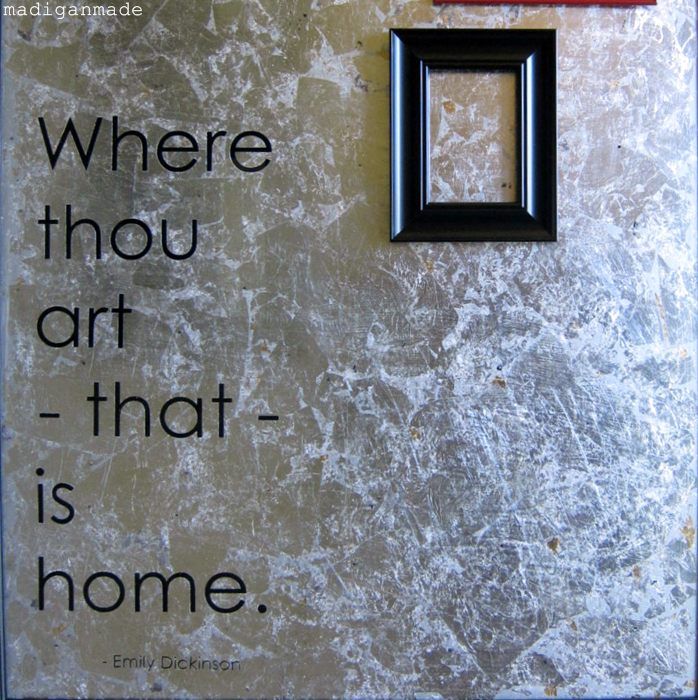 In order to incorporate the large frame into the rest of the gallery wall space, I added a couple of frames and a house number on top of the glass in the corner opposite the quote. (using Command hanging strips)
As I mentioned on Monday – I love this Emily Dickinson quote for a foyer. Home is where ever our little family is today.
And right below the quote sits my 'global' accents: my thumbtack covered globe, my glue gun writing globe (covered with meaningful cities to us as a couple) and a matroyshka doll from Russia (from my globe trotting in-laws).
There is a lot going on in the space now, but I love all the personal touches.
Unique or personalized art and accessories are important in a home.
Sure, catalog rooms and popular accents are pretty… but add a little "you" in the room. It can make a space your home.
Sharing with: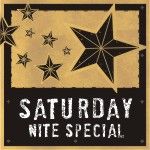 Home Stories A to Z
Thanks for reading Madigan Made!
Content Copyright:2010-14. Madigan Made.