Madigan made…. easy stamp storage with a tool chest and colored paper.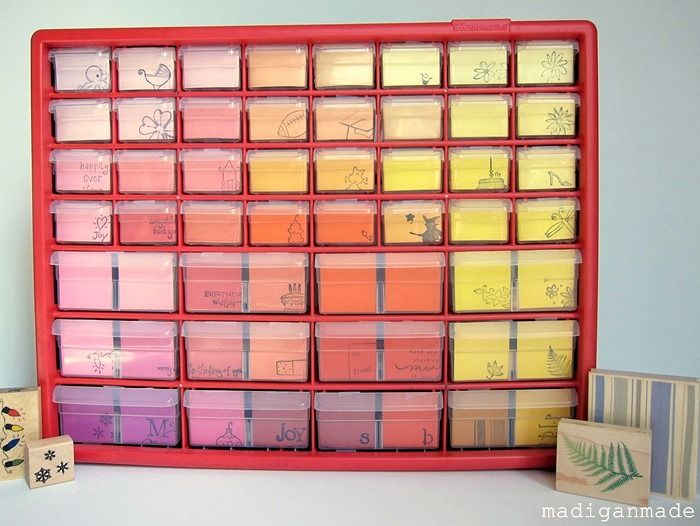 I do not create a ton of paper crafts and I own very few stamp sets. But I like little stamps. They are great for small projects like gift tags, handmade cards, etc.
I'm a sucker for the dollar and discount stamp bins at craft stores. I'm even lucky and find cute stamps at the dollar store, too. I acquired most of my little stamps this way! And I have a bunch of them!
I don't know if you've seen this idea before, but I've been storing my random/loose stamps in a tool /hardware chest for many years. The drawers are the perfect size for small stamps. I used to have white card stock at the front of each drawer and labels with what type of stamps were in each.
But recently, I wanted to update this stamp chest. I also wanted to reorganize and purge some of my craft supplies.
I've been inspired by paint chip crafts and ombre patterns (like the ombre necklace slide I showed you Monday) and I'm loving pinks, oranges and yellows.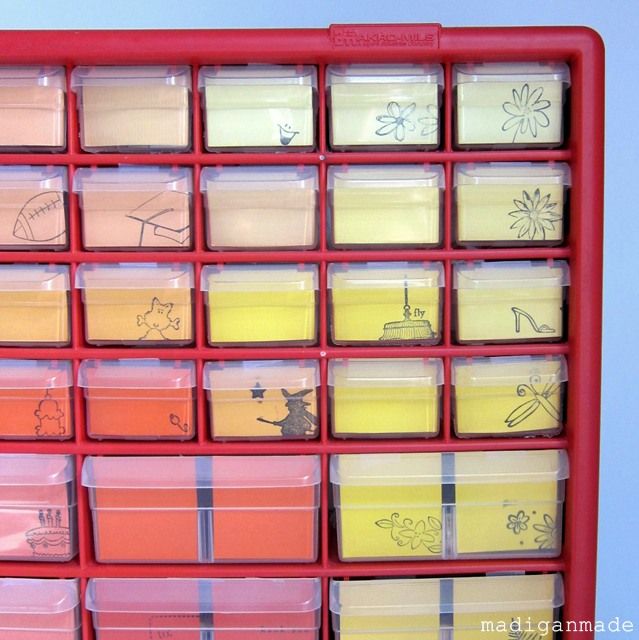 So, I decided to use different shades of scrap paper to create a gradient effect across the drawers/containers. I have a lot of different scrap book paper in my craft stash and that made it easy to create this pattern… but I imagine you could even use real paint chips, too!
I sorted through all my stamps first. Then, I cut out little squares of colored paper to fit inside the front of each drawer. It took some time to layout where each color went, but I just went from lighter shades to darker shades (top to bottom) and worked my way across to change the colors from pink to orange to yellow.
I stamped one image on each piece of paper like a label and placed the paper at the front of each drawer. I did use a tiny piece of clear tape at the top to secure the paper to keep it from falling backwards.
I purposely stamped just the lower right corners so that it would not obscure the color block too much.
Just that small stamp in the corner will be enough to tell me what type of stamp(s) are in that drawer.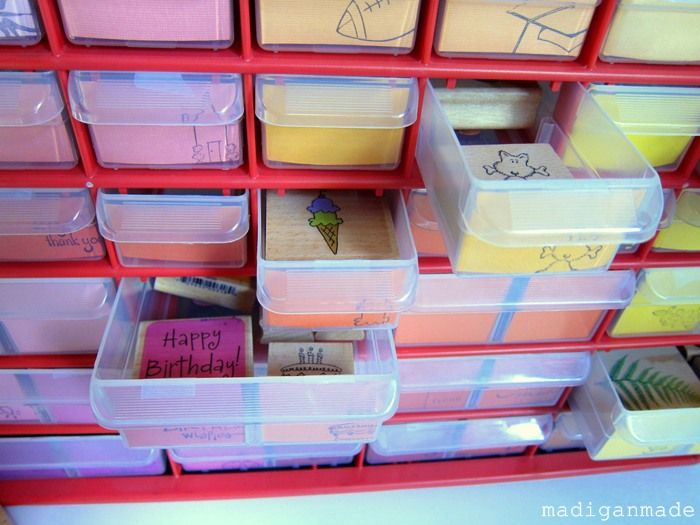 If you notice, some of the drawers are still blank.
So, now I have room to grow! (And more bargain stamps to find!)
The yellow, pink and orange is a happy color combo. I continued with this color theme across the rest of my craft storage area in our basement. I've been working to complete the space and hope to show it to you very soon. Wait till you see it! It is very fun!
But I love this idea for stamp storage and thought it was worth showing it to you now to review all the details. It is a simple idea for storing small objects and adding the gradient color makes the storage feel custom and pretty.
Do you have any simple storage ideas?
Sharing with: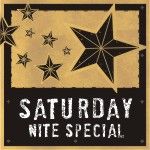 Thanks for reading Madigan Made!
Content Copyright:2010-14. Madigan Made.