Madigan made… a wreath out of metal brass tacks for fall.
"You made a wreath out of… thumbtacks???"
Yes, I made a wreath out of gold thumbtacks! 🙂
I wanted to make a new wreath this season and gold seemed like the perfect color for a fall wreath. I think it looks great with a copper ribbon, too.
There is something about the
warmth of gold and copper

together that reminds me of fall
.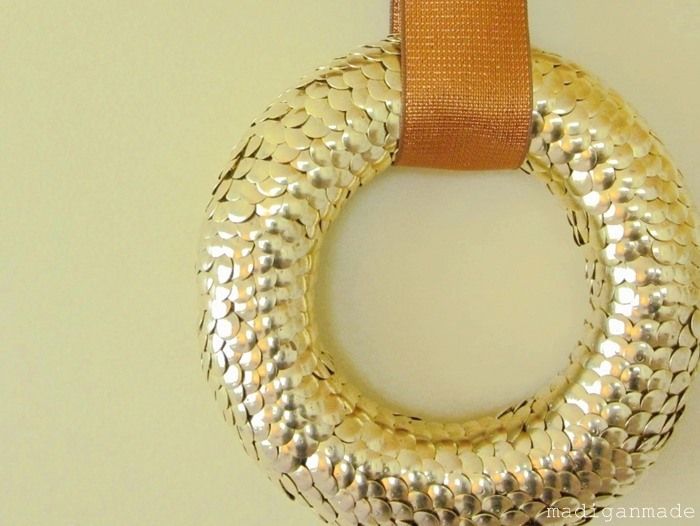 To me, mixing gold and copper is a natural autumnal combination. Using a copper ribbon with my new gold tack wreath seemed perfect for this upcoming season.
Are you asking: "What on earth made you think about using thumbtacks on a wreath?"
Well, after I made
my thumbtack covered globe
, I knew I could cover other things with tacks for a unique texture. I figured, why not try it on a foam wreath?
The steps to making this wreath were simple.
I used a small six-inch wreath form and several boxes of brass tacks (Tip: the dollar store sells boxes of 300). I started with a circle of tacks around one section and just kept poking the tacks in and layering them on top of each other.
I worked my way around the wreath layering the tacks. The ribbon covers the area where the two ends meet up, because it was hard to make that transition look seamless.
This wreath took a loooong time to finish (a perfect tedious job to do in front of the TV) and it used at least 2-3 boxes of 300 tacks. And boy it is heavy!! I only used a six-inch wreath form… I can't imagine how much it would weigh if I made it bigger.
But I love the unexpected wreath materials. The tacks create great texture and you need to do a double-take when you first look at it.
And if you are a regular reader of this blog, you've seen me make other wreaths out of some non-traditional materials.
I wanted to mention some of my other wreaths, in case anyone is stopping by from Nester's party:
But I think this brass tack wreath is now my #1 favorite.
It's a little rock star, no?
The gold texture is simple and clean, but the tacks look almost like a hammered metal finish. It also kind of reminds me of a snake skin, too.
I guess I could paint the wreath… but as I alluded to above, I prefer the warmth of the gold.
What I love is that at Christmastime, I can just change out the copper wreath for a burgundy one and have another holiday look!
How about you… have you ever created a wreath out of unexpected materials?
If you need inspiration, be sure to check out the Nester's party for fun ideas.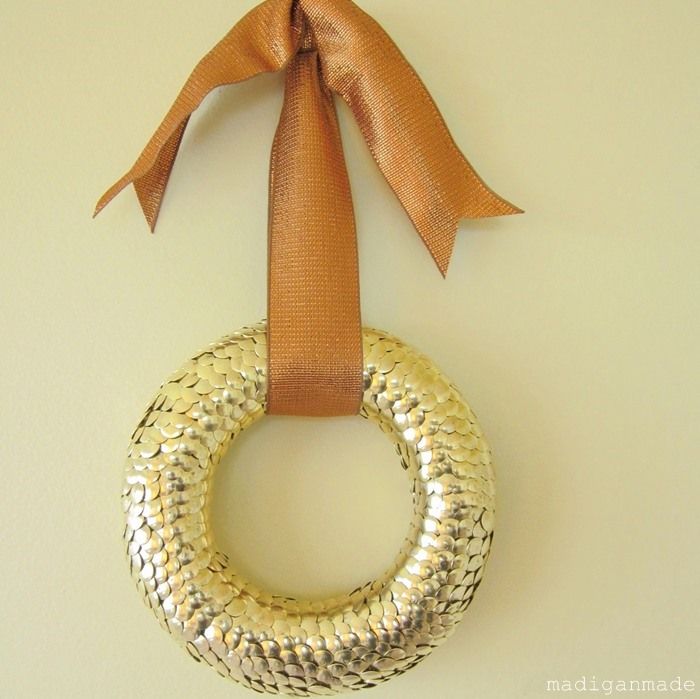 Looking for more simple and creative inspiration? Check out these ideas:
Thanks for reading Madigan Made!
Content Copyright:2010-14. Madigan Made.