Madigan made… A name guessing contest!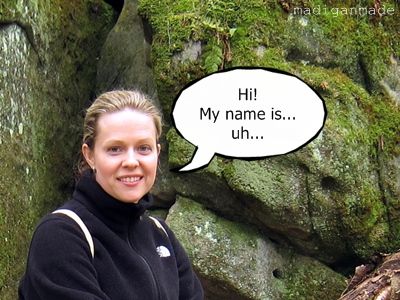 Have you heard my small confession?
That my first name is not really Madigan?
I recently I told y'all that I wanted to share my real name with you.
But I wanted this reveal to be a two-way street! I want to meet more of you and share you with my readers.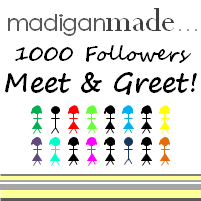 Once we hit 1000 Facebook or Google Friends – the 1000 Followers Meet & Greet starts! AND at the end of all of it, I will formally introduce myself.
Want to share more about yourself or your blog with my readers? Check here for the details.
We are slowly working our way towards that 1000 goal. At the time of this writing, there are over 900 followers and over 830 Facebook fans. I'm still not sure which forum will reach the goal first!
Gosh, I hope it's soon. The wait has been killing me!
While we are waiting…
At the request of Brittany and Angie (thanks, ladies, for the suggestion!)… I thought it could be fun to have a simple contest to guess my real name.
In fact, the alternate title to this post should be: "I'm tired of Angie referring to me as 'whatsyourname' on Twitter." hehehe! 😉
I don't host giveaways, so there will not be a prize, just a very simple contest.
So – tell me… what do YOU think my name really is?
Do you need a few more pictures for some name inspiration?
Here's me in high school:
Awkward, full perm, braces and a 90's corduroy vest. (Don't laugh! I was so proud of that outfit. Aren't vests back in style again anyway?)
Here's a more recent pic of me this year:
… More blond and sans perm! (thank goodness!)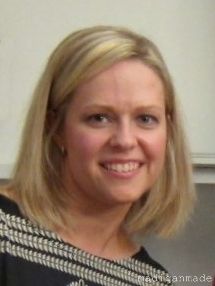 Want to see more pics? Well — you'll just have to wait until the full name reveal!
So, tell me. Do I look like a ______? or a ________? You fill in the blanks!
Hint: My first name is not highly unusual… but it is also not "everyday" common either. If you live in the U.S., you likely have met someone with this name. I'm pretty sure that by Monday someone could guess it!
Here is my attempt at official-ish rules for this little contest:
– One entry with one name guess is allowed per person. Make it a good one! Make it count!
– All entries must be a name guess.
– If you have met me in real life, you are excluded from this contest. Sorry, but I think you'd have an unfair disadvantage. 😀
– Submit your entry/guess in the comments below. That's it.
– If you cannot comment for some reason, you also can email me your guess at madiganmade at gmail dot com.
– The first person to guess my first name correctly wins. You are competing to be the first person to guess the author of Madigan Made's first name. Sorry, no other prize…I don't host giveaways and this contest is about as complex as I want to get.
– The contest ends on Monday at 3 pm EST. I will extend the contest if my name is not guessed at that point (and give people a chance for a second guess).
– The winner will be announced in a post after we reach 1000 Google Followers OR 1000 Facebook Friends and at the end of the Meet & Greet post series.
– This contest is open to anyone over the age of 18 with an email address. Please make sure your email is listed or connected to your comment.
– By entering, you are giving me permission to share your name as the winner.
– I may share a few hints to my FB and Twitter followers, if you follow me there, too.
– Any comments unrelated to the contest will be deleted. I reserve the right to delete inappropriate comments or entries that do not comply with these rules.
– Void where prohibited.
Don't forget:
Please

consider

becoming a Google Follower or Facebook fan

of Madigan Made!
This is the fastest way we will get to the Meet & Greet (and find out if your guess was correct!).
Thanks for reading Madigan Made!
Content Copyright:2010-14. Madigan Made.