Madigan made… simple fall updates in the kitchen.
How do you transition into your fall decor?
I think most of us face this dilemma… you decorate a little for fall, then pull out the spooky decor for Halloween, then go back to more fall decor for November.
I do my autumn decorating in bits and pieces and follow that general approach.
Is it labor intensive to make all these changes from month to month? Maybe.
Do I love decorating for fall and don't mind the work? You betcha!
Right now, I am taking a few small steps to move towards fall in our home. I started in
our kitchen
.
For me,
harvest fruits are a great way to signal that fall is on its way
. Since
I no longer fill up my apothecary jars
, I decided to use this red fruit vase filler as a display on our kitchen cart.
On the white ceramic tray I piled some wooden apples, fake pomegranates and red pears (made of raffia-like material).
If you notice, the lower shelf holds our fruit bowl that normally sits on our kitchen table. I have a new fall centerpiece on our table (and chalkboard update) to show you soon!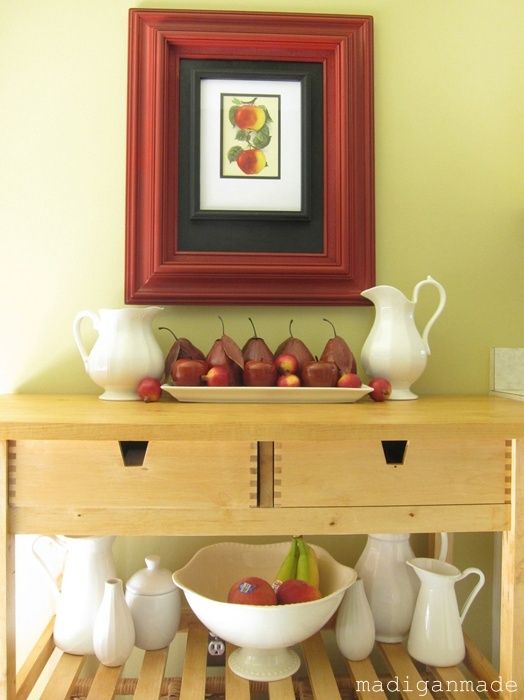 I did not create a fall
printable
for the frame like I did last year. I'm not sure if I'm going to go that route this season or not.
I like how this simple scene feels 'fall-ish' without screaming pumpkins and leaves (yet… believe me, they are coming out soon!).
Have you started to decorate for fall yet? Where do you start?
P.S. Did you know Madigan was not my real name??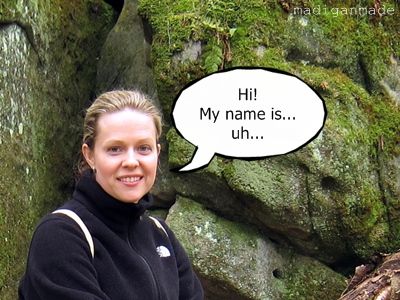 Want to venture a guess as to what mt name could be? Go here to submit your guess!
YOU HAVE UNTIL 3 PM (EST) today to get your guess in!
I gave out a couple of hints this past weekend on my Facebook and Twitter accounts, if you wanted a few tips.
Don't miss out! Tell me your guess. I'm having a blast reading all the guesses. (one guess per person, please)
P.P.S. Don't forget: Please consider becoming Google Follower or Facebook fan of Madigan Made! We are getting sooo close in both forums!
Once we hit 1000 Facebook or Google Friends – the 1000 Followers Meet & Greet starts! AND at the end of all of it, I will formally introduce myself and announce the winner of the name guessing contest!
Thanks for reading Madigan Made!
Content Copyright:2010-14. Madigan Made.