Madigan made… spray painted black vases for a bridal shower.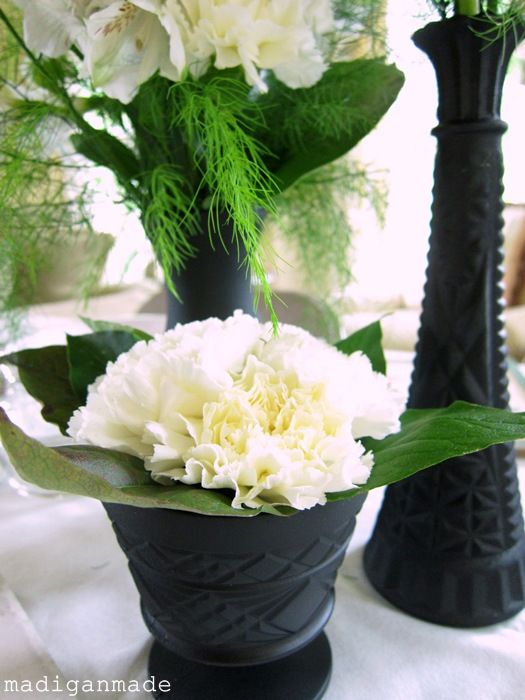 Recently, I helped my mother-in-law and sisters-in-law host a bridal shower for my husband's cousin.
The bride's wedding colors are black and white. I helped create these black and white floral centerpieces for the tables.
Check out the black matte vases. It is amazing what a little spray paint can do, isn't it?
Paint can turn boring glass into something so pretty! Let me show you how we made them.

When I learned about the bride's color scheme… I remembered this idea for black painted vases that I spotted on Pinterest and suggested we use that idea for the centerpieces.
I went out to thrift stores and dollar stores to find different containers to paint. Each piece was about 50 cents to a dollar. (under $10 total for all of them)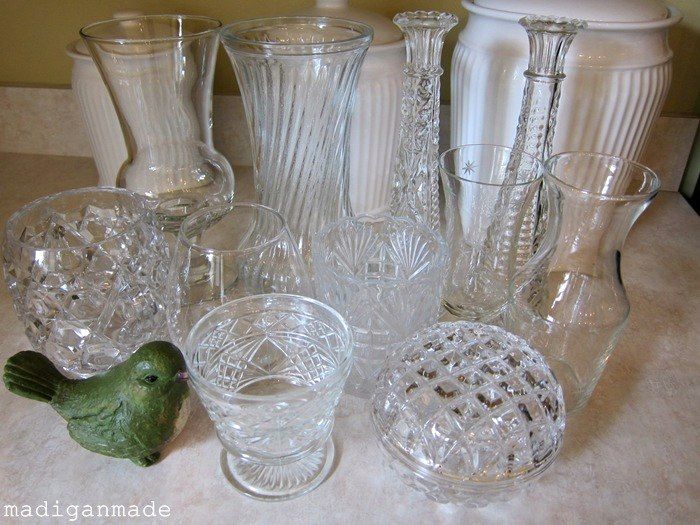 Cut glass and crystal can sometimes verge on 'too busy' for my simple tastes. But with coat of matte black spray paint, I think they turned into something both modern and classic.
(Tip: I used 3 cans of matte black spray paint for this collection of glass. I cleaned the glass really well and used multiple thin, light coats of paint. I also allowed the paint to dry and cure thoroughly for a week before handling them much.)
To fill the vases, my one sister-in-law bought the white flowers (astrolomeria and carnations) and then raided her yard for the green filler (grasses, leaves and asparagus fern).
We placed little arrangements of vases/objects on the two small tables.
And a bigger grouping of containers on the large dining room table.
By the way, have I told you that my sisters-in-law make beautiful cards and paper crafts? Because… they do! And I want to show off their work.
Check out the cute shower favors my two sisters-in-law made. They used black and white damask craft paper in different patterns to create these "sour cream packets". Each favor held a handful of chocolate kisses. A sweet little tag was tied to one end.
Oh, and the shower invite they made? I have you show you that, too. It was stunning!
I think it would be gorgeous for a wedding invitation, too.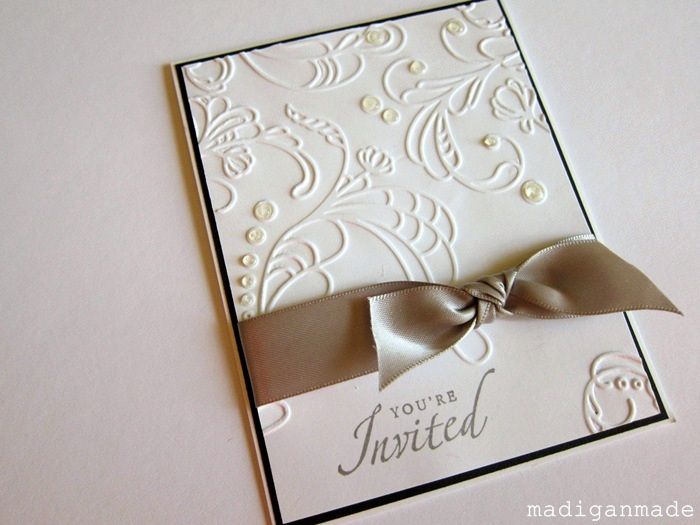 And… a little yummy side note. I loved the cute appetizers my sister-in-law served. Greek salad on a stick! There's supposed to be a slice of olive on them, too. But they were very good 'as is'!
Feta cheese? Yum! There is nothing wrong with that, right?
It was a lovely shower and the black and white theme was chic and elegant. We sent vases home with the bride and some guests. But I hung on to a handful of the black containers to use in my house.
I have (Halloween) plans for them this season! Just wait!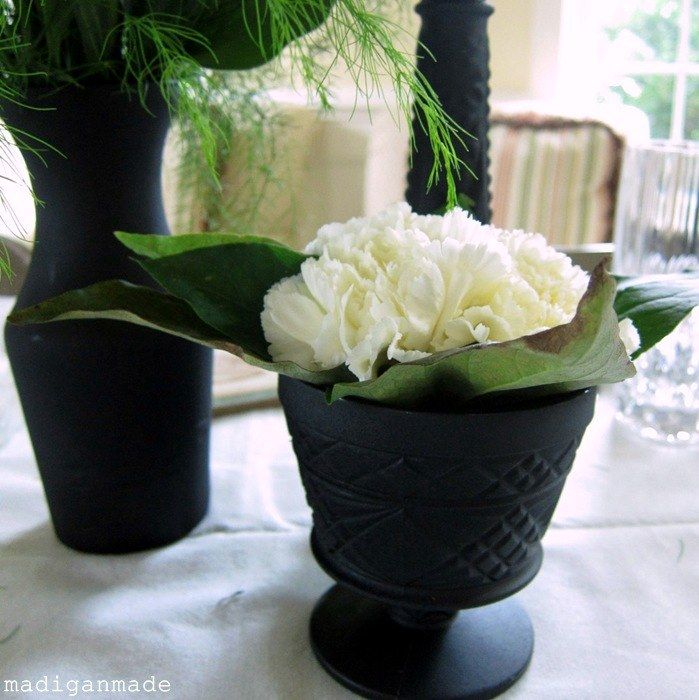 Thanks for reading Madigan Made!
Content Copyright:2010-14. Madigan Made.