Madigan made… a free skull printable and a Halloween vignette.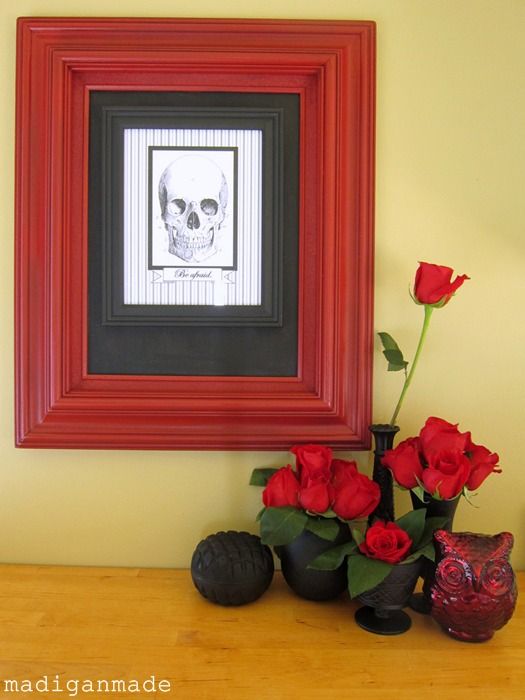 If you haven't noticed, I love decorating for Halloween and fall. To me, fall is all about adding warmth to the home and Halloween means adding in a little fun.
But orange is a hard color for me to incorporate in my home. I typically lean towards using a black, white and sometimes red scheme for the holiday. (and this year… a little gold) I have red accents throughout our first floor, so this combination is easy to incorporate into our décor.
I wanted to show you the Halloween vignette on the cart in our kitchen. With the red double-frame-in-a-frame in our kitchen, adding black, white and red works well on the cart below.
Recognize the black painted vases and glassware from the bridal shower I told you about? I saved and reused a handful of them for Halloween.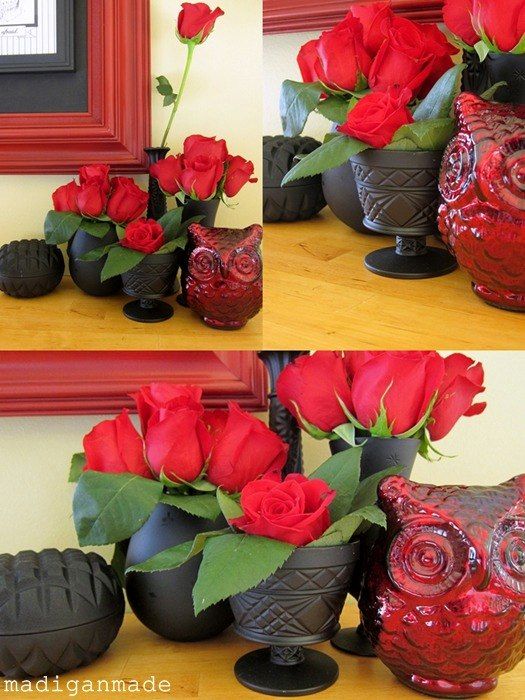 I love occasionally treating our home to an inexpensive bouquet of flowers from the grocery store. Red roses seems like the perfect flower to add to these vases. Pretty… but a little spooky, too. I took these photos over a week ago and the flowers are still looking great today.
I picked up that little glass owl at HomeGoods last year. He seemed to belong in this grouping.
On the shelf below, I added ceramic ghosts (that I used last year) and a few dollar store gravestones that I painted black.
I created the skull print using an image of a skull that I found on The Graphics Fairy. (By the way, that is a really fun site to peruse for free vintage images.) I was inspired by the vintage-looking skull plates with black and white backgrounds that I hung next to my chalkboard this year (and last year).
Feel free to use the printable (personal use only, please). Please do not remove the very faint watermark. Also – if you blog about a project with this print… please link back to this blog. (and that is awesome you want to use my print!)
To download this printable, simply click on the image below and right-click over the picture. Save the image as a picture. Print from your computer as an image or send it to a local photo shop and have them print it.
This printable was designed for an 8" x 10" frame. You could print it smaller… but it will not look right if you tried to make it bigger.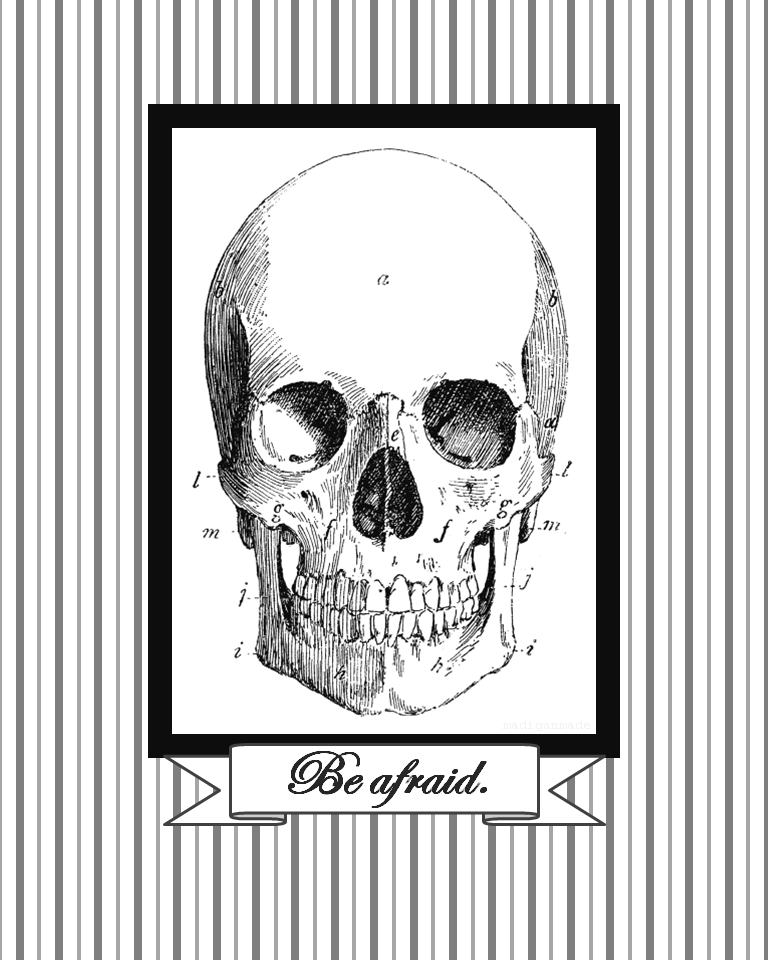 I love the feel of this print… so formal yet so fun at the same time. And the black vases and red roses below it seem like a great match.
I know I said I rarely use orange for Halloween, I do like to add pumpkins and a little orange to my front porch. I hope to show you that later this week!
Thanks for reading Madigan Made!
Content Copyright:2010-14. Madigan Made.