Madigan made… a ghost dog toy from a car wash sponge.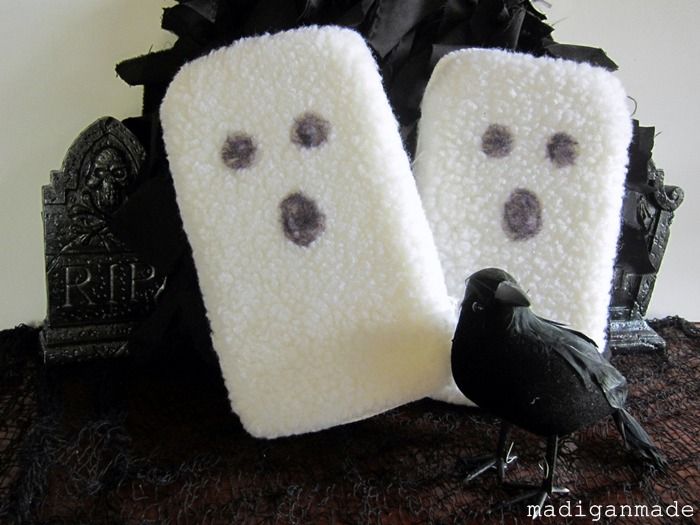 Have I told you that I have an energetic dog?
I'm pretty sure I have… but it bears repeating:
I. have. an. crazy. energetic. dog.
I love her. She is loads of fun and loves to play. She loves her dog toys, even at the age of 4. (hey, she is almost in her 30's in dog years!) And like many dogs, she is rough with her toys. Especially the stuffed toys.
I sometimes feel like I'm watching a nature show when she plays with stuffed animals. Don't let this cute face fool you. At first our pup will wag her tail and run around with her fuzzy new friend in her mouth.
But after a day or two (or sometimes even after an hour!), she will start to rip off appendages with glee and joyfully disembowel a poor teddy bear of his stuffing.
Needless to say… we typically stick with rope and heavy plastic dog toys that are more durable for our pup. And we watch her carefully when she does play with her stuffed pets. If we want to buy her a stuffed toy, we buy cheapy-cheap ones (usually from the dollar store). I look for shapes that don't have too many things she can pull off (like limbs and heads!).
One day recently I was at the dollar store and was unimpressed by the selection of dog toys.
I looked quickly down the same aisle and I thought I saw more dog toys. But I was wrong. As it turned out… they were car wash sponges.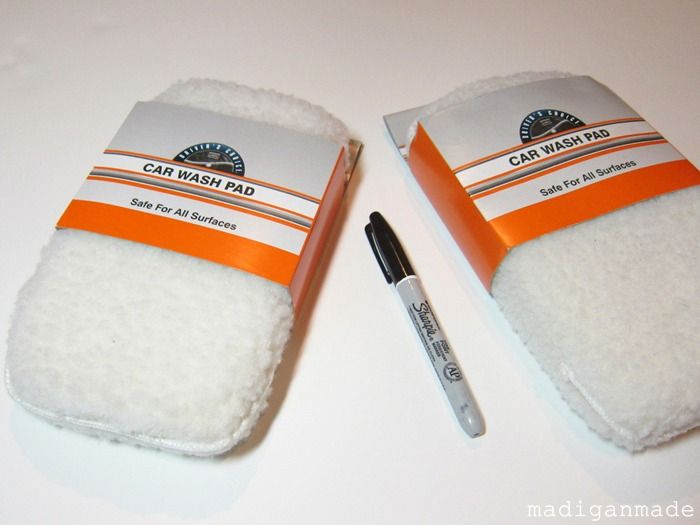 Hmm. The fabric was just like the covering of some of the toys she likes. And the shape was simple with no little arms or legs to pull off. Perfect!
So, I brought two of the sponges home for her to play with!
But, these "toys" were not that exciting. Even though I knew the dog would not care… my creative itch got the better of me. I just had to do something to make them "cute".
I couldn't glue or sew on anything small. I was worried that she would pull things off and risk a choking hazard.
(I mentioned that my dog is rough on toys, right? Yeah, that bears repeating, too!)
So, I decided to draw on it with a marker. With the rectangular shape and color… why not an instant ghost?
You could do this craft with kids, too. As I mentioned, I did not want to glue anything onto mine… but googly eyes, buttons or felt could look really cute to make a spooky face!
Plus, there were other colors of sponges and different shapes, too. You could create loads of little ghost and monsters with them! (all for a $1 a piece!)
The ghosts are not perfect and a little homemade looking… but, who cares!
I think they are kinda cute and my rowdy pup does not know the difference! She loves her new toys!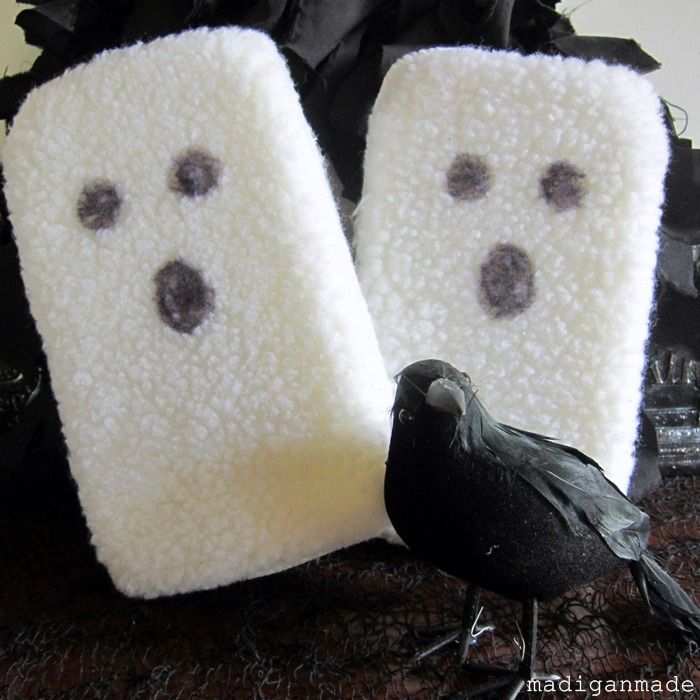 Thanks for reading Madigan Made!
Content Copyright:2010-14. Madigan Made.