Madigan made… curried pumpkin, coconut and bean soup.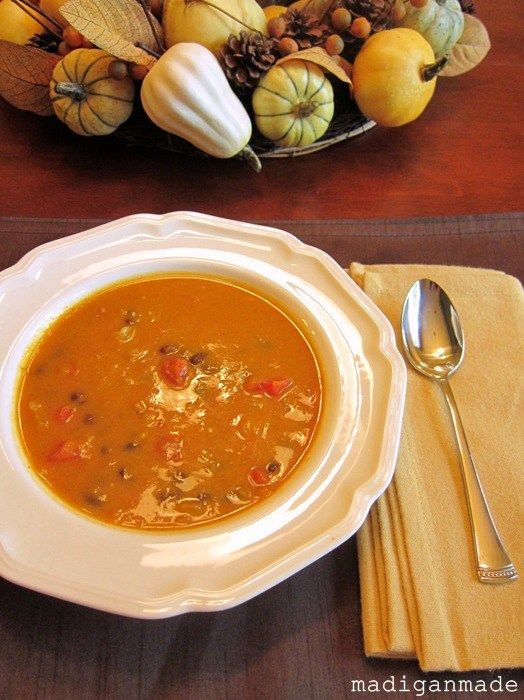 I love soup.
I especially love soup in the fall.
I especially love a hearty soup with a 'kick' to it.
And if it has pumpkin in it? Even better.
This soup is all that… and then some. It has curry, pumpkin and coconut in it! (and y'all know how much I love coconut.)
I've made variations of this soup several times over the past year. Every time I make it… I change the ingredients slightly. But I follow two main recipes as my base (listed below). Sometimes I will add a little heavy cream (up to a cup) if I have it… sometimes not.
I did not have heavy cream this time around and I experimented and tried a cup of coconut milk instead. Curry and coconut seem like a natural combo to me. I could just slightly taste the coconut in this soup. I think next time I will add the whole can of coconut milk and cut back on the broth.
Recipe notes:
I don't always add it… but if I feel like a soup needs a little something else to 'brighten it' after I make it, I will add red wine vinegar. (or fresh lemon juice) It can make a world of difference in a pot of soup. (especially lentil soup… but I'll save that soup story for another day!)

I've made this soup with vegetable and chicken broth. I've yet to try beef broth, but I think that could be good, too.

I've never tried it… but adding ham or prosciutto to this soup could be yummy, too.
Curried Pumpkin, Coconut and Black Bean Soup
Adapted from these soup recipes at Smitten Kitchen and Rachel Ray/Food Network.
Ingredients:
1/4 cup (1/2 stick) butter

1 medium onion, chopped

3 cloves garlic, minced

3 – 4 cups soup stock (vegetable, chicken or beef)

2 cans (15 oz) black beans, rinsed and drained

2 cans (15 oz) pumpkin puree

1 can (15 oz) diced tomatoes in juice

1 cup coconut milk

(or more, see notes above*)

1 tbsp red curry powder

1 tsp ground cumin

1/2 tsp cayenne pepper

1 tsp salt

1 tbsp red wine vinegar (optional)
Sauté: In a large pot over medium high heat, melt butter. Add onions and sauté for about 5 minutes or until translucent. Add garlic and cook for 30-60 seconds more.
Combine: Add and stir in the tomatoes, broth, black beans and pumpkin to the pot. Bring mixture to a boil.
Simmer: Reduce heat to low and add the coconut milk, spices and salt. Simmer soup for at least 5 minutes. Taste, season and add the vinegar, if desired.
Serve: Serve and enjoy!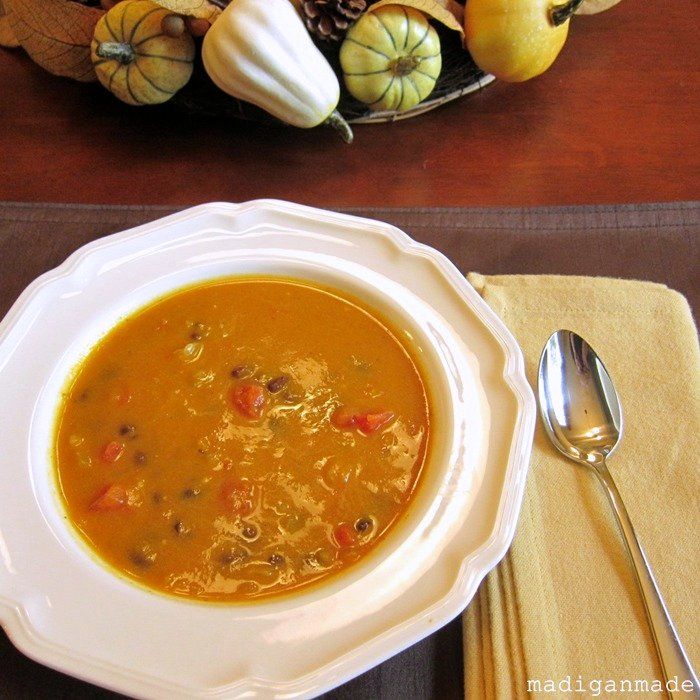 And don't forget that it is Tip or Trick Week all week with four other blogs and here on Madigan Made!
Today, Jenna from SAS Interiors is sharing a tip about paint! Be sure to check it out!
Remember, we are hosting a five-blog-wide link party Friday and we hope that YOU will share one of your tips or tricks!
It can be about anything… cooking, DIY, crafting, decorating, blogging, etc. It just needs to be a tip!
Thanks for reading Madigan Made!
Content Copyright:2010-14. Madigan Made.