Madigan made… a spooky chalkboard quote and Halloween decorations with skulls and birds.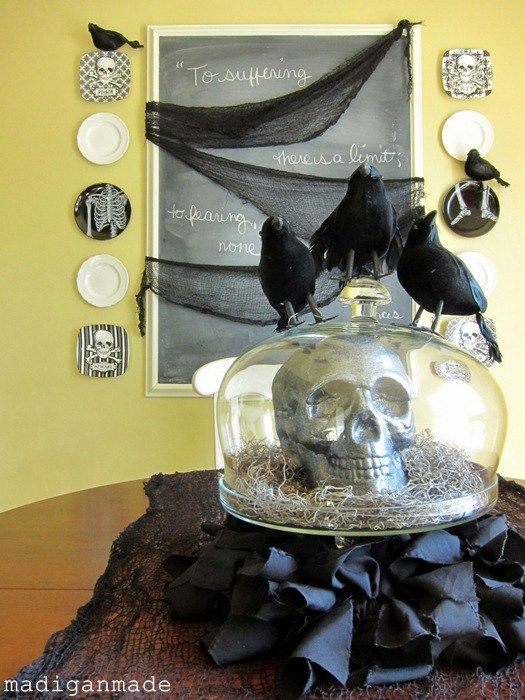 If you follow me on Facebook or Twitter, you may already know there was a bird invasion this past weekend in our house.
I raided our dollar store and cleaned them out of all their fake black birds. I used them for our kitchen table and chalkboard Halloween décor. I placed a few birds on the plate wall and table.
But wait, you have to see the crowded and creepy chandelier, too…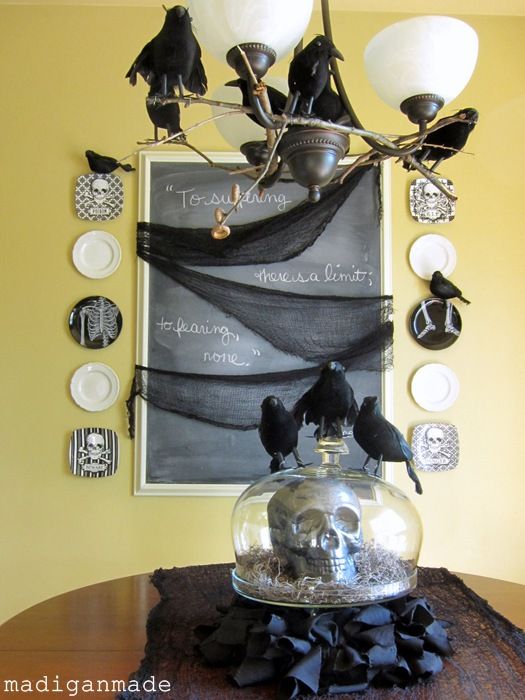 "To suffering there is a limit; to fearing, none." – Sir Francis Bacon
If you are new here, you should know that every month I change out the quote on the big chalkboard in my kitchen. This often will include changing the décor around it for the season, too.
Last October was one of my favorite holiday displays ever. That Halloween décor was simple, classic and a little vintage:
This year I hinted that my decorations might lean a little more creepy and spooky after getting some inspiration from amusement parks.
To do this, I kept the skull plates from last year and added in some scary feathered friends and tattered fabric.
In this display, you see:
Plates with skulls on them (given to me as gifts or found at Home Goods)

14 fake black birds from the dollar store

Domed glass cake plate (found on the Philly I <3 Thrifting Day)
A black rag wreath under the cake plate (that was part of my motorcycle skull wreath last year)
Foam skull painted a sparkly gray (used last year in my spooky apothecary jars)

Spanish moss (always creepy, no?)

Branches from our yard

2 black creepy cloths from the dollar store (one used as a table runner, the other one cut and draped on the chalkboard)
The birds perch precariously on the branches I stuck in the chandy. The birds came with wire on the bottom of their feet and I just wrapped the wire around the sticks. It was a little bit of a balancing act to keep them all standing straight, but it works.
But I did not stop there… I added a couple more birds farther up the chandelier and on the chain swag, too.
Part of me wishes I bought a few more birds… but, alas, I cleaned the store out of them, remember?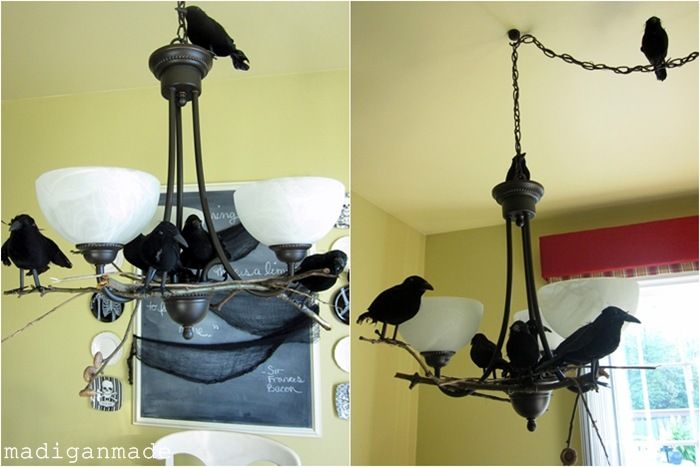 I took dollops of hot glue to attach the feet of three birds to the top of the cake plate. (the glue should peel off the glass easily when I'm done)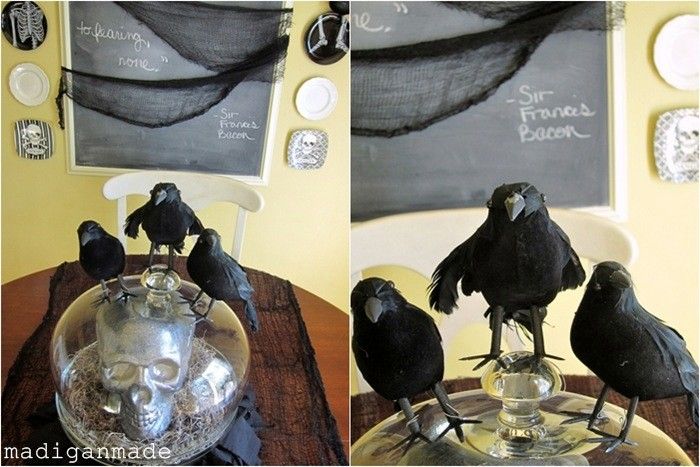 When I showed you my inspiration from the amusement park… I told you that what worked about those ideas was the repetition of a motif.
Putting things together in multiples adds impact. I followed that trick here with the numerous skulls and flock of black birds. Tattered rags (in the wreath, swag and "table runner") add another layer of spookiness.
I now have sooo many creepy eyes staring at me while I cook. Some are tiny, black and beady. Others are empty and hollow. I love it!
This area is definitely a different feel compared to last year's décor. I love the skulls, but I'm digging the spooky mood the birds create!
So, if you can handle their sharp little stares, go check out your dollar store and add a flock of birds into your Halloween décor this year! Or a few skulls. 🙂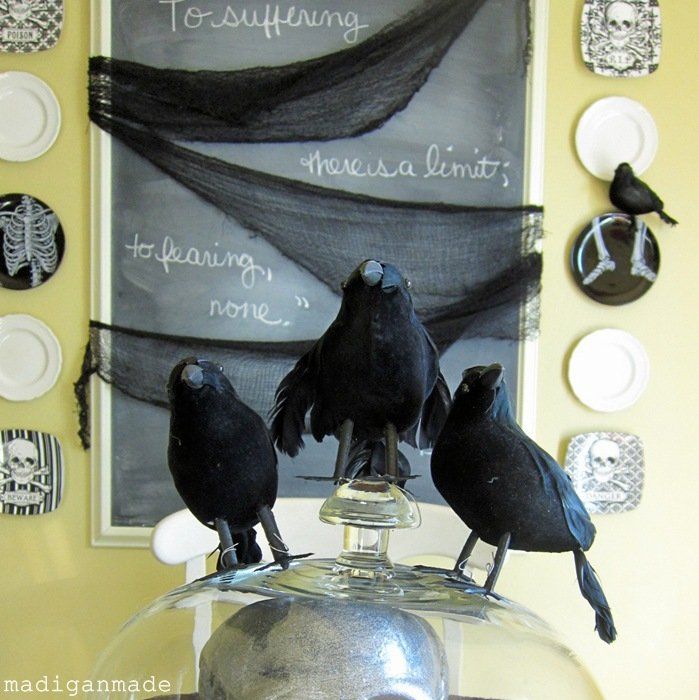 Thanks for reading Madigan Made!
Content Copyright:2010-14. Madigan Made.