Madigan made… a fancy new blog look with a Blogger template!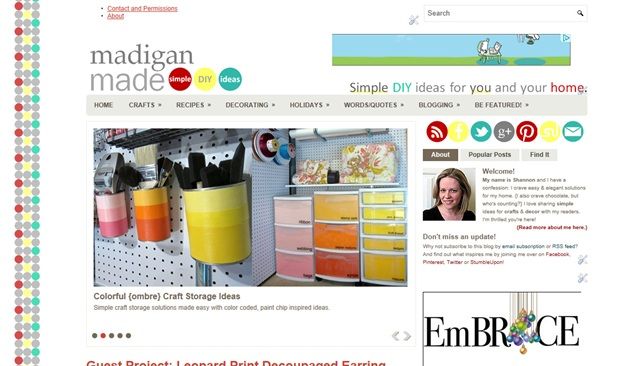 Things look a little different around here, right? Like a LOT different!
I was busy this past weekend tweaking and updating my blog design. I have a new look and I'm pretty excited about it. If you are reading this post from a reader, stop on over and take a look-see!
I wanted to explain a few of these things and tell you about my inspiration for all these changes.
Why did I choose to update my blog design… again?
(Remember: I just updated it… like in August!)
Um, cause I always love to tweak things? Duh! No really…. there are more reasons than that (but it is a big one for me! I can't leave things well enough alone!).

I wanted to clean up and streamline all the categories I had in my old side bar. The new red menu bar here is exactly what I wanted. I hope you can find older topics easily by using that navigation area.

Now that I decided to monetize, I needed a design that was more conducive to seamlessly incorporating ads. I like how I can now add a small ad within the top header.

Let's face it… I wanted a fancy web design, but on a budget (i.e.. free!). I thought I'd have to wait until I switched to Word Press for a slideshow, cool menu bar and tabbed navigation area. But then I saw Carissa's site (

Carissa's Creativity Space

) and she used a free template from

Premium Blogger Templates

. I perused that site and played around with the Elegant theme on this blog. There are a few things about this template that did not turn out exactly as I hoped. On the backend I need to figure out a few more things (i.e. there are supposed to be thumbnail post snippets… not sure why those do not show up). But – I think this design is a huge improvement in terms of layout and navigation.

Why did I update my blog header and logo?
I really wanted to have some kind of recognizable logo for this blog to help my 'branding'.
A revision of my blog tag line was needed. I loved the prior tag line: "simple ideas for crafts, recipes and décor." But I wanted it to be even more simple. I also thought it was time to drop the 'recipes' from my tag line. (This is not a food blog… I only occasionally share a recipe here. And they are usually so simple, I'd hardly call it cooking!) So my tag line is now: Simple DIY ideas for you and your home.
I really loved the former yellow and gray design, but every time I wanted to update the blog, I found that just two colors was limiting when I want to make certain elements on the page standout. I realized that I needed to add in 1 or 2 more colors.
Why did I choose yellow, gray, red and turquoise? Well, my inspiration was "Sunny" the

sunglasses holder

. This is one of my favorite projects to date! Every time I see that little sunglasses rack (which is everyday when I go into our coat closet), it makes me smile. In fact, I'm starting to wonder if I need to bring this color combo into other areas of our home. Maybe someday. For now, I will enjoy the combo here on the blog!
Why did I use the three dots for a logo? Well, just read my posts! I use ellipsis (those "…" or dot, dot, dots) very frequently! In fact, every post is started with "Madigan made…" So – why not use three dots for a logo? Bringing in those three colors (yellow, red and turquoise) was then easy to do with that concept. Plus it is a simple look, which is very 'me'.
After reading this post about blog buttons at Blogging with Amy, I also knew I wanted a blog button with a 'call to action'. Want a new Madigan Made button? You can pick up a shiny new button in my side bar!
As I mentioned above, I'm still tweaking a few things about the site design on the back end. But I'm quite happy with the way it looks. Just like my sunglasses holder, it makes me smile when I see it.
But, more importantly, what do

you

think?
P.S. If you see any 'odd' things about the site or design from your end, let me know. I appreciate the input!
Thanks for reading Madigan Made!
Content Copyright:2010-14. Madigan Made.