Madigan made… gilded pinecones and a new monthly chalkboard quote.

I wanted to show you some of the chocolate brown and golden changes that I made to our kitchen décor for November and Thanksgiving.
If you are new here, (hi!) you should know that I change out the big chalkboard in my kitchen every month. I often will decorate that area of my kitchen for the season, too.
But wait… Can I call this Thanksgiving décor if I don't have any 'thankful' quotes, wheat stalks, cornucopias or turkeys?
I hope so! The fall touches are subtle… but I think you can get my harvest-like references.
This look is a departure from October's more literal holiday translation.
Last month's Halloween skull and bird invasion décor was fun… but as I was taking it down this weekend I realized that all that crap decor was 'too much' for a simple gal like me.
Next October I plan to scale it down and maybe go back to 2010's simple vintage Halloween scene instead (Which is still, hands down, my favorite kitchen/chalkboard vignette ever!).
It's no secret that I gravitate towards simple solutions and décor ideas. And the more I blog, I'm learning that SO do you, my readers!
Simple projects in both look and execution are my most popular posts in terms of pageviews and comments. Even a project that may take a bit of time to create… if it is simple in design, y'all seem to love it! (and so do I!)
"Simple" is clearly a winning theme that resonates with all of us. So, I decided to keep this month's fall holiday décor as simple as possible.
And that is why I picked Mr. Longfellow's quote for this month on the chalkboard:
"In character, in manner, in style, in all things, the supreme excellence is simplicity."
-Henry Wadsworth Longfellow
And even though I did not use a thankful quote or a turkey… I'm hoping you can see the fall touches in the décor around the space. As I've mentioned before, incorporating golden tones can add a little warmth for the fall. So, I used a little gold and brown color in the space.
Nothing says 'November' like a big bowl full of gold pinecones, right?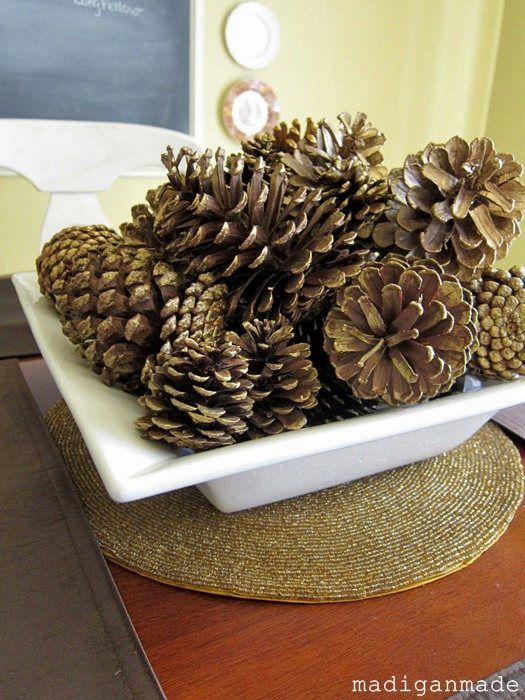 I own bags of pinecones that I've used for vase filler when I used to fill my apothecary jars (before I turned the apothecary jars into milkglass).
Some of the gold pinecones are ones I spray painted last year… the others were plain and I just brushed the outer edges with gold craft paint.
I love how the gold paint doesn't cover the entire surface of all the pinecones and that the natural brown peeks through on some of them.
To repeat the chocolate and gold theme, I brought out my dollar store faux silk brown placemats (from the fall kitchen scene you saw in September) and a beaded gold charger that I typically use around Christmastime. The charger adds 'just enough' more gold the the table.
On the wall next to the chalkboard, I switched out last month's skull plates for more 'harvest' themed plates.
I already owned the two plates with the brown and gold 'wheat' detail.
Recently, I found the four brown transferware plates when I was out thrift shopping with Holly and Diane last month. The chocolate images with gold touches just reminded me of fall.
Aside from the simple white and gold pumpkins in our den and the seasonal fall fruit décor in the kitchen… this is about the limit I am going to decorate for November and Thanksgiving.
There are no turkeys or cornucopias… but can you tell that Thanksgiving is around the corner?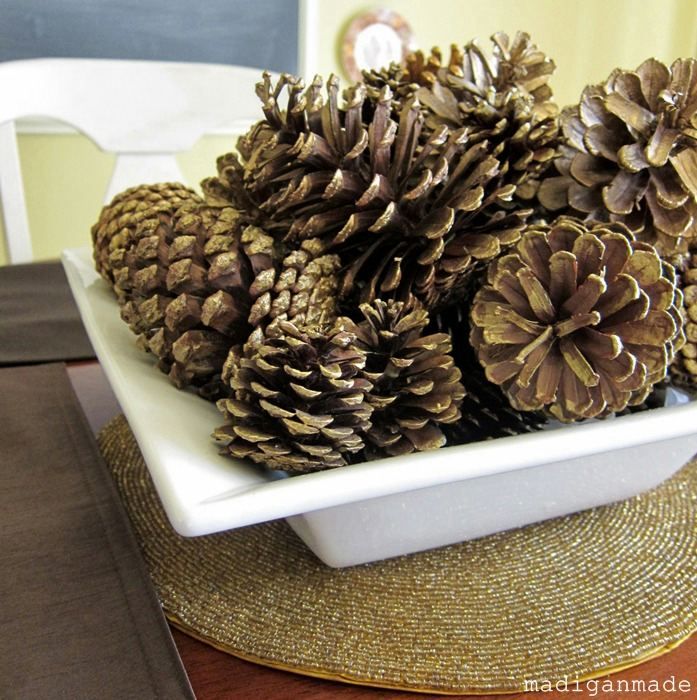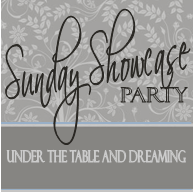 Thanks for reading Madigan Made!
Content Copyright:2010-14. Madigan Made.