Madigan made… thrifty shopping finds.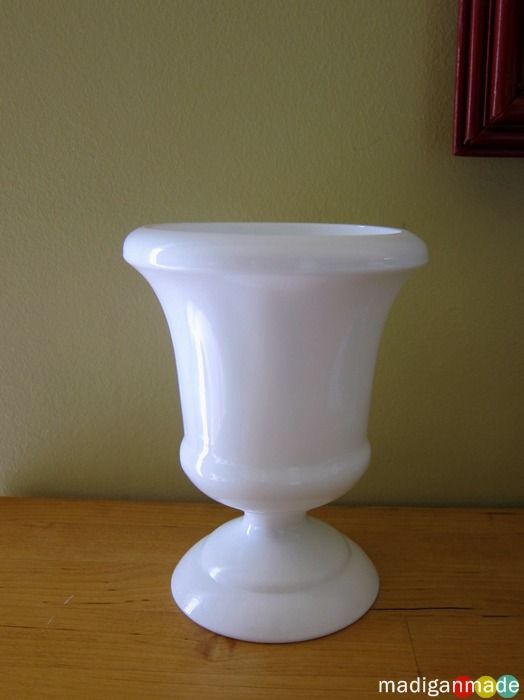 Hi there! Are you ready for Thanksgiving tomorrow? …And are you ready for Christmas? (it is right around the corner!)
I love Thanksgiving… but I am NOT ready for Christmas! I normally have a few Christmas crafts done by now… so I've been busy trying to work on some Christmas crafts this week. I nervously cut into my wedding dress for a holiday project. I'm still working on it and can't wait to show you!
But, in honor of the un-official national shopping weekend this Friday, I thought I'd share some thrifty finds that I bought over the past couple of months.
Above is a cute piece of milk glass that I found. I love its classic shape and simple lines!
(I love white cream ware!)
This glass cloche-like thing was under a dollar at a thrift store. I placed it over my brass quail for now. I'm sure I can find other uses for it over time.
I also found this brass duck for about $5. I've told you how my mom used to collect ducks and how that turned me off to collections. So, I'm not sure what my attraction is to this guy, I just thought he'd look cute in my library cabinet (a.k.a. an old china cabinet). I think he looks right at home on these books! And FYI – this feathered friend could also be used as a small weapon. He is SUPER heavy!
Below is a collection of a bunch of stuff I found shopping with Diane and Holly last month. I am not sure what I'm going to do with the chunky frame, but for $3, I snapped it up. Whenever I 'need' a nice frame, I never have one. So, I'll keep this around until I need it.
I thought the brass horn would be pretty for the holidays. And if you are a regular reader here, you probably already know what I'm going to do with the tree shaped glass jars. (hint: paint!)
And that red stuff? It is a roll of shimmery mesh fabric that I'm hoping to use on our tree this year.
I can't take credit for the find below. My mom knows I love brass and typography and she picked up this cool brass 'G' at a flea market. I love it! Part of me wants to polish it up. Part of me wants to leave the patina. Either way, I'm probably going to use it as a paperweight or something. (and like the duck, this thing is heavy!)
What about you? Have you discovered any cool finds lately?
P.S. What do you think about the new photo watermark? I really wanted to incorporate my new logo into my pictures now. Too much? (that last photo… it did not load correctly and I can't figure out why)
Thanks for reading Madigan Made!
Content Copyright:2010-14. Madigan Made.