Madigan made… sewed a simple stocking without a pattern.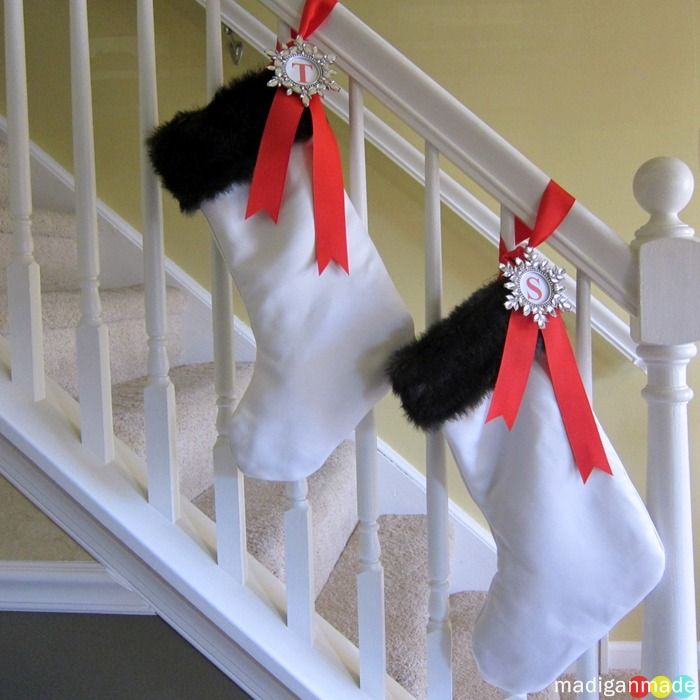 What did you do with your wedding dress?
Did you give it away? Sell it? Are you saving it for your children to use?
I still have my dress! It is very simple. (that shouldn't surprise you!)
I love it! It is an A-line ivory strapless dress. The only 'details' on it are bands of fabric that wrap around my waist and have single lines of crystals sew in. It was perfect and 'just enough' bling for me!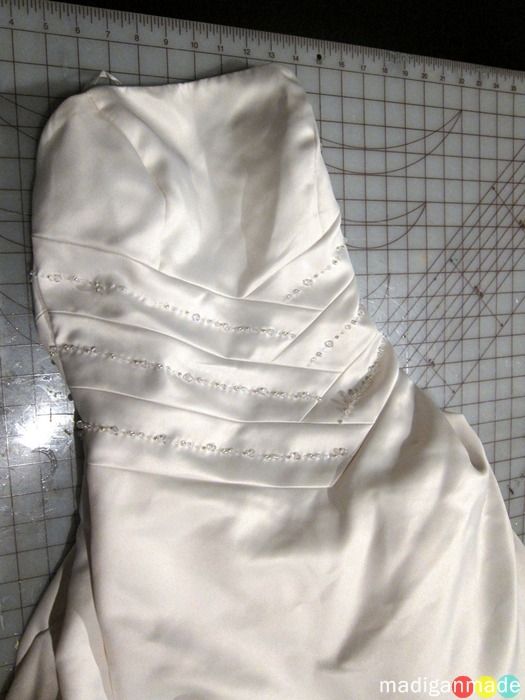 But I'm embarrassed to say that this lovely dress has been wadded in a ball in a plastic bag under our basement steps for the past 6 years! (Can you see me hanging my head in shame? ha!)
I had grand plans to get it professionally cleaned and store in an archival quality box. That never happened!
Then I thought about using the fabric to make a family heirloom… like a christening dress or something. We don't have kids yet, but lately I've been wanting to make some other kind of keepsake from it. I was inspired to make stockings out of my dress after my one sister-in-law sewed stockings for her and her husband a few years back using her dress.
Instead of making a 'real' stocking, I decided to make slipcovers for our old green stockings. I was a little nervous about sewing a whole stocking with a proper lining and a cuff with my wedding dress. What if I made a mistake? So, slipcovers seemed like the way to go!
Plus, I love the size of our old velvet stockings and adore the faux fur cuff at the top, but I'm growing a little tired of the dark green color.
I also love how changing the color of something to white can really freshen it up!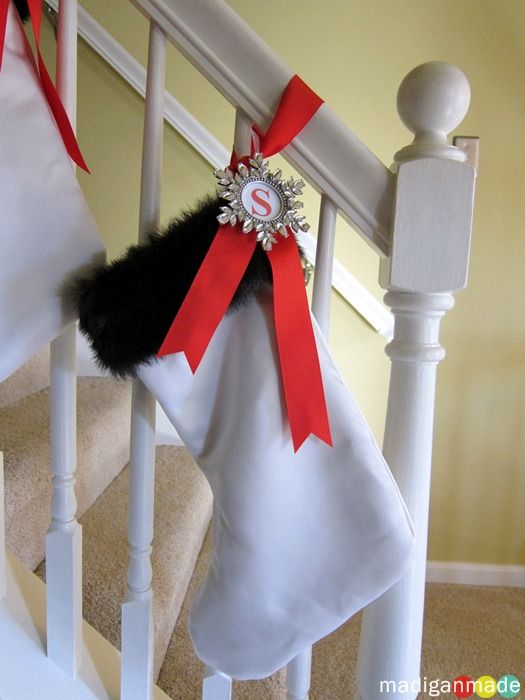 How I sewed simple stocking slipcovers:
I used one of the old stockings as a template. First, I cut out stocking shapes (mirror images of each other) from my dress. The shapes were about 1-2 inches wider than the perimeter of the green stocking.


Then, I pinned the 'right' sides of the fabric together.

I laid the old stocking down onto the fabric and marked 'dots' with a fabric pen about 1/2 inch away from the edge of the stocking. This is to account for the 'thickness' of the stocking. I did my best to just "eyeball" it. (If your original stocking is 'thicker' or 'thinner', you can adjust the measurement accordingly.)

I sewed the stocking, following the line of dots. I slowed down as I sewed carefully around the curves.

After I sewed around the shape, I used my scissors and trimmed down the seam allowance. I also clipped several notches around the curves to help the fabric lay evenly.
I used water to remove the fabric pen markings (tip: test your garment to ensure that water will not hurt it before you use a pen). Then, I turned the whole piece right side out. I folded over the opening and pinned it down. Then, I ran a top stitch around the edge.
I added two button holes on each side of the stocking at the top. I have a button hole attachment on my sewing machine and I just followed the directions in my machine's manual. (Adding a piece of interfacing on the inside of the fabric helped keep everything stable.) My button holes were NOT even or pretty looking, but it did not matter since no one would see them.

Finally, I sewed two buttons onto the old stocking, under the 'cuff'. I just slipped my stocking cover over the green one and buttoned it on! The cuff folded down over the top (and my button imperfections!).

NOTE: If your machine does not have the ability to make buttonholes, you could just use safety pins to attach your slipcover to the old stocking. No one will see the pins under the cuff! 😉

What I love about creating the stocking this way is that if I ever tire of the fur trim… I can look for other stockings of similar size. If a new stocking has a pretty cuff, all I need to do is add buttons and slip my white covers over them!

To hang my stockings, I thought it would be pretty to 'mark' each one with our initial. I picked up these snowflake crystal frame ornaments last year on clearance and printed our initials in red and popped them into the frame.
We don't have a mantel, so I decided this year to hang our stockings on the banister to the second floor. We also are planning to locate our tree at the bottom of the steps, too. I think it will look pretty having the stockings hang near the tree.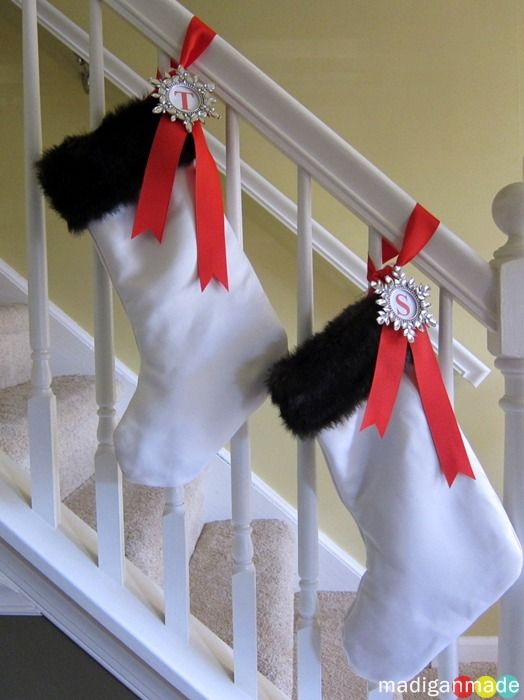 I have to tell you… I was very nervous cutting into my wedding dress! But I am happy and relieved that these stockings turned out so cute.
I can't stop smiling when I see the stockings… knowing how special that fabric is to us! It reminds me of that important day and how much I loved that dress, too!
Sharing with:
Thanks for reading Madigan Made!
Content Copyright:2010-14. Madigan Made.