Madigan made… a free print and a holiday card holder from a 2 x 4 piece of wood.
Ready for some more red, black and white Christmas ideas?
I wanted to show you the cart in our kitchen under the red double frame-in-a-frame. I made a simple tree print for the frame this year. You can find last year's simple "Joy to the World" print here.
I was inspired to make this red striped tree after seeing this adorable ribbon tree art at the Corson Cottage. I loved the simplicity of the look and the idea of just using stripes to create a tree shape. And of course, I loved the simple red and white motif, too!
Like all of my printables, these prints are for personal use only, please. Please do not remove the very faint watermark. Also – if you blog about a project with this print… please link back to this blog. (and that is awesome you want to use my print!)

To download this printable, simply click on the image below and right-click over the picture. Save the image as a picture. Print from your computer as an image or send it to a local photo shop and have them print it.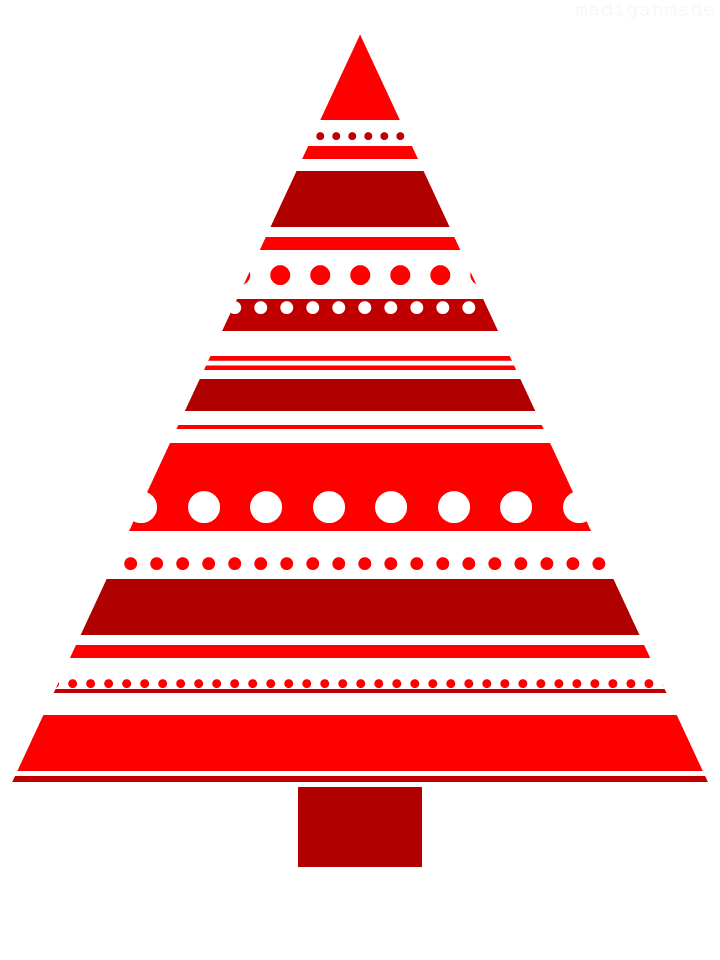 This printable was designed for an 8" x 10" frame. You could print it smaller… but it will not look right if you tried to make it bigger.
Below the frame

is our

DIY Christmas card holder

that I made from

a 2×4 piece of wood.

The card holder was leftover from the one craft fair I did last year. I made several of these card holders based off the wooden birthday card holder I made for our house last year. You can get the detailed instructions for the card holder in that post (that holder is more elaborate and uses two layers of wood, but you will get the idea).
In short, I painted a piece of wood black and decorated it with black, white and red paper and a little decoupage. Holes drilled along the top hold curls of wire for displaying cards or photos.
I only sold a few of these card holders at the fair. This black, white and red one was leftover. Since I am decorating the kitchen with red, black and white for the season, this card holder seemed like the perfect addition.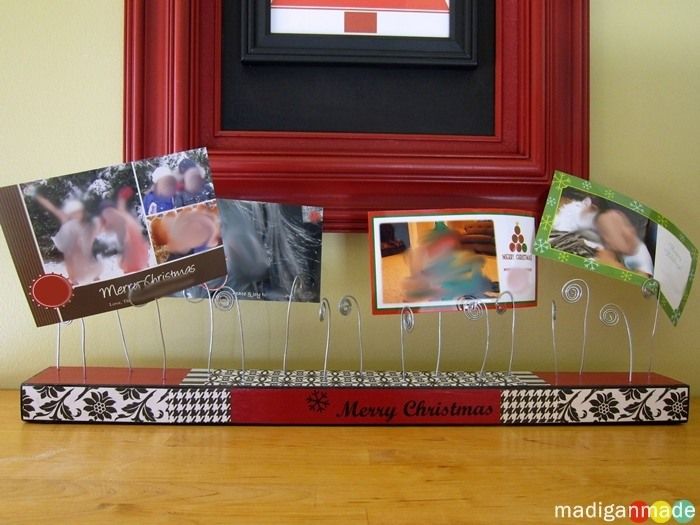 ( Sorry if the photo cards in the holder look a little blurry. These are cards from our friends and family (and their children). They are not my photos and since I want to honor our friends' privacy, I don't feel comfortable sharing a clear picture of their kids. Hope you understand. )
In the past, we used to store the holiday cards sent to us in a pretty bowl on the counter. But I kind of like seeing the cards out in this holder and being able to look at them! As of this weekend we received 4 cards and I look forward to seeing more. (which reminds me… I need to get mine out, too!)
How do you display your Christmas cards every year?
Have you sent yours out yet?
Sharing with link parties here:
Tip Junkie, House of Hepworths, Tidy Mom
Thanks for reading Madigan Made!
Content Copyright:2010-14. Madigan Made.