Madigan made… a faux mantle display with diy milk glass trees and gold accents.
Do you decorate your mantle each season?
I wish I had a mantle… but alas, the only large horizontal surface I have in my home is the top of my china-cabinet-turned-library-bookcase. I decorate this area like a mantle this year.
I decided to display my diy milkglass Christmas trees here this year (along with my big milkglass apothecary jars, too). And, did you notice I have more trees?
I've been grabbing little glass trees this past year whenever I saw them at thrift stores and painted them like the ones from last season. Now, I have a forest of milk glass trees!
I had a small ceramic nativity scene and it seemed to belong in the white forest of glass!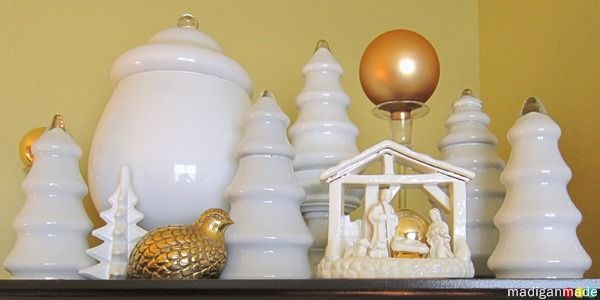 For contrast, I perched some gold ornaments on candlesticks and added a squat brass quail to the scene. The gold adds sparkle. (OK, the scale of the bird is way off compared to the nativity… but I think he looks cute nestled in the white trees. )
And this seemed like the perfect area of our home to hang the lighted gold ornament canvas, too! (If you missed that project, I made it with an old frame, foam board, twinkle lights and ornaments.)
I leaned the lighted picture on the 'bottom' half of the bookcase and hooked the top of the canvas to the metal fretwork on the glass behind it. (I was worried with all the wires in the back to hang it on a wall). So far, that golden tree is staying put and looking gorgeous at night! After I posted about it, my mom told me that it looks a little Seuss-ian; like a tree out of the Grinch or something. I think it is the perfect description of this whimsical tree.
What I love is that all of these holiday touches complement the black and brass accents of the bookcase and the white covered books inside.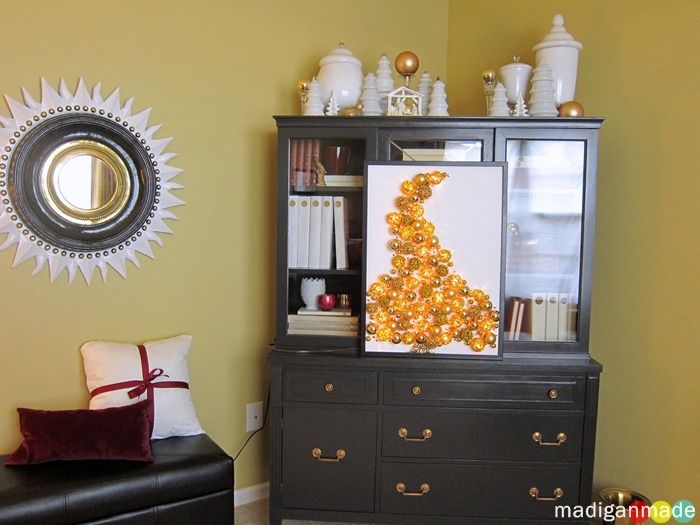 It also looks great with the black, gold and white layered sunburst mirror hanging to the left of the bookcase.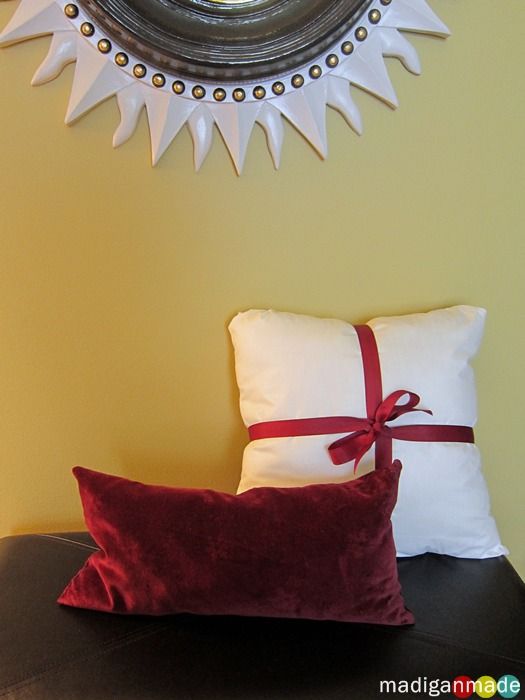 And those pillows on the bench under the mirror? There is my velvet diy embossed snowflake pillow. The white pillow is just a pillow form and I wrapped a burgundy ribbon around like a present. It was a quick and easy way to "make" a holiday pillow. I felt like the space needed another white element in it.
I love my "mantel" and the simple contrast of white and gold and glass and shine.
Are you lucky enough to have a mantel? Or do you decorate a faux mantel like I do? 😉
Sharing with link parties here:
Holiday Mantel Parties: Southern Hospitality, Home Stories A2Z and
Funky Junk Interiors, Under the Table and Dreaming, The Shabby Creek Cottage
Thanks for reading Madigan Made!
Content Copyright:2010-14. Madigan Made.