Madigan made… a Christmas house tour.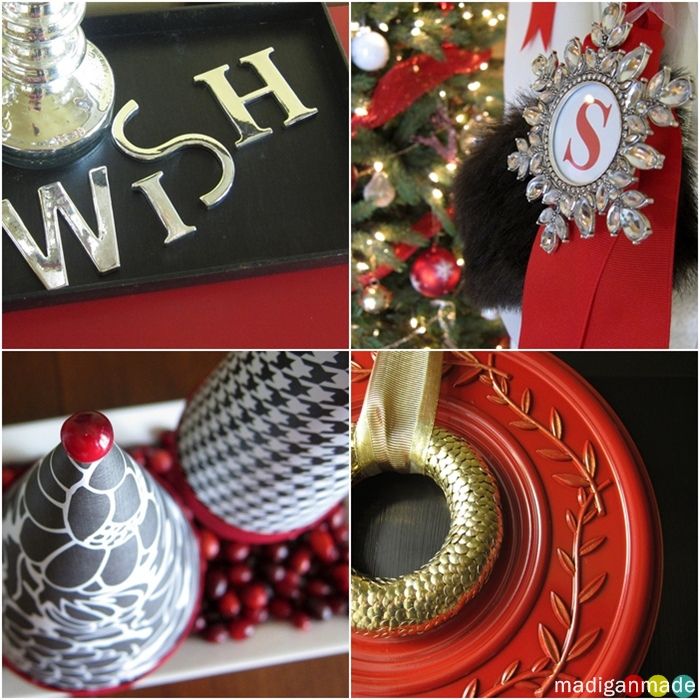 When do you start decorating for the holidays?
Do you put up your tree right after Thanksgiving or do you wait until the week before Christmas?
We typically start decorating around the first of December and it takes me a week or so to get everything out. Right now, our décor is up and ready for the holidays… and ready for y'all to take a tour.
Are you ready for a little Christmas tour? Well, let me take you around our home and show you all of the simple holiday touches. (If you are a regular reader of this blog, you may have seen some of these projects…sorry if you are seeing any repeats. But maybe there are a couple of things you missed, too?)
First, a red and gold ceiling medallion wreath greets visitors at the front door.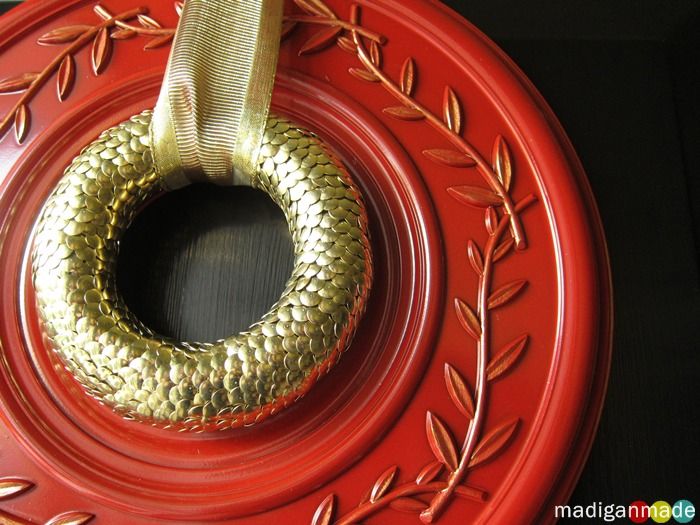 And an old fashioned sleigh that I picked up at the I <3 Thrifting event this summer is leaning next to the front door. I did not do much to it…I just added a swag of greens, a brass horn (that I found thrifting, too) and a bow.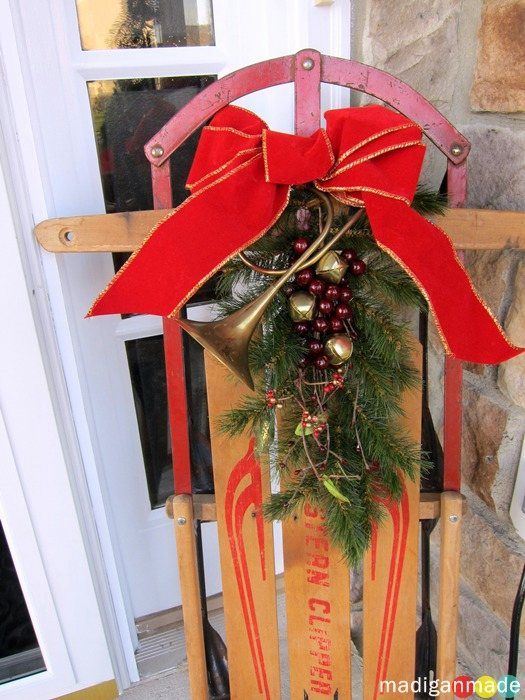 In our foyer, I hung a DIY ornament wreath over the large faux mirror on the gallery wall.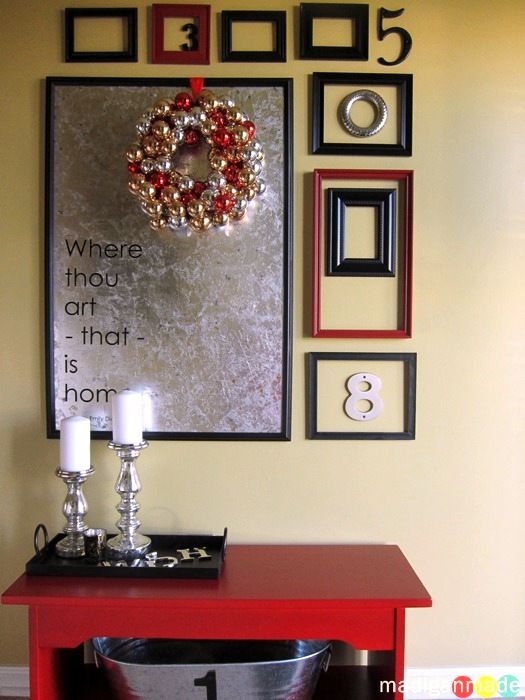 And I added mercury glass candle sticks/holders and silver letters to the tray on the bench below. I love mercury glass and I think it plays nicely against the faux aged mirror/frame above it.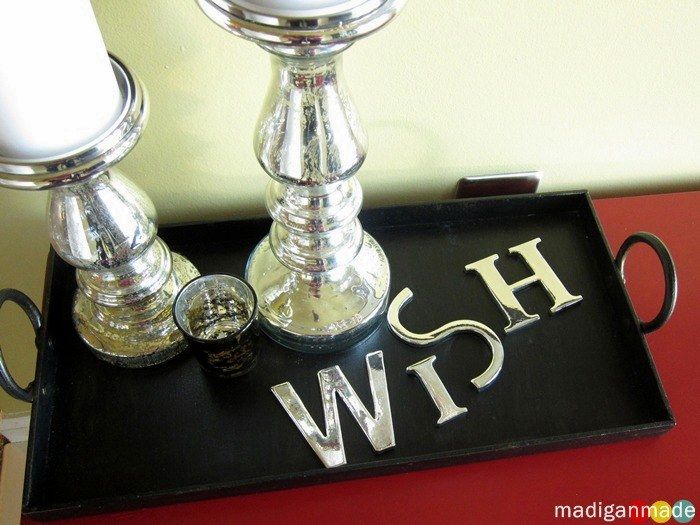 In our front den/office area, you will see our decorated library 'bookcase' with the lighted ornament tree canvas leaning on the breakfront.
A forest of white milk glass trees and gold accents cover the top of the china cabinet/bookcase. This display is the closest thing I have to a mantel but it works for me! I love the crisp look of the white and gold tones together.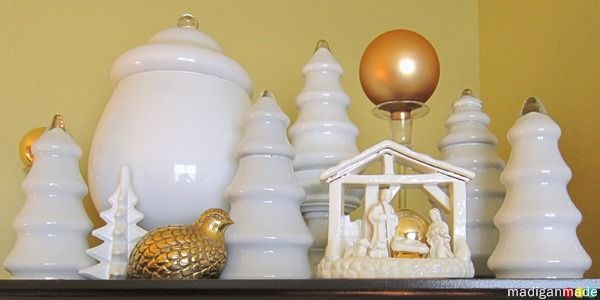 In that same room, I have a small table in front of some botanical prints. I kept that area simple with a fresh wreath on a wreath stand and my white ceramic birds below the wreath.
To make it white, I lightly dusted the wreath with fake spray snow. I wanted to tie in the deep, dark pinks of the floral prints above but I did not have a dark pink ribbon. I did have a dollar store scarf and used that scarf to hang the wreath from the stand. Aside from being a great shade of pink, I think it looks cozy and wintery, too!
In prior years I've decorated our tree in jewel tones and metallic hues. This year I decided to add some white ornaments to the tree since I made a new white tree skirt and stockings. So, our current tree is decorated in mostly reds, whites and metallics with some of our personal ornaments mixed in.
(I couldn't resist including a picture of our furry friend next to the tree, either! Isn't she cute? And… yes… I bribed her with treats to get her to sit there like that!)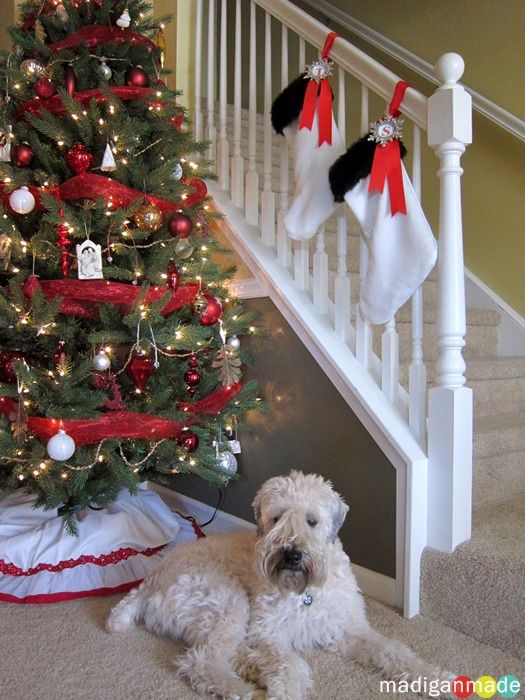 The simple white and fur stockings hang next to the tree on the staircase railing. I made them this year with fabric from my wedding dress. They are a wonderful and personal memento to see around the holidays.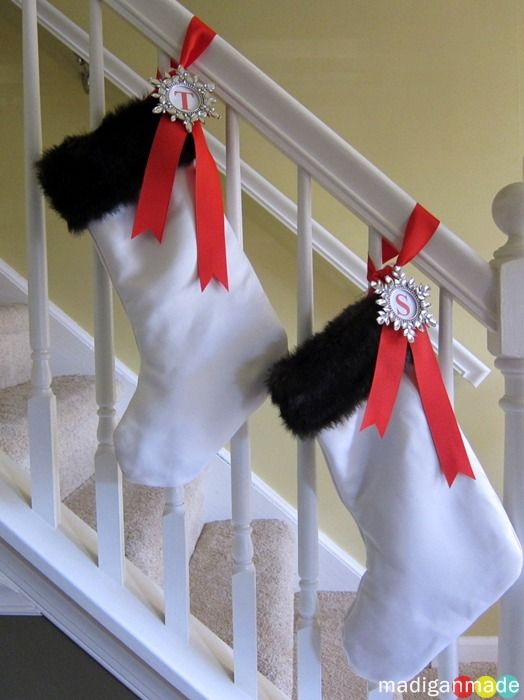 And did you notice my pretty new red and white tree skirt? I'll tell you how I made it later this week…but do you have any guesses what I used for the materials? 🙂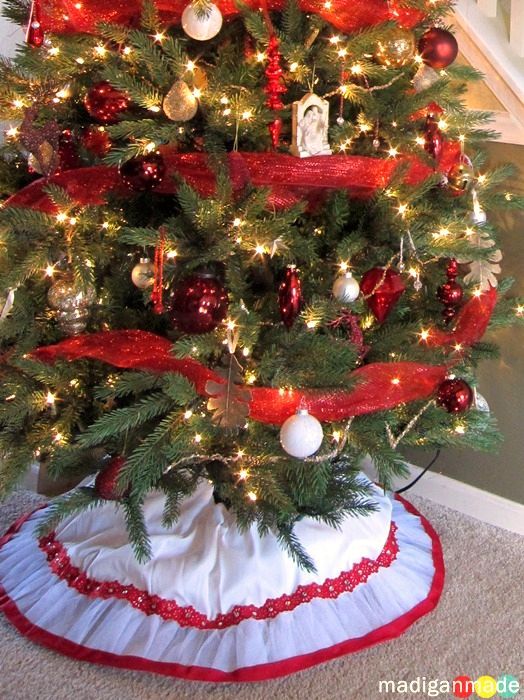 Our kitchen is decked out in more red and white… with a little black, too. If you are new to this blog, you should know that I change out the sentiment on the big chalkboard in the kitchen every season.
I made the simple topiary tree centerpiece from scrapbook paper cones and wine glasses. I love how the colors complement the holiday plates on the wall, too.
And a modern striped tree printable hangs in our kitchen above a wooden card holder I made for our Christmas cards. (psst… the print is free, if you want a copy, too!)
A few other scattered holiday touches adorn the rest of the house.
Like gold sparkly branches (a black Friday find at Michaels this year) and a leaning berry wreath in one corner…
…And a long silver bowl full of green ornaments under the television.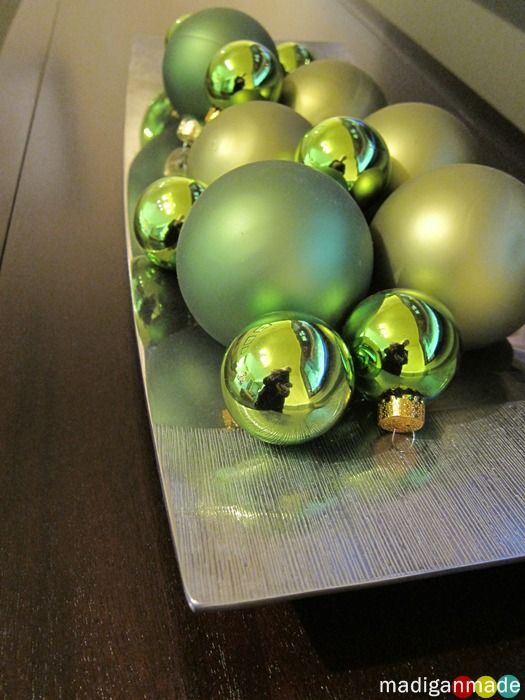 Now that the house is basically ready for the holidays… don't let this fool you into thinking I'm 'ready' for Christmas yet.
I still have quite a few things to get together before Christmas arrives. I did get my DIY Christmas cards together this year. But don't even ask me yet about my gift list. And what holiday baking? Um… yeah. Nada in that department.
How are you doing on your holiday lists?
Is your tree and holiday décor up yet?
Sharing with link parties at:
The Inspired Room, Today's Creative Blog, Tatertots and Jello, Nesting Place, Hooked on Houses

Thanks for reading Madigan Made!
Content Copyright:2010-14. Madigan Made.