Madigan made… a super simple, no-sew, infinity scarf.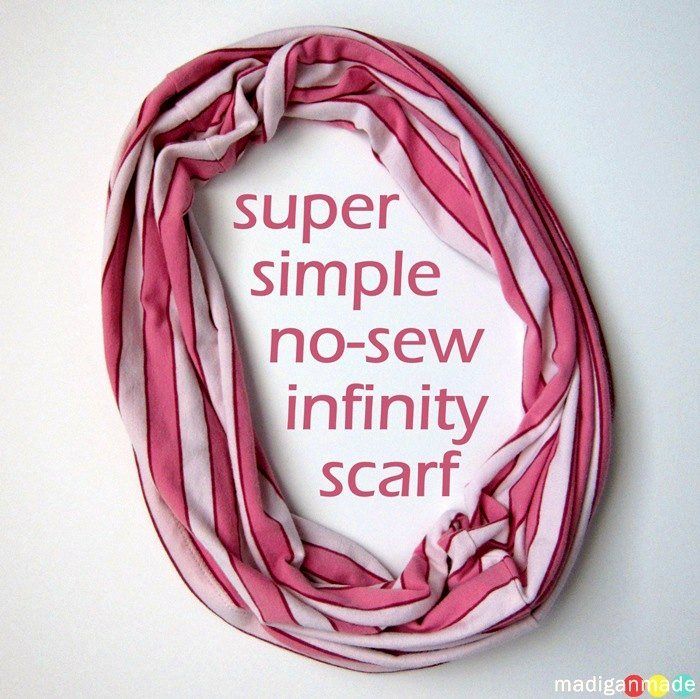 Today is the second day of Simple Scarf Week!
I should've started out the week with this scarf since it is the easiest scarf of all! Today's scarf is this very simple infinity (i.e. mobius) scarf.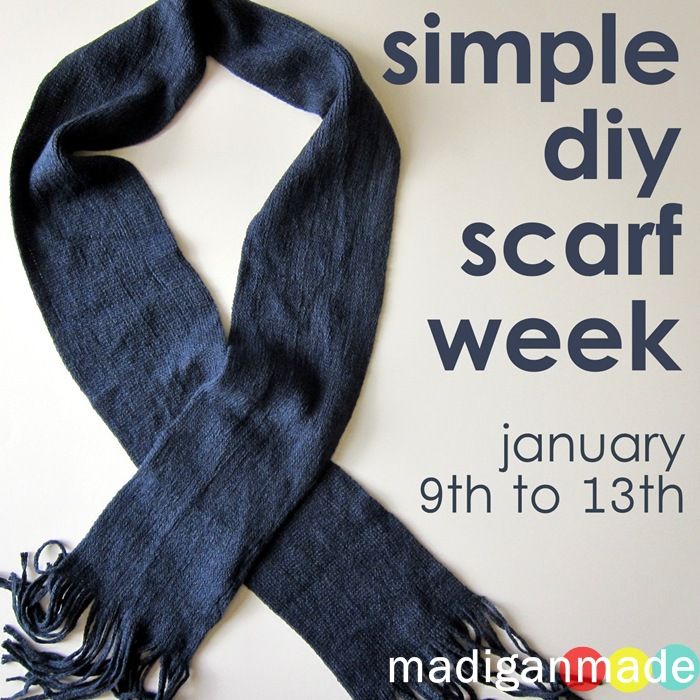 Crafting inspiration strikes me during the most random moments. I was cleaning out my closets recently and thought it was a shame to get rid of some of my t-shirts. The shirts were nice, but I hardly wore them. I figured I could make a few scarves out of the tees… so, of course, I grabbed a pair of scissors and started to experiment!
Scarves from t-shirts are not a new idea… I came up with this scarf in my bedroom with a pair of scissors. I was partly inspired by the cowl scarves I made from sweaters (that I showed you yesterday).
You can make a fun scarf, too! Just follow my tutorial below.
OK, I'm a little embarrassed to call this a tutorial… it is that easy!
Supplies needed:
Directions:
Snip the shirt under the arm hole. (you don't need a huge cut) Tear the shirt across and the fabric will curl on itself. If there is a seam on the other side, you may need to snip the other side, too.
And you are done! Yep – it is that easy! You can step on the loop and pull it to try and stretch it out more… and cut and tear the other edge, too. But I liked having one finished edge and one curled edge on my scarves.
I will warn you that not all fabrics will curl on themselves, so I do have a tip for picking out a good t-shirt. I found that thinner cotton tees seemed to tear and curl the best. My shirts made from thicker fabrics (like the green tee below) just frayed and did not curl.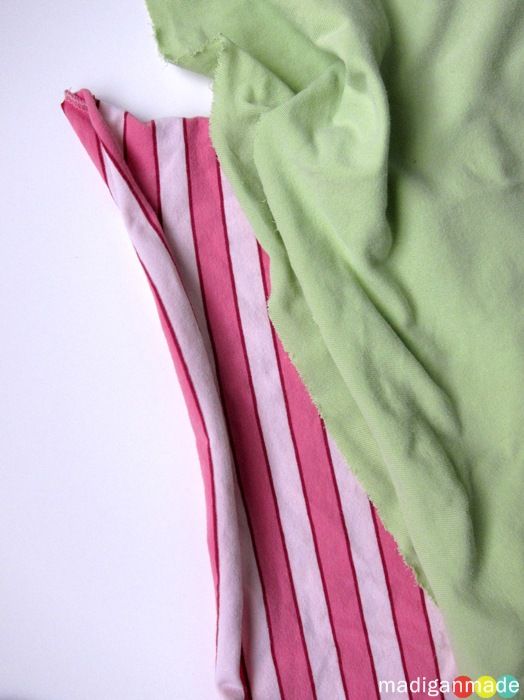 Obviously, the bigger the shirt, the longer your scarf will be and the more you can likely loop it a couple of times around your neck. I'm thinking that a child's size tee could be cute for a short cowl scarf, too.
I made a couple of these scarves. The red and blue ones are from big, oversized tees (the kind you get for free from an event or something).
But without a doubt, the pink striped one is my favorite! The stripes are fun and the length of it hits me where a long necklace would.
It is not super warm, but it is super cute, don't you think?
Be sure to stick around for the rest of Scarf Week!
You will need a sewing machine for the next two days… but I promise, it is going to be very simple sewing. Only straight lines, mmkay?
Sharing with:
Today's Creative Blog, Home Stories A2Z, Tatertots and Jello
Looking for more simple and creative inspiration? Check out these ideas:
Thanks for reading Madigan Made!
Content Copyright:2010-14. Madigan Made.