Madigan made… a list of great crafty scarf ideas!

T.G.I.F.!
Today is Day Five of Simple Scarf Week!
And after a week of showing you all of my scarves, I figure it is time for a guest project!
(Did you see my cowl scarves from sweaters, the t-shirt infinity scarf, my fluffy pleated fleece scarf or the reversible cowl? Don't miss them!)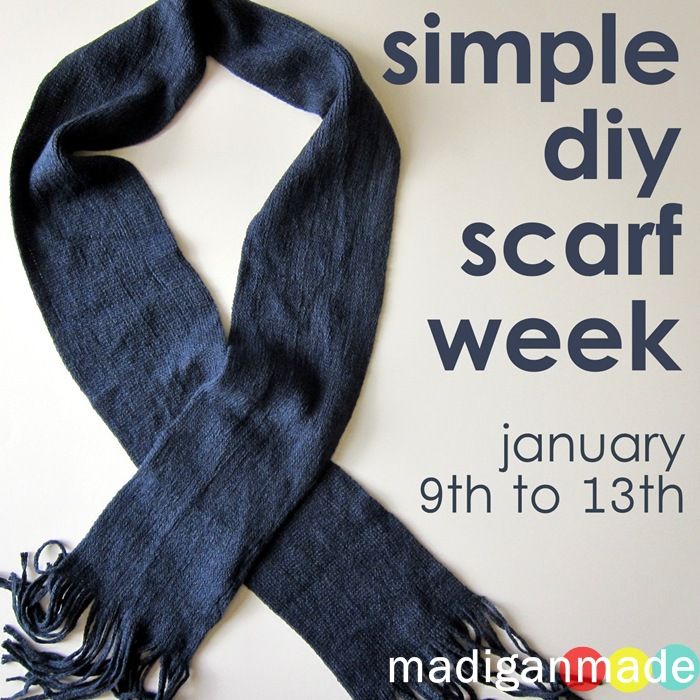 I figured that since it is Friday and I usually feature a guest project today… why not show off my bloggy friends and their scarves?
If you follow me on Facebook or Twitter, you know that I put a call out to those followers for scarf ideas to feature.

And, there are sooo many fabulous scarf ideas out there!

Check out all of the lovely, DIY, neck-warming scarf inspiration:
World's Easiest Crocheted Scarf from Rhonda at Dollar Store Crafts

Stuffed Animal Scarf from A Girl and a Glue Gun

5 Minute Infinity Scarf from Sweet C's Designs

Custom Dyed Ruffle Scarf from Flamingo Toes

Easy Knotted Scarf from Something Turquoise

Ways to Tie a Scarf from In My Own Style

Two Minute Infinity Scarf at Her New Leaf

Soft and Chunky Knitted Infinity Scarf from Sew Wrong

And for even more inspiration, you might want to check out Myra's post at My Blessed Life about 10 Different T-Shirt Scarf Ideas.
Have a wonderful weekend! Hope this week inspired YOU to try your hand a making your own scarf!
I have 5 fun new scarves to wear now! But that created a new problem… where to store them all!? Anyone have any great scarf storage ideas? ;0)
Thanks for reading Madigan Made!
Content Copyright:2010-14. Madigan Made.