Madigan made… simple cowl and infinity scarves.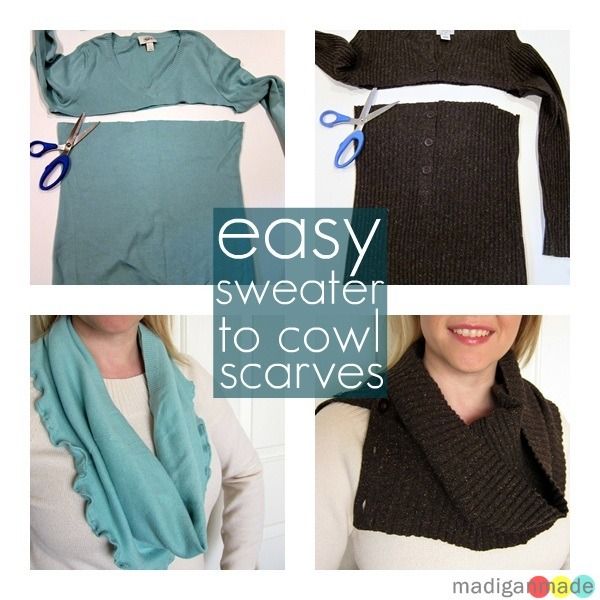 Today is Day 1 of Simple Scarf Week here on Madigan Made! Are YOU ready for a week of neck-warming goodness?
Today's scarf idea is all about 'using what you have'.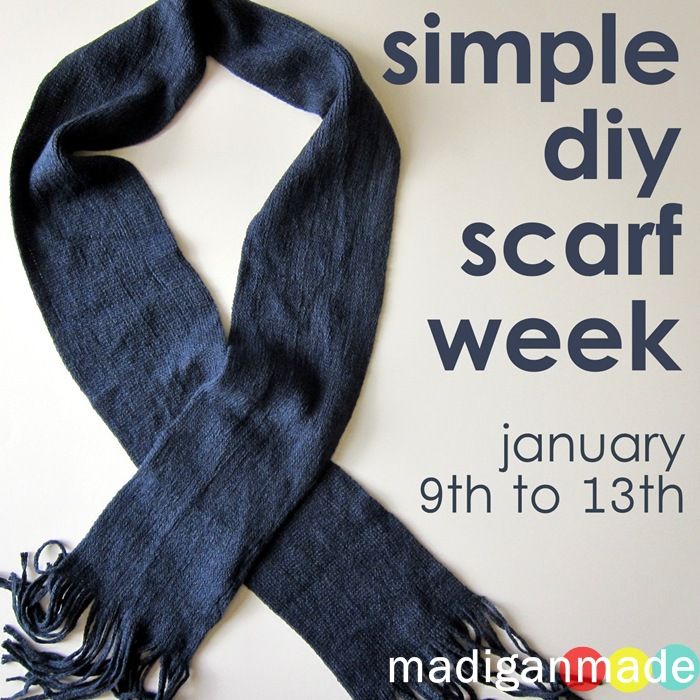 Clothing refashion projects have been on my crafting 'to do' list for awhile and I'm so glad that I finally got around to completing some. I was excited to be able to recycle a couple of my old sweaters!
I loved the color and textures of these two sweaters, but both of them did not fit quite right on me. As a result, I hardly ever wore them.
So, if you have some old sweaters laying around, don't get rid of them yet! With a pair of scissors and maybe a quick run through the sewing machine – you can make cute cowl scarves.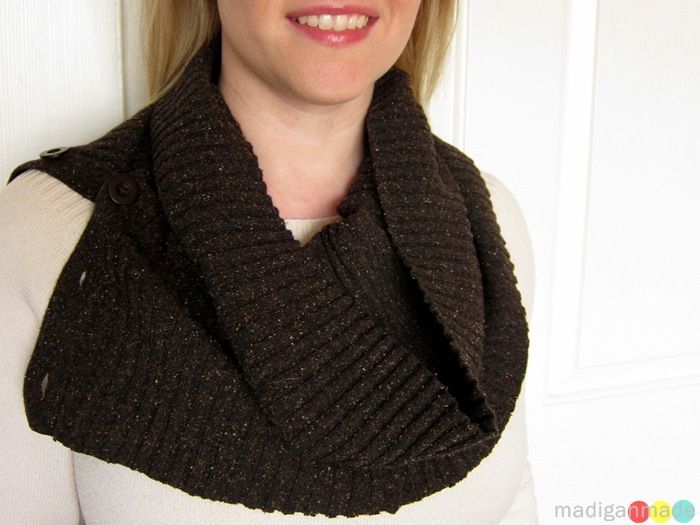 The brown cowl scarf was so easy to make. I was inspired to make this buttoned up scarf from an idea I saw on Whipperberry (featuring Maybe Matilda)… a cowl scarf made from a cardigan.
I had this old button Henley sweater way in the back of my closet. To make it into a scarf, all I did was take some scissors and cut across the torso under the arm holes.
I was happy to see that the fabric did not fray, so I cleaned up the cut line and that was it! To wear the cowl, I draped it around my shoulders and left some of the buttons open over my arm. I think it almost looks like a little caplet now.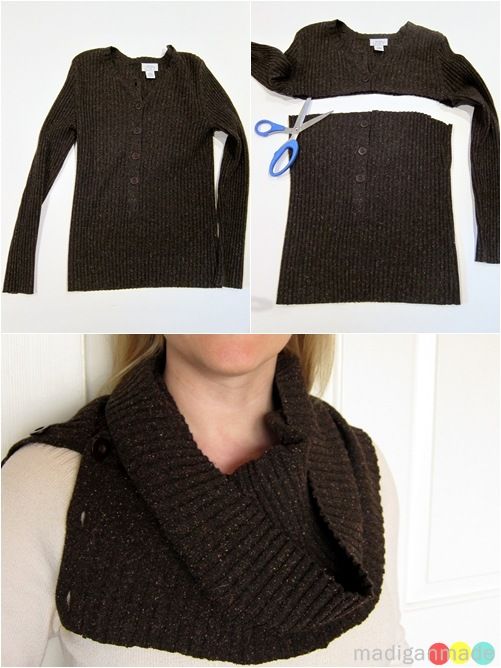 The turquoise sweater was not quite as simple, but still pretty easy to make.
When I cut that sweater across, the fabric edge was frayed.
To finish the edge, I gently rolled the fabric under itself and sewed a quick hem around the circle.
I don't know if it was just the fabric OR if I was pulling it too much, but the hem started to form these waves in the sweater as I sewed. I thought that created a pretty effect. (I'm normally not a 'ruffle' girl, but a single gentle wave I like)
The material for the sweater was a pretty thin and it was easy enough to sew on my machine. A thicker sweater may be more difficult to sew, but I bet you could still work it the same way.
I'm not sure which sweater I like better… I love the color of the turquoise one, but the style of the brown scarf is so cozy!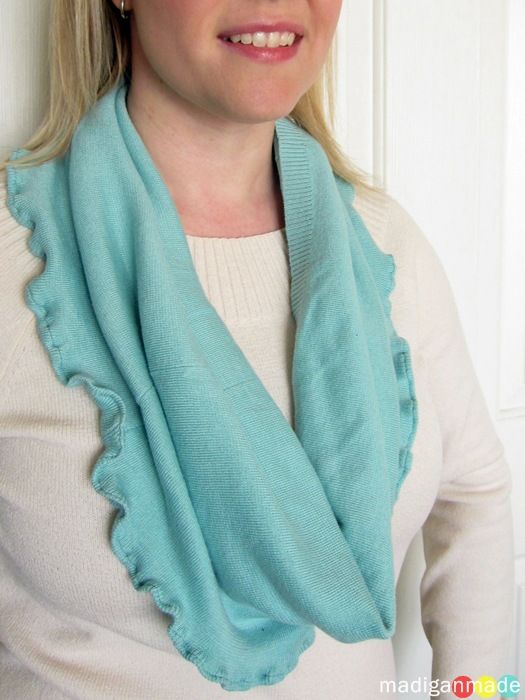 Be sure to stick around for the rest of Scarf Week!
Tomorrow's scarf is a super-easy no-sew infinity scarf – you won't want to miss it!
Sharing with:
Mad in Crafts, Tip Junkie, C.R.A.F.T.
Thanks for reading Madigan Made!
Content Copyright:2010-14. Madigan Made.