Madigan made… a 'non-resolution'.
There is a trend I've seen sweeping blogland that I adore.
Instead of setting a New Year's Resolution, you pick a word that represents your goal or inspiration for the upcoming year. A symbol. A mantra.
I'm terrible about keeping resolutions, but this concept intrigues me. I love words and I love the idea of selecting one that inspires me.
So, not one to miss the bandwagon… I decided to jump on it and pick MY word for the year.
And after some thought… my word is: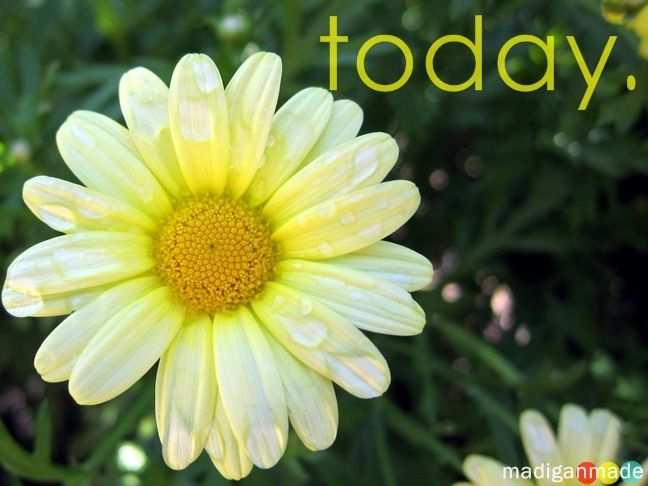 "Today" is an important word for my husband and me. As a couple, we struggle all the time not to dwell too much on the: "What ifs" and "Maybe some days".
"What if we had saved more."… "What if we had done xyz instead in college."… "Someday we'll have kids."… "Maybe one day we'll move to a bigger house." … "We'll travel the world someday." etc.
We both talked about this word and thought it was a great one for both of us. Sure, we should still have a plan and long term goals… but it is so important that we enjoy and appreciate what we have and who we have in our lives today.
And on a personal level… the word 'today' means so much to me.
I am a bit of a perfectionist and that leads to loads of procrastination… At home, at work, with friends and family… and here on the blog.
I put things off. Things I should be doing.
Someday I'll take better care of myself… Someday I'll call so-and-so… Someday I'll do this… Someday I'll do that… etc.
I need to stop putting things off and get stuff done… today.
It's corny saying but so true: I need to seize the day. And not just for practical 'to-do list' stuff… but for fun, too.
I've said it before and I'll say it again, but I really need to learn some life lessons from my dog.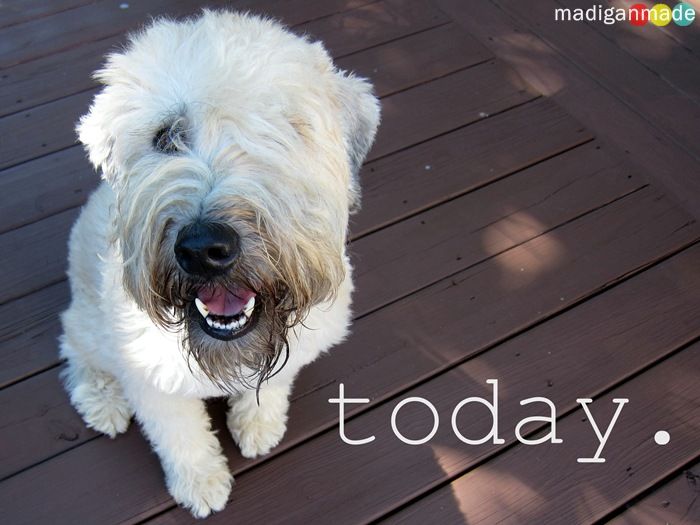 That bouncing, happy pup lives in the moment. She's not worried about what happened in the past or what will happen tomorrow. Her focus is now.
Can you imagine thinking like that all of the time? Imagine how freeing that is?
She plays hard and makes the most of her present. I'd love to be more like that!
I often daydream and at the same time worry about the future and what 'could be'.
That worry is a little paralyzing at times. I feel like this attitude puts my current life on pause… like I'm waiting for something. Waiting for a someday in my head that may never come.
But I'm realizing that I need to stop and appreciate the little moments going on in our lives right now. Tomorrow will be there, whatever that tomorrow brings for me.
But I need to make the most of today.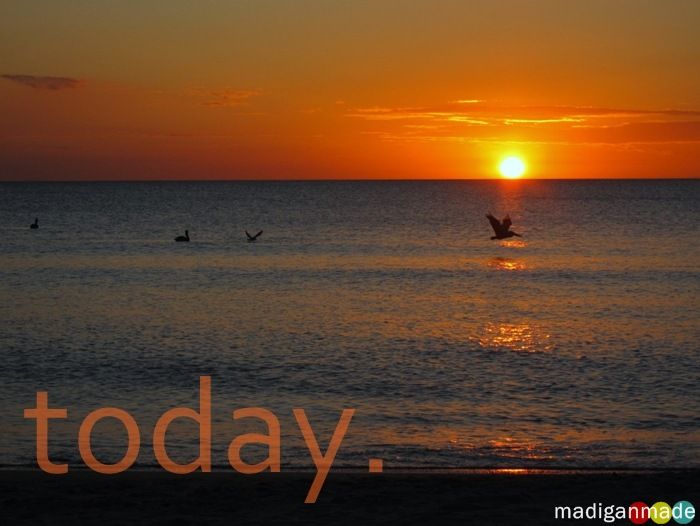 And I need to start doing that… today.
I'll be sharing this post over at Layla's This Little Word of Mine, I'm Going to Let it Shine link party.
And Lara's been running a great series by showing off a ton of different bloggers and their words of the year if you need more inspiration.
Thanks for reading Madigan Made!
Content Copyright:2010-14. Madigan Made.