Madigan made… a fun blog announcement!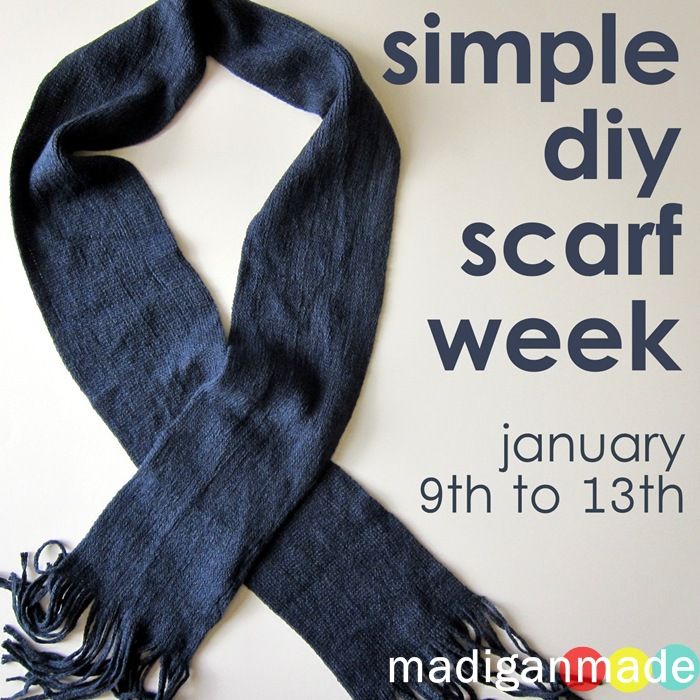 What's the weather been like near you the past few weeks?
We've had a very strange December and January around here. It's been both unseasonably warm… and very cold…and warm again. Oh, and no snow (unless you count the very strange snowstorm back in October).
BUT – regardless of the weather – I still LOVE to wear scarves this time of year! I hate having a cold neck and scarves can be a cute accessory for outerwear or indoors!
In fact, the past two weeks I made quite a lot of scarves… so I'm sharing them all in one big week!
Next week is Scarf Week on Madigan Made!
(Not to be confused with Shark Week… I know, that would've been a much cooler week, but scarves felt a little more seasonal, no?)
Do you remember when I failed to make a reversible cowl scarf?
Well, I can safely tell you that I figured out how to really sew a reversible cowl scarf! I can't wait to show you that scarf, it is one of my favs!
But – you do not need to have a sewing machine to make all of the scarves I plan to share. In fact, if you have a pair of scissors, you can make a really cute scarf!
Do you follow me on Facebook or Twitter?
Because I will be making a special Scarf Week announcement to those followers. I want to involve and show off my readers next week, too! So, if you don't follow me, why not?
I hope you'll be around next week for all the simple scarf fun!
Disclaimer: I did NOT make the blue scarf pictured at the top of this post. But, it's from the dollar store, looked cute in the photo and I plan to sew a scarf wine bag from it someday…so it's kind of like a 'craft supply' to me! 😉
Thanks for reading Madigan Made!
Content Copyright:2010-14. Madigan Made.