Madigan made… miniature desserts in shot glasses!
I think I've told you this before, but I am a sucker for mini foods… especially teeny-tiny desserts.
You know the kind I'm talking about – where you can't eat just one?
Oh, and I love trifles. Trifles always look so pretty, so why not make them super tiny? I found 2 ounce shot glasses at the party supply store and knew they'd be cute for a little dessert.
Did I mention that I also love lemon?
Ok, ok, I apparently like a LOT of sweet things. You won't hold that against me, will you?
Were you wondering what I made with my super easy lemon curd that I told you about Monday? Well, I wanted to bring a lemon dessert for Easter this year and I thought that lemon curd would be a great place to start… and why not add a little strawberry, too?
These strawberry and lemon layers were the perfect pastel shades for a pretty Easter dessert. But I also think that the would be pretty for Mother's Day, a baby shower, or really anytime!
Recipe notes:
I cheated a little and used store bought shortbread cookies. They were a little hard to eat in the shot glass since their texture was so dry. I wish I had crumbed them up a little or used something with a little more give like pound cake. Next time!
If you don't want to make homemade lemon curd… you could buy it or just make up a box of lemon pudding. But I assure you… the lemon curd recipe I use is soo easy!
The bad blogger that I am forgot to give you a reference in the pictures for the scale of these desserts (like a spoon or a strawberry) . Trust me, they are tiny and oh so cute!
Let me tell you how I made them…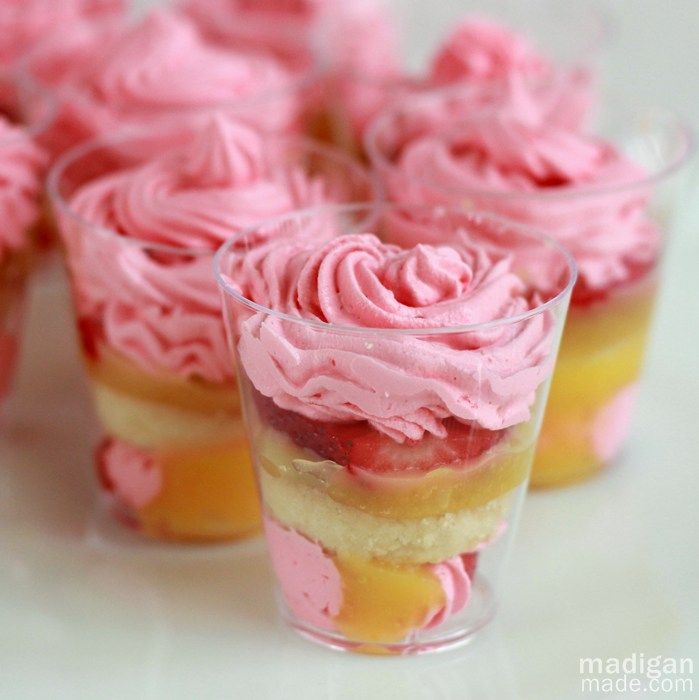 To make the strawberry Jell-O and Cool Whip icing I followed these steps:
(adapted from this Allrecipe recipe)
Ingredients needed: 1/2 cup boiling water, 1 package strawberry gelatin, 1 8 oz container of Cool Whip.
Dissolve the Jell-O powder in 1/2 cup of boiling water and mix thoroughly for a couple minutes.
Cool Jell-O for about 15 minutes in the refrigerator.
Whip thawed Cool Whip into the Jell-O mixture until fully combined.
Place frosting in a piping bag with a frosting tip.
To assemble 24 trifles I used:
1/2 to 2/3 cup of easy lemon curd (it is sooo easy, I promise!)
Almost 1 lb of strawberries, sliced
Strawberry Jell-O frosting in a frosting bag with a piping tip (recipe above)
Shortbread cookies (I used store bought … you could substitute with pound cake or sugar cookies)
24 disposable 2 oz shot glasses
In each shot glass I layered from the bottom ––> up:
– 1 Strawberry slice
– Squirt of Cool Whip frosting
– Dollop of lemon curd
– 1 small cookie (or cube of cake)
– Another dollop of lemon curd
– Another strawberry slice
– Cool whip frosting, piped real pretty on the top
I love desserts like this. In reality, trifles are very simple to make… but the layers look so pretty! Oh, and did I mention that they taste good, too?!
YUM!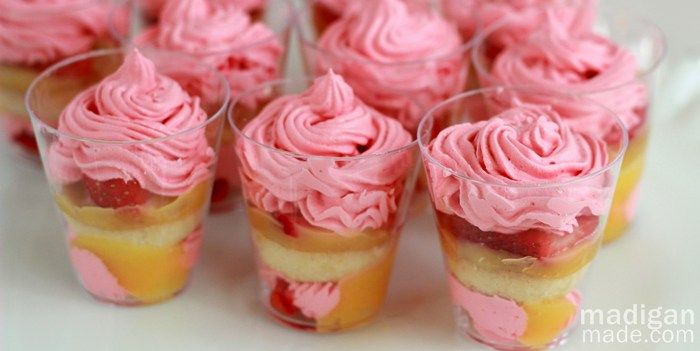 Sharing with link parties at:
Funky Junk Interiors, Serenity Now, Tatertots and Jello
Thanks for reading Madigan Made!
Content Copyright:2010-14. Madigan Made.