Madigan made… a fool-proof (and yummy) lemon curd.
Ina Garten is one of my favorite cooks on the Food Network. Her recipes are simple, delicious and elegant. All qualities I can relate to!
When she shared a recipe for lemon curd that did NOT require tempering eggs, my ears perked up.
Disclosure: I can fumble my way through the kitchen, but some things, like tempering, are tricks I've yet to master. In fact, I told you about my attempt at a custard based ice cream recipe… and I ended up with bits of scrambled egg in the mixture!
This method below is sooo much easier than a tempering step. You beat the eggs into the mixture prior to getting near the stove and it comes out perfect every time!
NOTE: I did give a range for the sugar quantity below. Use 1.5 cups if you like your lemon curd sweet and only 1 cup if you prefer it tarter.
Easy Lemon Curd (no tempering!)
Adapted from this recipe from Ina Garten
Ingredients:

1 – 1.5 cups sugar
3 lemons
1/4 lb. butter, softened
1/2 cup lemon juice
5 egg yolks
1/8 tsp. salt
Directions:
Peel: Use a potato peeler to carefully shave the lemon zest off of 3 lemons. (avoid the bitter white pith right underneath)
Blend: Using a food processor with a metal blade, blend the sugar and lemon rind until the lemon is finely chopped and minced. Admire your pretty yellow sugar! Ooh. Pretty!
Cream: In a large mixing bowl or stand mixer, beat the butter and slowly cream the sugar with it.
Add eggs: One at a time, mix the egg yolks into the butter and sugar. Add the lemon juice and salt — mix thoroughly.
Heat: In a 2 qt pot, heat the mixture very slowly on low. Stir continuously it for at least 10-20 minutes (mine took over 20 minutes). It will start out looking like a curdled hot mess, but don't worry! In time, the liquid will smooth out. Use a candy thermometer and watch the mixture as it cooks. It will start to thicken up when you get to 170 degrees Fahrenheit.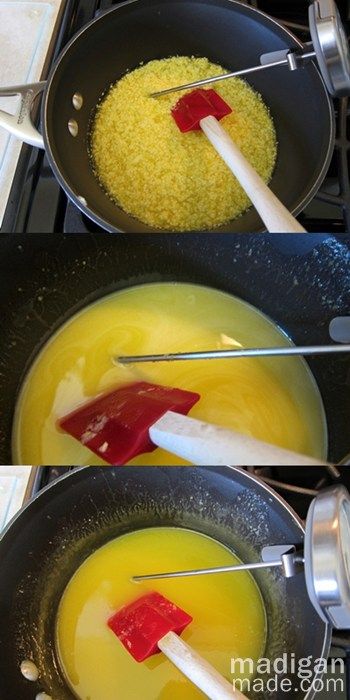 Cool: Remove the thickened mixture from heat. I strained mine through a fine mesh colander to make it extra smooth. Cool the liquid and store in a sealed container in the refrigerator until ready to use.
Now, what can you do with lemon curd? Well, you can spread it on toast or biscuits like jam. You could mix it with whipped cream for a tart dip or soft frosting. You could use it in a pie or tart. You could layer it in a trifle. Or just eat the lemony goodness with a spoon! 🙂
Stay tuned later this week to see what I made with mine! (after I had a few bites…:D )
Sharing with:
Tidy Mom, Tatertots and Jello, Positively Splendid
Thanks for reading Madigan Made!
Content Copyright:2010-14. Madigan Made.