Madigan made… advice for how to put your blog logo on stuff to take to a conference.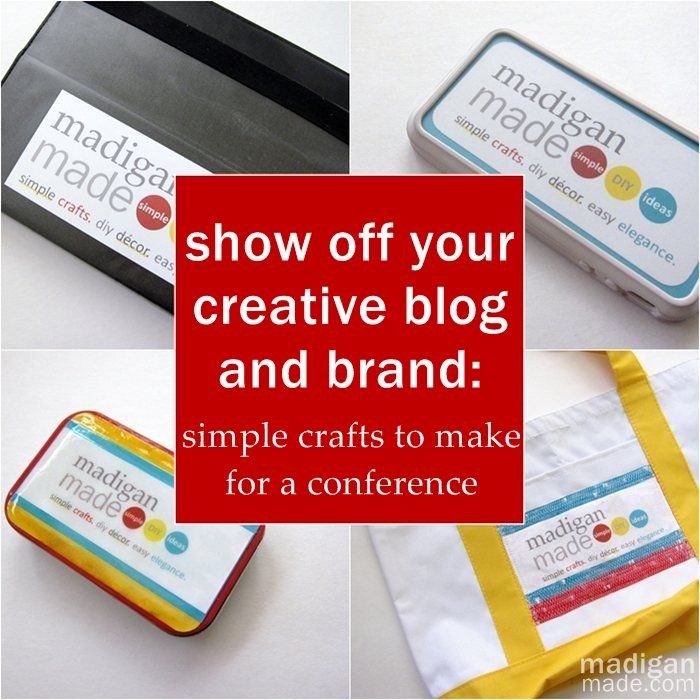 Are you a blogger and planning to head to a conference this year? Are you also a DIY'er? Well, then I thought you might be interested in the crafty blog logo projects I made this month.
I went to Bloggy Boot Camp in Philadelphia earlier this month and had a blast. You can find my recap of my lessons learned and blog goals here. As I told you the night before the boot camp, I was scrambling in that week leading up to it to make some crafts to bring to the conference.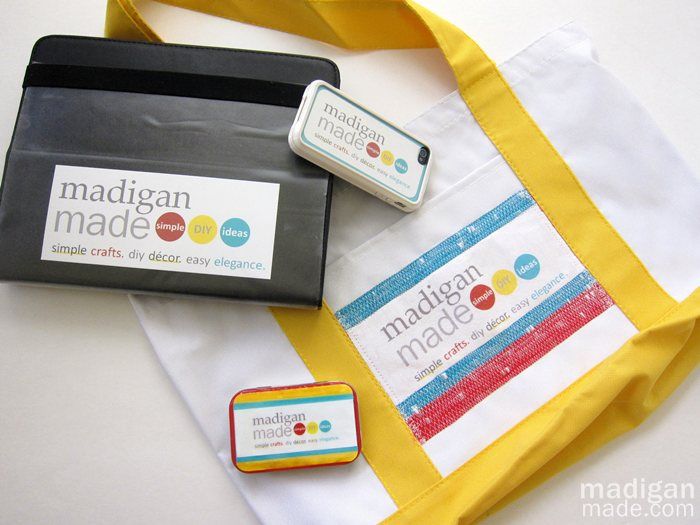 I met only a few crafty/DIY bloggers at BBC and I also spotted just a couple of people who had their blog logo on stuff (t-shirts, phones, etc.). So, as a crafty blogger wearing handmade goods, I felt in the minority. But it was all good… because that is what (I hope) helped me stand out!
What are some things you can make with your logo on it for your next blog conference?
1. Craft Your Own Branded Business Card Holder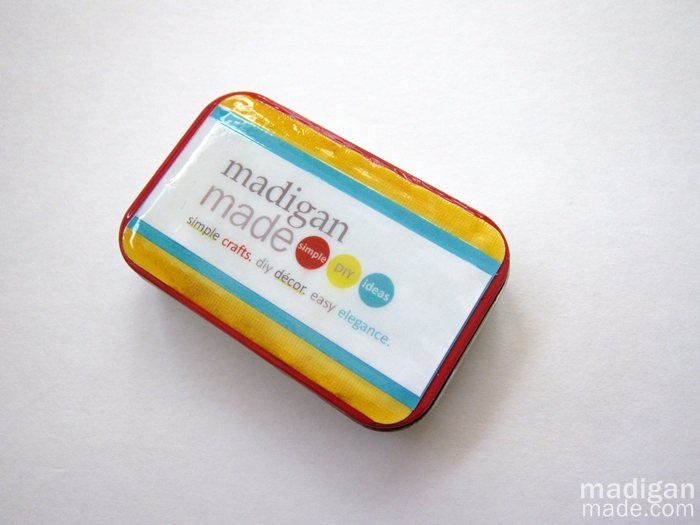 I made this card holder from an old Altoids tin. I followed the same technique I used to make a DIY decoupaged business card holder that I showed you last year. I just printed off my logo on card stock and layered that paper on top of the lid with yellow and turquoise card stock using decoupage. I used Mod Podge Dimensional Magic on top of the layers to give the look of a resin-like finish.
But I'm going to give one very important piece of advice. You NEED to fix or seal graphics on the printed paper or the ink WILL run. Trust me.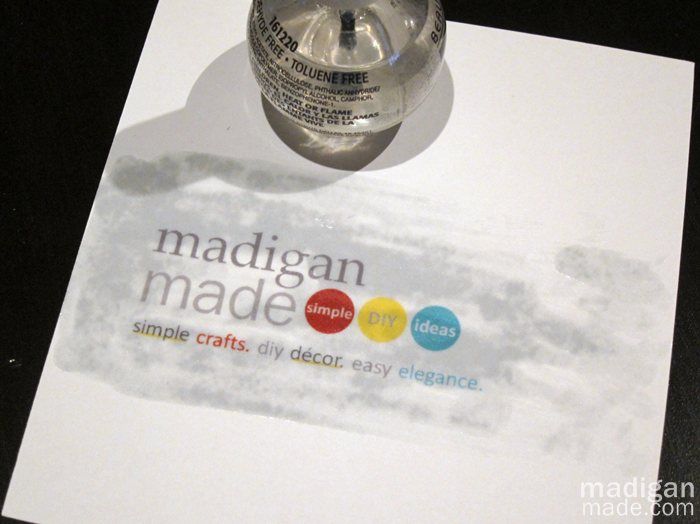 I used clear nail polish to seal my printed image. Then I was able to safely use the paper under the decoupage.
What I'm showing you here is actually my THIRD attempt. I will share the first two attempts with you soon. They definitely fall into the 'craft fail' category.
The last version I created was acceptable and it worked OK for the conference. But I was tired when I made it. And if you look carefully, you can tell. The paper edges are wrinkled and the decoupage ran a little down the sides. Oh well… it held my business cards just fine and looked pretty cute!
2. Put Your Blog Logo on Your Phone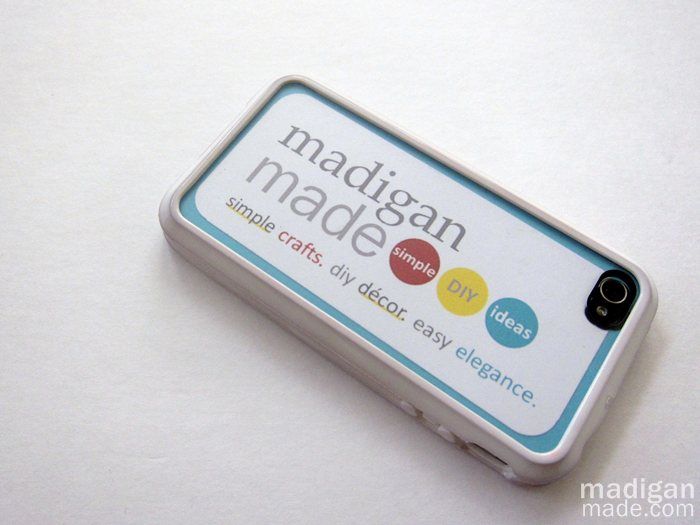 This was the easiest project and the idea has floated around blogland for awhile (I first saw cell phone case inserts on Oops, I Craft my Pants). But first, you need a case with a clear back on it. Once you have one, you can add pretty paper behind it.
I used a piece of blank paper to test the fit and size of paper I needed to slip into the case (or trace you can any insert that came in the phone).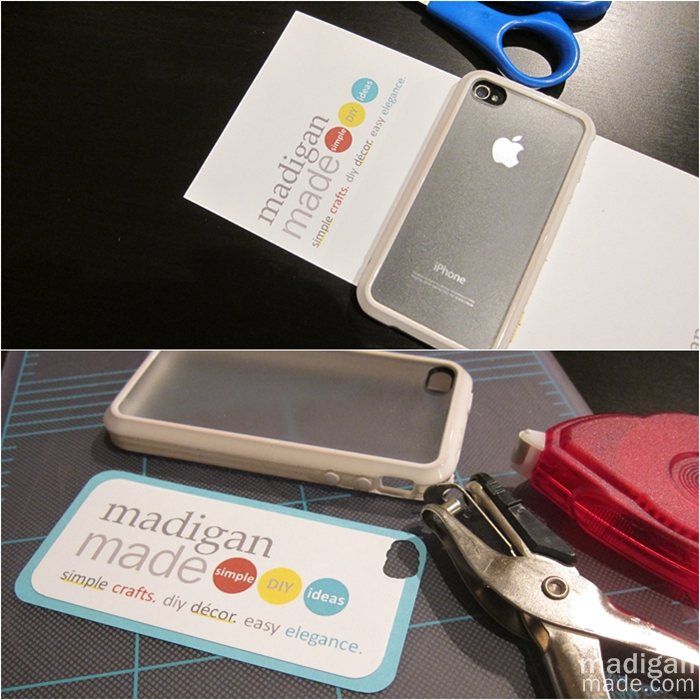 Then, I used a piece of turquoise paper cut to the size I needed. I printed off my logo onto white cardstock, cut it smaller than the turquoise panel and attached the two together using scrapbooking adhesive. I rounded the corners of each panel using a corner punch. I traced the hole for the camera area onto the panel and and carefully cut a hole with a hole punch.
The panel of paper slipped right into the back of the phone and did not move. It looked so cute and I can't wait to use this method to decorate my phone for other occasions, too.
3. Make Your Own DIY Laptop "Sticker" (or maybe not… let me explain.)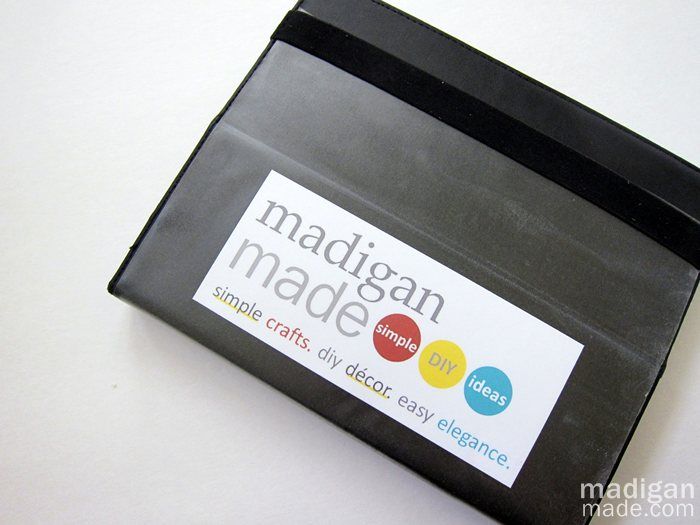 I thought it could be fun to try and make my own 'sticker' to adhere to the back of my iPad.
Then, when I iPad was open, those sitting around me would see my logo. There are companies that make vinyl stickers you can use for this purpose. For my knock-off attempt, I printed off my logo on cardstock and attached it to the tablet case using clear contact paper.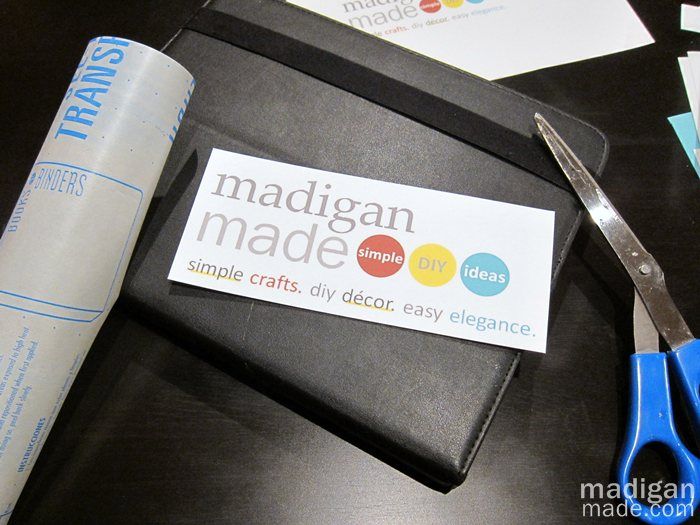 It worked… and it got my name out there. But why would I not repeat this project? Well, my sticker looked very homemade. And not in a quirky and cute handmade way! It pulled away from the case and looked cheap, flimsy and unfinished.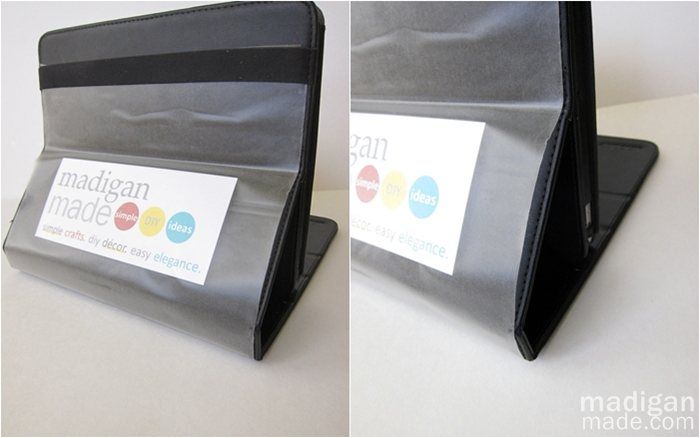 If I want to add my logo on my laptop or tablet in the future, I'm probably going to buck up the cash for the real, professionally made vinyl sticker.
4. Craft a Tote Bag with Your Blog Branding on It
Did you know that it is pretty easy to print on fabric? I printed my logo onto fabric and attached it to an old tote I already owned.
I followed this tutorial to print on fabric using freezer paper from Instructables. I used an old white tee shirt and printed on the fabric with my ink jet printer.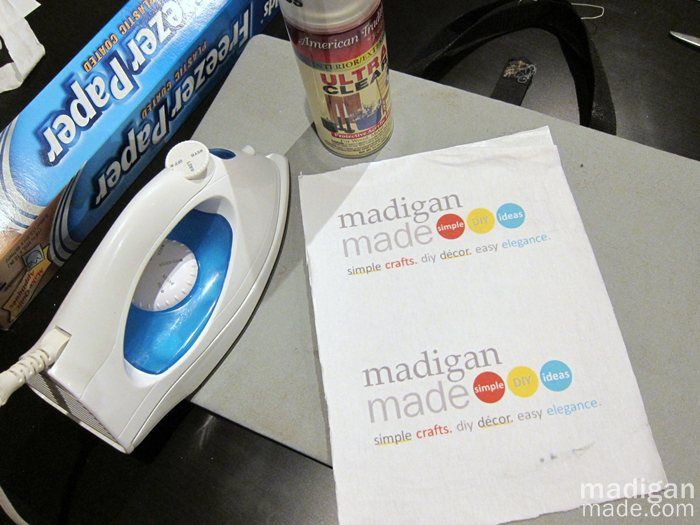 But be warned: your printer ink is not permanent on fabric. Since my print was going on a bag and not clothing, I did not really care about that fact. After I printed the image, I did spray the fabric with a spray acrylic sealer to help protect the fabric from water.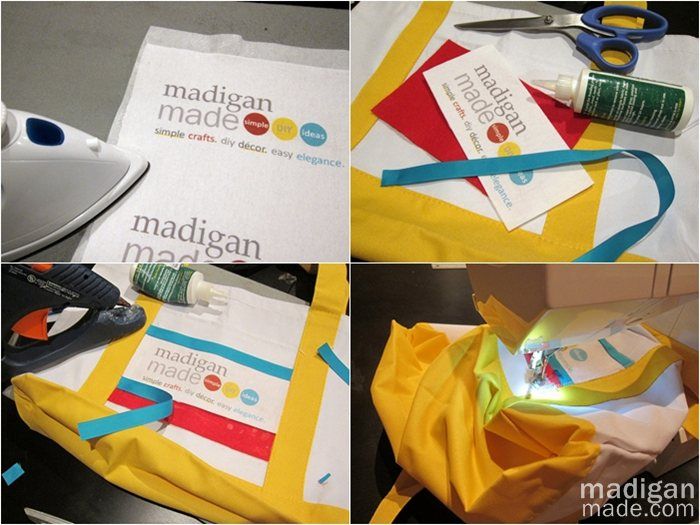 To give the printed t-shirt fabric a little support, I ironed it to some fusible interfacing. Then, I just attached the panel of fabric to an old tote and covered up the logo that was already there. I glued the fabric down to red felt and layered strips of coordinating ribbon above and below the printed panel with more glue.
After the glue dried, I noted that the edges were gaping a little. So, I got out my sewing machine and used a zigzag stitch all the way around the fabric panel and ribbon to try and hold it all in place a little better.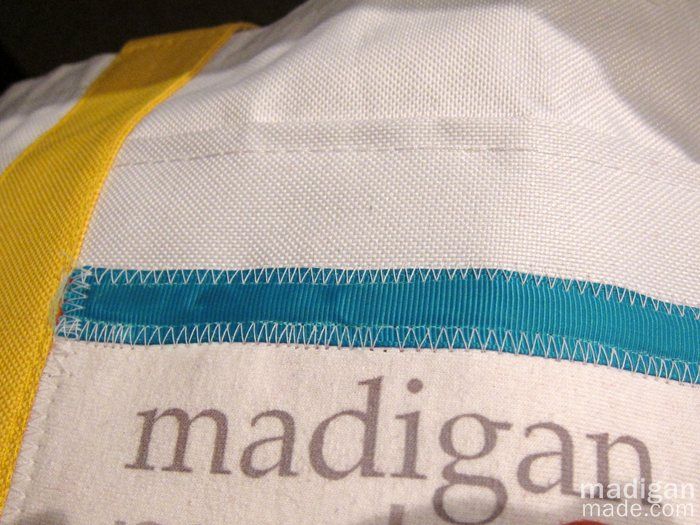 But then I noticed that the stitching was uneven and bunched in spots. (Did I ever tell you that I am NOT a good seamstress? I know the basics of a straight line and that's about it!)
So, instead of ripping it all apart, just added rows of MORE uneven stitching! It's almost like that quote: "If you stumble, make it part of the dance." My amateur sewing turned into intentional looking texture. I think it worked and now I have a cute blogging bag to take to other events in the future.
5. Be Your Brand From Head to Toe.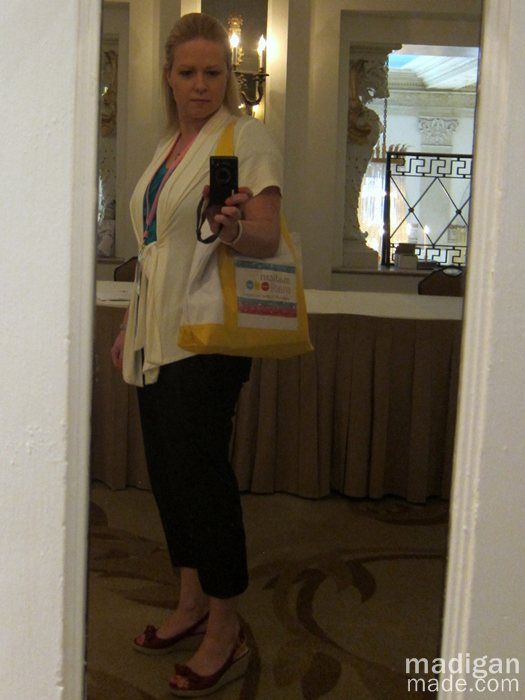 I'm not sure anyone who saw me at the conference realized this… but I even extended my branding to my outfit that day. I carried a yellow bag. I wore a turquoise top (under a white cardigan). And I had really cute red shoes to finish the outfit off. You can't see it in the picture, but I also wore my DIY gold seashell necklace, too. If you often share wearable crafts on your blog… you better be wearing one of them at a conference!
I got the idea to 'dress my brand' from Gina at Shabby Creek Cottage. Awhile back in a Crafterminds twitter chat, she mentioned that whenever she went to a conference she always wore turquoise (her blog and logo is turquoise). I don't know if I'd do this again… but thinking about my blog color scheme was a fun way to pick out an outfit to wear that day. From head-to-toe, I tried to represent Madigan Made.
And, I'm sure you are asking:
Was it worth all the crafting effort?
Yes!! Several people came up to me throughout the conference asking if I made "that"… the phone cover, the bag, etc. The night before the event, I tweeted out a few pictures of some of the items I made. Several women came up to me the day of the conference who saw those tweets and they asked to see the crafts. It was a great icebreaker and a nice way to explain that I was craft/DIY blogger.
If you are thinking about creating any crafts with your logo on it, I do have the following advice:
Plan and work ahead. First impressions count. Put time in to make each item look polished and finished before the event. (don't wait till the last minute like I did!)
Some things (like the cell phone case insert) are easy for anyone to do. You don't have to be very crafty to make a few things with your logo.
Know your DIY limits. Pay for the 'real thing' if that type of craft is not feasible with your skill set or if the result will look very amateurish. (like my DIY vinyl sticker)
But remember, it is OK if your goods looks handmade. That IS the point. If you are a craft/DIY blogger, be proud and show off your creative talents!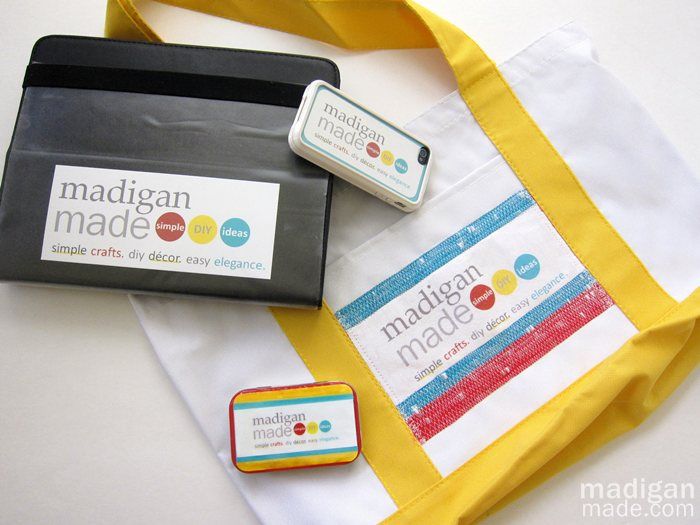 I'm sure there are many more ways to show off a little branding at a conference or meeting.
Have you ever created any crafts with your logo on it? I'd love to hear more ideas!
Thanks for reading Madigan Made!
Content Copyright:2010-14. Madigan Made.