Madigan made… an easy greeting card tutorial.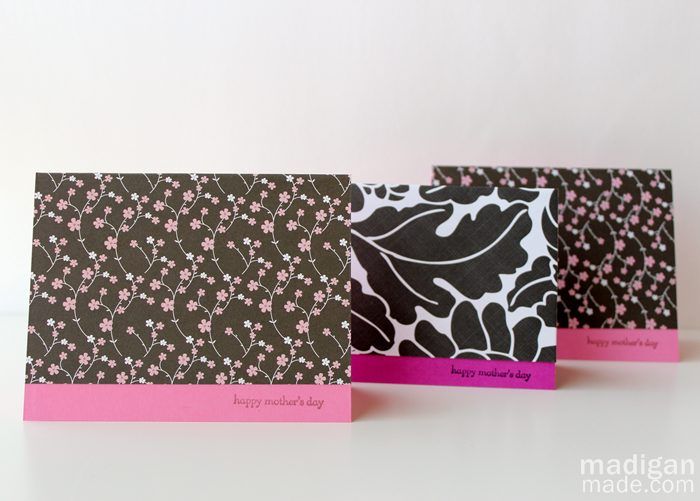 Let's talk about something simple and easy today, mmmkay?
I thought I'd take a second and show you the homemade greeting cards I made for Mother's Day to give to my mom, MIL and grandmother this year.
I've made handmade greeting cards in the past, with varying degrees of complexity. I've made simple Christmas cards (pictured below) and more complicated die-cut ornament cards.
I wish I had the time and desire to create intricate and layered greeting cards. But, like most of the things I do, I like to keep things simple and easy.
Plus, I am NOT very adept at stamping images neatly on cards. Things end up looking a bit crooked… kind of like my card needs a V8! Simple cards always tend to serve me better and I like one stamp, if I do use them at all.
Many of the rubber stamps I own are small with little words and holiday phrases. They make it easy to decorate a card or tag in a simple way.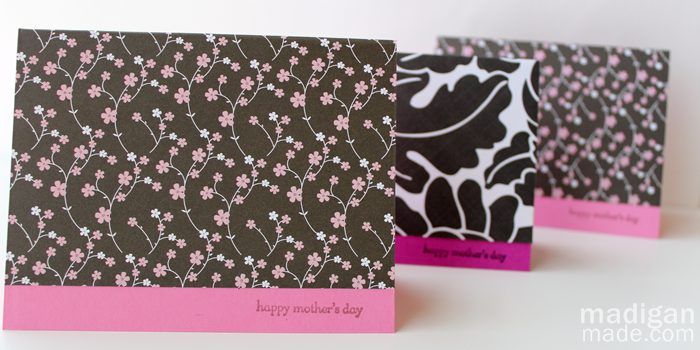 One of my favorite ways to create a handmade greeting card is to use a single panel of paper with a small, stamped sentiment in one corner. You could make these cards for ANY holiday or purpose… Mother's Day, Father's Day, Christmas, Valentine's, birthdays, etc. Just change out the type of decorative paper you use.
How to Make Two Easy Handmade Greeting Cards:
Supplies needed for simple DIY cards:
1 8"x11" piece of card stock
2 sheet of coordinating, decorative paper
Paper cutter
Scrapbooking paper adhesive tape or dots (you could also use a glue stick)
Small holiday saying stamp
Ink stamp pad
Invitation size envelopes (available at office supply stores)
Follow these steps:
Step 1-2: Cut a sheet of paper and fold each in half.
Step 3-5: Cut a front panel of decorative paper. Attach it and stamp a saying in the corner.
Tip: If the front panel does not line up exactly with the card, I often will use my paper cutter to shave both sides so that the edges are even. Also, this size card will fit perfectly in an invitation size envelope (found at any office supply store).
I'm a sucker for pretty scrapbook paper and I love how this approach really allows the print on the decorative paper to shine!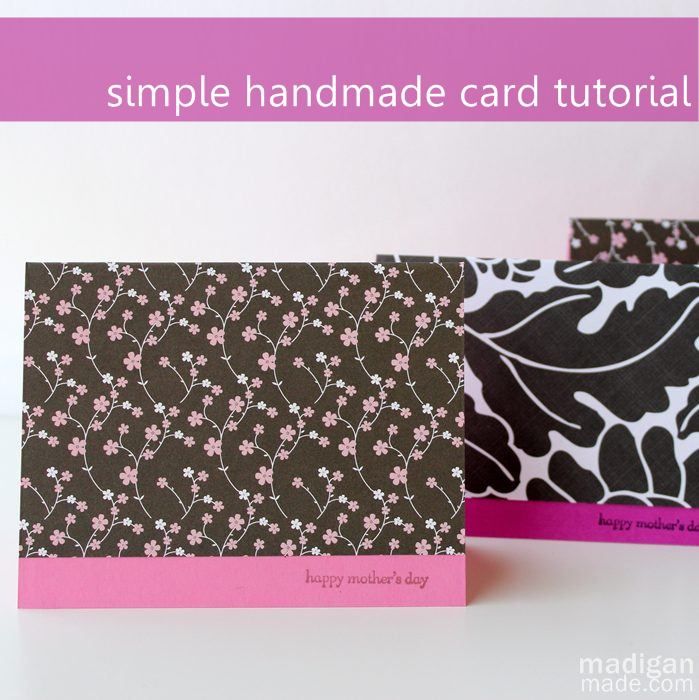 Sharing with:
Tatertots and Jello, House of Hepworths
Thanks for reading Madigan Made!
Content Copyright:2010-14. Madigan Made.