Madigan made… a craft book critique.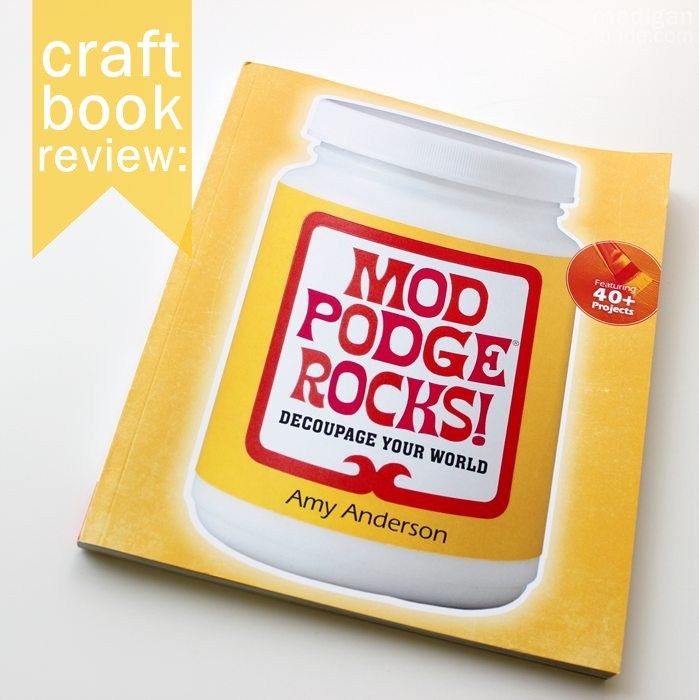 A book about Mod Podge? Yep, this kinda read is right up my alley!
Today I want to tell you a little bit about a new book I received from Lark Crafts, Mod Podge Rocks!: Decoupage Your World, by Amy Anderson.
You should be warned that I might be a little biased here. First, I love Mod Podge projects. Second, Amy is a blogging friend of mine and I'm a regular contributor on her fun blog: Mod Podge Rocks!
I am sooo proud of Amy and I always get a thrill whenever I see a blogger come out with their own book.
Exciting, right?

Amy's book is bright, fun and packed with 40+ cute projects! If you have never worked with decoupage as a DIY medium, I have a feeling these projects will inspire you to consider trying it. Mod Podge crafting is an easy and simple way to update your home or holidays.
And if you are new to decoupage, you will appreciate the Mod Podge Primer area in the beginning of the book. Amy goes into great detail about the different types of Mod Podge formulas. She provides step-by-step instructions for how to use Mod Podge and lists some great tips. I learned a few new techniques, and I've been decoupaging for awhile. This section of the book is a valuable reference for any decoupage newbie OR expert.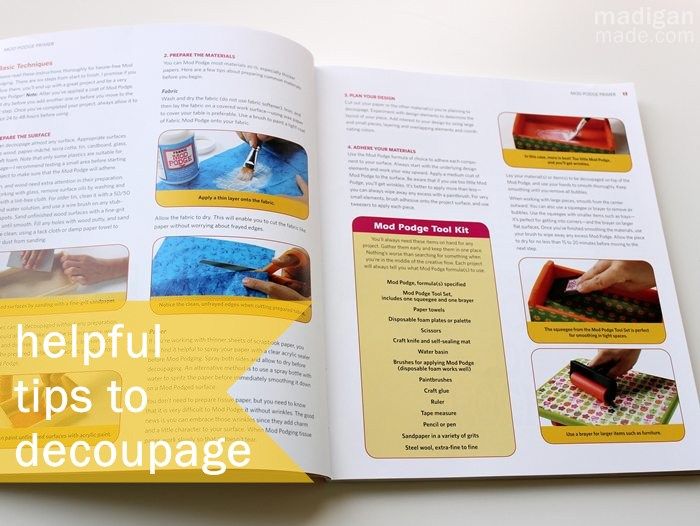 And after the primer, there are all the fun and inspiring projects! These crafts are very accessible projects that crafters at any level could try.
The book is laid out in sections and there are projects for wearables, home décor and holiday. I found that each tutorial was clear, concise and provided great step-by-step photos. Templates, where applicable, were also included.
Check out this cute acorn vase filler using sparkly Mod Podge. I love the idea of making a bunch of shiny acorns for fall.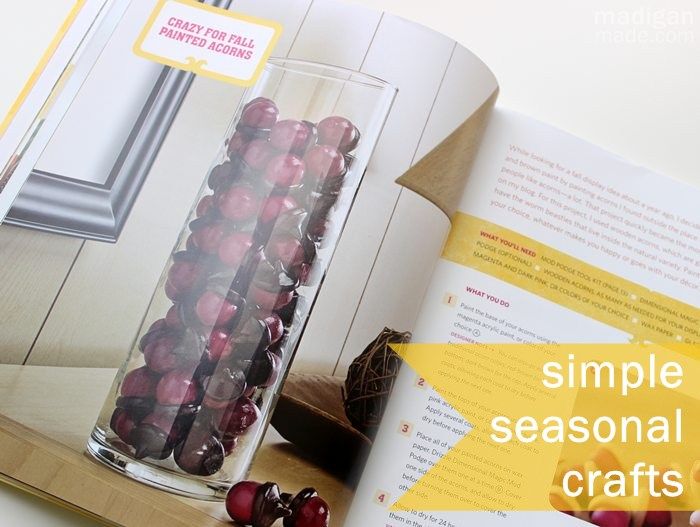 And this retro chair? I adore the color and the fun addition of the print. This is a great way to upcycle an old piece of furniture.

Amy also invited some guest podgers to help with the tutorials. It was neat to see other blogging names I knew like Heather Mann and Jennifer Hadfield. There was even a gallery in the back of the book highlighting a bunch of cool Mod Podge projects that I've seen around the blogosphere. It gives me hope that maybe I can be published in a craft book or magazine someday.
Look for a copy of Mod Podge Rocks (under $15!) in your local bookstore, craft store OR just order one online.
It is a great read for any DIY or crafter that loves Mod Podge (
ahem, hand raised
!) or that wants to try working with it.
Congrats on the book, Amy! It ROCKS!

*Disclosure: I was sent a complimentary copy of this book for the purposes of review. All opinions are my own.
Thanks for reading Madigan Made!
Content Copyright:2010-14. Madigan Made.