Madigan made… a beachy, painted and tiled side table makeover.
Can you believe that after blogging for 2 years… I have yet to show you my master bedroom?
I've shown you bits and pieces… like my brooch wall art and the beachy starfish wall art in our master bath. But, gosh, I really need to show you more of this room!
I will get around to showing you our whole master bedroom, but I recently updated our nightstands and I wanted to share them with you today. As you can likely guess after seeing this project, we kinda got a blue, semi-beachy theme going on in this room.
I've nicknamed these 'new' tables my bubble tables, because that is what they look like to me.
Nightstands covered in tiny, blue, glass bubbles!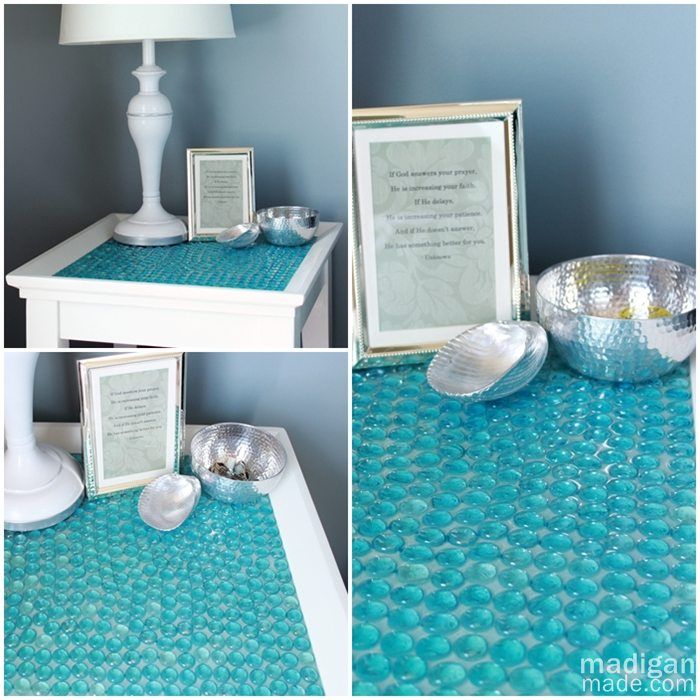 They were inspired by my
modern beachy glass wall art
that I created with
glass gems
for our master bathroom last year.
I actually had hoped to use small, glass mosaic tile on top of the tables in the framed, inset area. BUT, then I started to price out the cost of glass tile! Not cheap! I knew that there had to be an inexpensive alternative… so after the glass gem art, I figured that I could cover a table with them, too!
I was going to apply the gems to the table using traditional tile adhesive and grout. But I really wanted to showcase the glass… I did not want the pebbles buried in white grout. I thought that clear grout would be pretty… and silly me thought there there was such a thing! After a little more thought, I figured, why not try resin?  Resin is clear and the inset area at the top of the table was perfect for holding any runaway flooding. So, that's the direction I went.
The picture at the top of this post is the table on my husband's side of the bed and below is the table on my side of the bed (I need a big brown basket under mine to hold my fav bedside reading):
And do you want to see what these table looked like before I got my hands on them? They were dark, brown and kinda dull. The pieces actually are repurposed living room tables that we had from an old furniture set:

How did I transform these plain brown tables into light and white sea glass topped night stands?
Project List & Cost Estimates:
Two side tables, on hand
5 cans of spray paint, about $20
Sand paper/sanding block, on hand
Blue latex paint, on hand
11-12 bags of small glass gems, $12
Clear, water-based polyurethane, on hand
Craft glue, on hand
Pourable 32 oz. resin kit, about $17 (I used a 40% coupon at the craft store)
Total project cost for two tables: about $39 and up
Step 1: First, I prepped the tables for paint.
I wiped each table clean with a damp cloth and then I lightly sanded the surfaces with a fine grit sanding block. I used another clean cloth to remove the dust after sanding.


Just like I did for my recent chair makeover, I propped up each leg of each table using a tack nail. This kept the leg high so it would not stick to the surface below when painted.
Step 2: I spray painted each table white.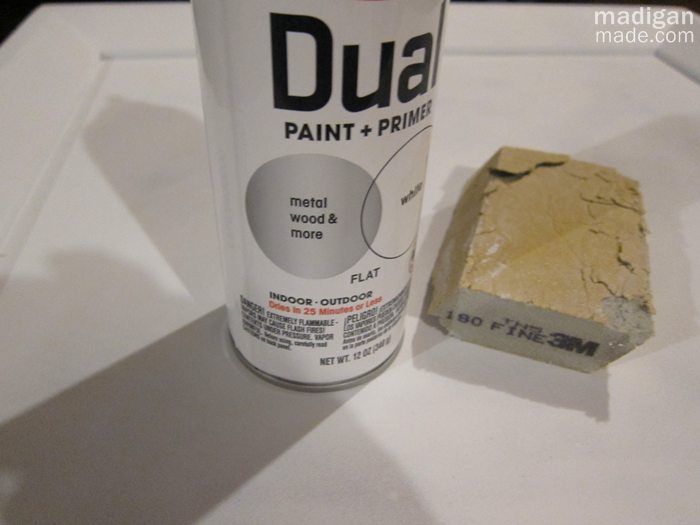 I took the tables outside and coated each table with multiple, thin coats of Krylon Dual in white. (a paint & primer in one) TIP: When spray painting furniture, the key is to use thin, multiple coats. Allow some time to dry between each coat, but be careful not to reapply after the manufacturer's instructed window of time. Many companies advise NOT to reapply after 60 minutes from the last coat… then you should wait 24-48 hours to reapply, depending on the paint. (or you will end up with a hot mess of bubbling paint!) I ended up using about 2+ cans for each table and allowed the tables to dry for at least 24 hours.
Step 3: I painted a panel of pale blue color in the center of each table.
I wanted to have some color peek up underneath the glass gems and through the clear resin… so I painted the interior inset area with a very pale, blue-green latex paint. (It is actually the same color I used on the lamp shades… and I'll be telling you more about the lamps soon.)
Step 4: I applied a sealer/polyurethane over the white paint.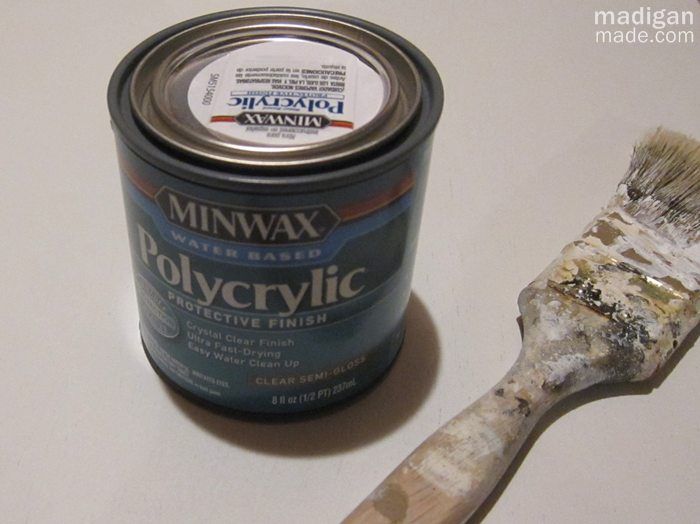 To help seal and protect the spray paint, I used a brush-on, water-based sealer and covered the white, painted areas with it. You might not need to to this if you used a gloss white spray paint, but I used flat spray paint (not as durable as gloss). I wanted another layer of protection and to add a subtle sheen to the finish.  I find that poly also helps 'smooth' out any uneven 'over sprayed' areas from the spray paint finish, too.
Step 5: I glued down the glass marbles to the table top.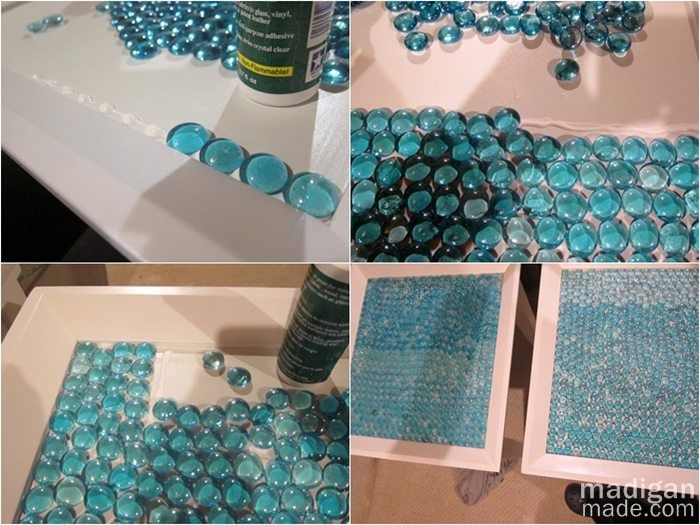 After the pale blue inset on each table was dry for >24 hours, I glued down rows of the glass gems using a white craft glue.  You need to do this step to secure the gems down. This way, the glass pieces don't float in the resin and it prevents bubbles that might get trapped under the gems. I used a jewelry glue (i.e. GemTac or Jewel-It) because I had it on hand and jewelry glue dries crystal clear.
I started out at one end of each table and glued down row after row of the gems. Since the pebbles varied in diameter and size, the rows became a little less straight and slightly more organic as I worked across the table. The glue did not dry immediately and that gave me some flexibility to shift the gems around a little as I filled up the table. I ended up using about 5-6 bags of dollar store gems for each tabletop.
Step 6: I prepared and carefully poured resin between the glass gems.

I used almost a whole 32 oz. box of Envirotex resin for this project. I was slightly intimidated to work with resin but it was not as as scary as I thought it would be. Using this resin requires you to mix two chemicals together in equal parts and then pour the mixture quickly.  TIP: My advice is to read the directions thoroughly and work in a well ventilated area. The mixture is self leveling and the cloudiness clears in time as it dries. You can use a propane flame to help bring bubbles to the surface. Take all the necessary safety precautions that the manufacturer advises.
I did not accurately estimate the amount I would need for each table. I had to fill the gaps around the marbles on each table using two separate mixed batches of the resin… but it turned out ok in the end. I did not completely embed the pebbles with resin… I left the tops of the gems exposed so that the final surface of the table had a bumpy texture.
Once the resin cured for 72+ hours, it was safe to bring the tables upstairs and start to use them. I added silver accessories to each table. My hubby's side table has a stainless steel pitcher and vase… along with a seashell I painted with silver spray paint.

My side of the bed has a hammered steel bowl to hold all the the random things a girl needs by her bed (like watches, lip balm, hair ties, etc.). Along with the bowl, I added another painted silver seashell and a silver frame.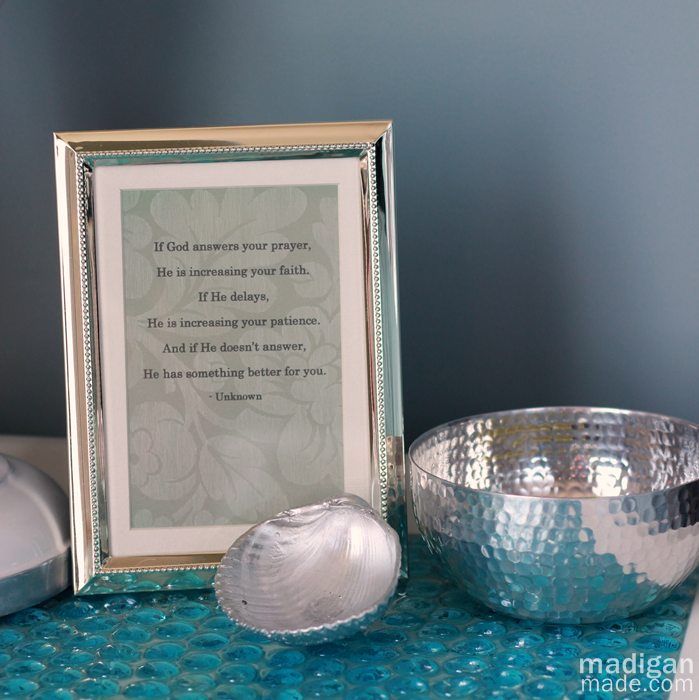 The frame is a simple 5×7 silver frame with a white mat from Home Goods. I printed off one of my favorite prayers on pale green damask paper and slipped it into the frame. I love having this quote near my bedside.
"If God answers your prayer, He is increasing your faith. If He delays, He is increasing your patience. And if He doesn't answer, He has something better for you." – Unknown
If you've read my personal post about our struggles with infertility and my goal to live for today… then you can hopefully appreciate why I love this quote so much.
The tables look sooo much better now and they help to lighten up these corners of our room. I will show you more of our master bedroom soon, I promise.
Want to know my fav part about this project? I love how the tables almost look like they are covered in water. When the sun shines on them, they sparkle, too! If we can't be at the beach, at least I have a mini ocean view, bedside!
Ready to make your own marble tiled table? Don't forget a supply!
(these are affiliate links, please see my disclosure statement for details)
Looking for  more simple and creative inspiration? Check out these ideas:
Thanks for reading Madigan Made!
Content Copyright:2010-14. Madigan Made.