Make: An easy way to dress up a cheesecake dessert.
Looking for a red, white and blue patriotic dessert idea? How about a simple and easy single-serving dessert? Well, then you need to make these easy cheesecakes in a shot glass!
But really, do you need a reason to make these cuties? 🙂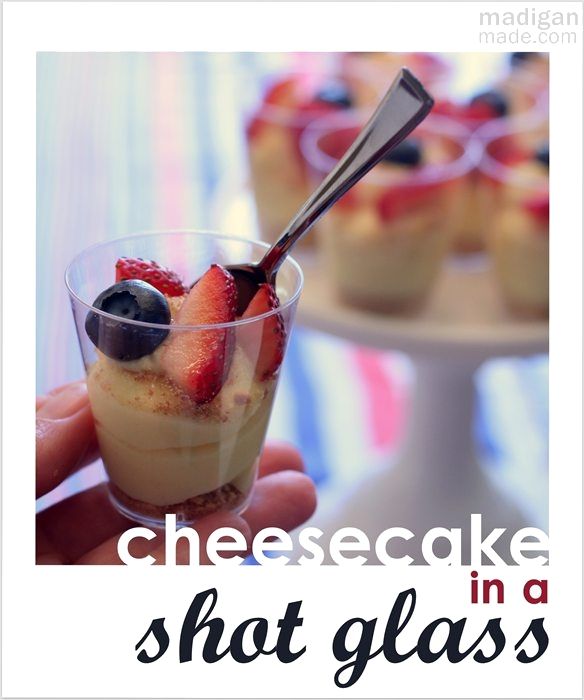 Remember the mini strawberry trifles in a shot glass that I made this past spring? Well, I had lots of little shot glasses leftover and I knew that they'd be fun to use for future desserts.
My husband and I invited my in-laws over for a BBQ dinner this past Saturday to celebrate Father's Day. I made these easy mini cheesecake trifles for dessert that night. With the blue and red berries, this could be a fun idea for a Fourth of July dessert, too.
These mini desserts look cute and fancy, but you should know that they were quite simple to make and assemble. Plus, I cheated a little and used a boxed cheesecake mix. (gasp!) If you wanted to avoid using a prepared box mix, then you could certainly substitute a no bake cheesecake recipe and follow the same assembly process.
How to make mini cheesecake desserts in a shot glass:
Ingredients needed:
1 box of no bake cheesecake mix (and 1.5 cups of milk)
Strawberries, sliced
Blueberries
2 oz. shot glasses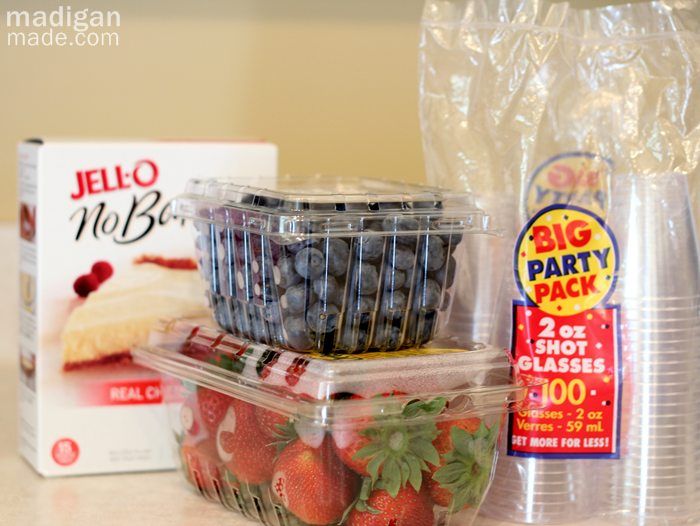 Steps to create mini cheesecake trifles:
Mix: Prepare the no-bake cheesecake mixture with milk according to package directions. Spoon the mixture into a pastry bag to make it easier to transfer into the little cups. (Or just use a Ziploc bag with a small corner cut off like I do!)
Assemble: You do not need make the crust… just use the graham cracker mix that comes in the package. Spoon about 1/2 to 1 teaspoonful of the graham crumbs into the bottom of each shot glass. (And it will taste like a cookie crumb at the bottom of the trifle.) Pipe the cheesecake mixture to fill the glass about 3/4 full. Sprinkle a little bit more of the crust mixture on top of the cheese filling.
Garnish: Add a blueberry and a slice or two of strawberry to the top of each dessert glass.
Enjoy:  Refrigerate until ready to serve. Makes at least 12 shot glasses.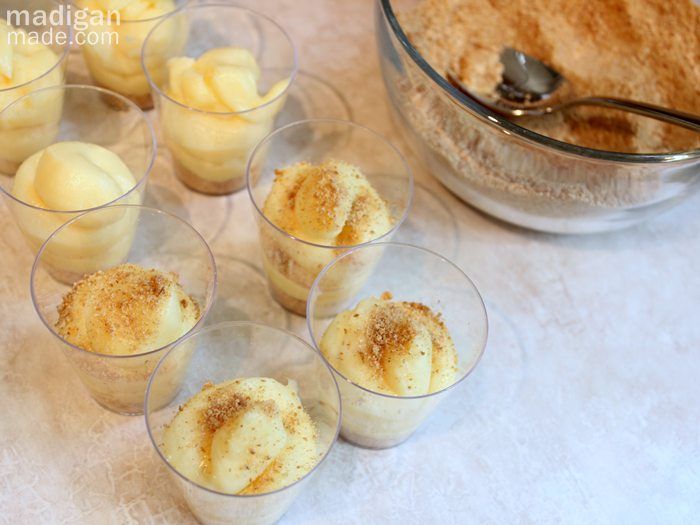 So, I've decided that trifles are the ultimate simple, yet elegant, dessert… the pretty layers look impressive, but in reality are so easy to put together. The combinations and possibilities are endless with trifles. Plus, there is something so cute about making them tiny.
Hmm… I still have lots of shot glasses leftover…what other trifles or goodies can I serve in them?